Pearables
Pearables
The Pearables are character-building stories told in parables. Most of them follow a "king and kingdom" format, beginning with introductions such as, "There was once a mighty King who ruled over all the land as far as the eye could see." Each story goes on to address an important teaching about faith and character, generally from a conservative Protestant perspective. Examples of titles: "The Viewing Box" (about entertainment and television), "The Governor's Plot" (about homeschooling), "The Beauty" (about inner and outer beauty), and the self explanatory titles "Faith," "Patience," and "Brotherly Kindness."
Biblical applications and verses are at the end of each story. Delightful black-and-white illustrations create storybook appeal. Each story is about 20 pages in length, so you can read through a story in a single sitting or spread it out into two or three sessions for younger children. Stories are presented in three volumes, with 8 stories per volume.
Pricing
All prices are provided for comparison only and are subject to change. Click on prices to verify their accuracy.
Lessons in Responsibility for Boys Level 2
PEARABLES
$18.95 List Price at Christianbook.com
Pearables Character Building Kingdom Stories, Volume 1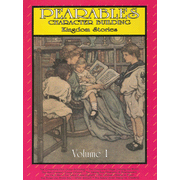 Pearables Character Building Kingdom Stories, Volume 2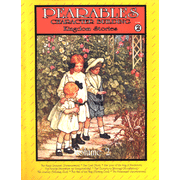 Instant Key
Learning Styles: Perfect Paul, Sociable Sue, Wiggly Willy
Suitable for: group/family
Need for parent/teacher instruction: high unless children read them independently
Prep time needed: 0
Teacher's manual: N/A
Religious perspective: Protestant
Publisher's Info
Pearables

PO Box 272000
Fort Collins, CO 80527

email: pearablesc@aol.com
www.pearables.com
Home
|
Updates for Top Picks
|
Great Book Reviews
|
Articles
|
About Cathy Duffy
|
Contact Us
Ordering
|
Submit Products for Review
All reviews and articles on this site belong to Grove Publishing, Inc. unless otherwise identified. No review or article may be copied or reprinted without permission except for a single copy of a review made for temporary use AND not shared with others. Our organization does not engage in any solicitation activities in California specifically targeting potential customers residing in California (including distributing flyers, newsletters and other promotional materials, sending emails, initiating telephone calls or making referrals in person) that refer potential customers to the retailers with whom we have links.


© Copyright 2010-2015 - Grove Publishing, Inc. Web Design by Servator Design