Visual Latin
Visual Latin
Visual Latin 1 and 2 is a complete Latin course that can be used with students about age ten or older. This is a challenging, grammatically-based course suitable for upper-elementary, middle and high school.
Lessons are presented on video via DVDs or downloads. Downloads are available in HD (1280 x720) and will play on a Mac or PC computer using iTunes. I was also able to watch using the VLC Media Player on my PC.
Presenter Dwane Thomas uses lots of humor in his presentations which I expect most students will find engaging, even the corny jokes. Thomas teaches in brief segments with students completing worksheets between each video segment. PDF worksheets are included with the downloads or DVDs, so you will need to print these out in advance. For each lesson, there are three video segments and three sets of worksheets (a few pages per set) plus instructions and answer keys. High school students and some junior high students should be able to complete a lesson (3 video and 3 worksheet sets) in about one hour. Students should review by re-watching the three segments at least once.
A Teacher's Guide provides you with multiple options of teaching the class. Depending on the level of the student, each week includes going through the lesson and worksheets, reviewing prior lessons, working with online flashcards (Quizlet), memorizing endings, and taking a short test. Students will be spending 3 to 4 hours a week working on Visual Latin.
High school students are given additional public domain Latin readers for further work (to fulfill 5 hours a week), or they can purchase Lingua Latina: Pars I: Familia Romana. A free download links Visual Latin with Lingua Latina. These combined resources should provide excellent coverage for a two year program.
For younger students, you should move at a slower pace through Visual Latin, making sure students understand the grammatical concepts. This can be a wonderful way to teach or reinforce English grammar at the same time students are learning Latin, but this requires more teacher involvement.
The three segments of each lesson that I mentioned previously are titled "Grammar," "Sentences," and "Reading," respectively. However, grammar is covered in the first two segments and vocabulary in the last two segments. The "Reading" segment includes reading, comprehension, and translation. It doesn't really matter that distinctions in content between segments are a bit fuzzy.
The teacher doesn't need to know Latin. Students should be able to complete most of the work independently, and teachers can use the answer key to check work. This works because Visual Latin is not intended to be a conversational approach since Latin is primarily read rather than spoken. Thomas uses ecclesiastical pronunciation instead of classical and provides a video on his site explaining how this pronunciation works.
This approach is likely to appeal to those who prefer experiential learning rather than memorization and drill, somewhat comparable to those who prefer a "real books" approach for learning history rather than using a typical textbook. Visual Latin does include practice with vocabulary and grammar in the exercises, but listening, reading, and translating play more significant roles.
Visual Latin has significant Christian content in its reading passages, most of it reflecting the beginning chapters of the book of Genesis.
Purchase options are available for single family or group class usage. You can try out the first seven Visual Latin lessons for free by clicking here.
Pricing
List price: $100 per course; available for $85 per course and $160 for both courses on the publisher's website. Group license - $45
Click here to order from the publisher using our affiliate link. Using our affiliate link helps support this website.
All prices are provided for comparison only and are subject to change. Click on prices to verify their accuracy.
Visual Latin 1 (3 DVD's)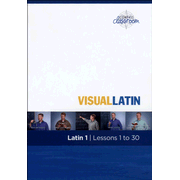 $100.00 List Price at Christianbook.com
Visual Latin 2 (3 DVD's)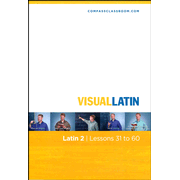 $100.00 List Price at Christianbook.com
Instant Key
Audience: grades 4-12
Suitable for: group or independent learning
Need for parent/teacher instruction: low
Prep time needed: none
Need for Teacher's Manual: brief instruction come with videos
Religious perspective: Christian
Publisher's Info
Disclosure of Material Connection: Some links on this page are "affiliate links." This means if you click on the link and purchase the item, I will receive an affiliate commission. Regardless, I only recommend products or services that I really believe are valuable to my readers. I am disclosing this in accordance with the Federal Trade Commission's 16 CFR, Part 255 "Guidelines Concerning the Use of Endorsements and Testimonials in Advertising.
Home
|
Updates for Top Picks
|
Great Book Reviews
|
Articles
|
About Cathy Duffy
|
Contact Us
Ordering
|
Submit Products for Review
All reviews and articles on this site belong to Grove Publishing, Inc. unless otherwise identified. No review or article may be copied or reprinted without permission except for a single copy of a review made for temporary use AND not shared with others. Our organization does not engage in any solicitation activities in California specifically targeting potential customers residing in California (including distributing flyers, newsletters and other promotional materials, sending emails, initiating telephone calls or making referrals in person) that refer potential customers to the retailers with whom we have links.


© Copyright 2010-2015 - Grove Publishing, Inc. Web Design by Servator Design