English 3 (LFBC) course E115
English 3 (LFBC)
This complete course covers grammar, composition, and spelling skills in a traditional worktext format, somewhat similar to A Beka's, although in a less intensive manner. Included are the student studyguide, quizzes, and answer keys for both. Among topics covered at this level are sentences, capitalization, punctuation, nouns, pronouns, verbs, adjectives, subjects, predicates, contractions, homonyms, dictionary use, and composition of letters and short "essays." Spelling is taught via separate lessons for each week found at the back of the studyguide. Students are held accountable in their compositions for only those skills and spelling words they have already learned. Many of the lessons will take little time to complete, but the occasional lengthier writing assignments and compositions will probably require much more time. Students should be able to complete most of their lessons independently, but at this grade level they will still need some teaching assistance. Also, parents will need to evaluate writing assignments.
Pricing
$40

All prices are provided for comparison only and are subject to change. Click on prices to verify their accuracy.
Landmark's Freedom Baptist English E115, Grade 3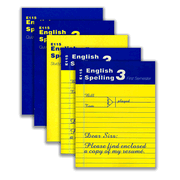 $40.00 List Price at Christianbook.com
Instant Key
Learning Styles: Perfect Paula and Competent Carl
Suitable for: mostly independent work
Audience: grade 3
Need for parent/teacher instruction: minimal
Prep time needed: 0
Need for Teacher's Manual: this is your manual
Religious perspective:
Protestant
Publisher's Info
Landmark's Freedom Baptist Curriculum

2222 East Hinson Ave.
Haines City, FL 33844-4902

(800) 700-LFBC
(863) 421-2937

www.landmarkbaptistchurch.org/lfbc/lfbc.htm
Home
|
Updates for Top Picks
|
Great Book Reviews
|
Articles
|
About Cathy Duffy
|
Contact Us
Ordering
|
Submit Products for Review
All reviews and articles on this site belong to Grove Publishing, Inc. unless otherwise identified. No review or article may be copied or reprinted without permission except for a single copy of a review made for temporary use AND not shared with others. Our organization does not engage in any solicitation activities in California specifically targeting potential customers residing in California (including distributing flyers, newsletters and other promotional materials, sending emails, initiating telephone calls or making referrals in person) that refer potential customers to the retailers with whom we have links.


© Copyright 2010-2015 - Grove Publishing, Inc. Web Design by Servator Design