A Child's History of the World
A Child's History of the World
Hillyer's classic elementary-level world history, A Child's History of the World, is available as a beautiful hardbound edition with or without companion course material. For years homeschoolers scrambled to find out-of-print copies of this book, paying premium prices for well-used copies. Finally, recognizing the demand, Calvert Education republished it in an updated edition. The update included the addition of events through the twentieth century as well as some minor content changes to archaic expressions and ideas.
The primary appeal is the writing style. Hillyer speaks to children in ways they understand, yet he doesn't talk down to them in the short, choppy sentences typical of most texts written for middle elementary grades. The difference is obvious in the page count—625 pages. Illustrations are minimal: a few maps, line drawings, and occasionally words arranged to convey an idea. (Can you imagine any modern publisher offering a textbook this length for fourth graders without color illustrations?)
Despite the lack of illustrations, Hillyer's book is far better than most of its modern counterparts in my estimation. It offers depth and interest lacking in most textbooks. History coverage reaches beyond Europe, the Middle East, and North America with selective topics on other countries and cultures. Children's imaginations will be engaged by the stories of history told in their proper settings with enough detail to make them come alive.
Hillyer clearly asserts Christian belief, although his biblical references imply a questioning of the truthfulness of Old Testament stories. Also, he sometimes slightly misinterprets the biblical text. For instance, he says, "King Saul had a daughter, and she fell in love with this... David the Giant-Killer, and at last they were married." This version overlooks the fact that Saul had promised his daughter in marriage to whoever killed the giant—it wasn't really a matter of falling in love. The beginning of the book also discusses cave men and prehistory in a manner with which some might disagree (e.g., cavemen talked in grunts).
A Child's History of the World really should be read aloud together so such things as I've mentioned can easily be discussed when you encounter them. There are no chapter questions or assignments in the book.
This book and associated lessons are included in Calvert's fourth grade curriculum, but Calvert also sells the book by itself or as part of a history course. The course adds a lesson manual and a workbook. Lessons include outlines, activity ideas, and discussion questions. The student workbook has two parts. The first part is fill-in-the-blank comprehension questions for each chapter. The second part consists of activity pages with word scrambles, crosswords, projects, recipes, map work, and more.
The book itself is a good choice for the first world history text for younger students, and the course makes it easy for parents to expand learning beyond the reading itself.
Pricing
book - $35, complete course with textbook - $77, course without text - $56

All prices are provided for comparison only and are subject to change. Click on prices to verify their accuracy.
A Child's History of the World
A Child's History of the World Set, 3 Volumes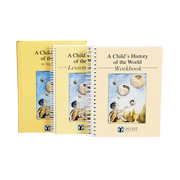 Virgil M. Hillyer
$73.00 List Price at Christianbook.com
Instant Key
Suitable for: read aloud; independent reading for older students
Audience: grades 2-6
Need for parent/teacher instruction: varies by age
Prep time needed: none
Teacher's manual: N/A
Religious perspective: secular but "Christian friendly" - see review
Publisher's Info
Home
|
Updates for Top Picks
|
Great Book Reviews
|
Articles
|
About Cathy Duffy
|
Contact Us
Ordering
|
Submit Products for Review
All reviews and articles on this site belong to Grove Publishing, Inc. unless otherwise identified. No review or article may be copied or reprinted without permission except for a single copy of a review made for temporary use AND not shared with others. Our organization does not engage in any solicitation activities in California specifically targeting potential customers residing in California (including distributing flyers, newsletters and other promotional materials, sending emails, initiating telephone calls or making referrals in person) that refer potential customers to the retailers with whom we have links.


© Copyright 2010-2015 - Grove Publishing, Inc. Web Design by Servator Design