Exploring World History and Exploring America
Exploring World History and Exploring America
Ray Notgrass's history courses might better be labeled unit study than history since each course actually covers history, English (literature and composition), and Bible/Religion equivalent to a full credit for each subject area. These are challenging high school courses, written for homeschooling families. They will likely appeal to those who prefer to integrate subjects and wish to teach a biblical Christian (Protestant) worldview and a conservative, limited-government philosophy.
Three core textbooks are essential for each course. (The three core textbooks for each course are sold as a curriculum package.)
Two books, Volumes 1 and Volume 2, contain the daily lessons while the third book contains source readings to accompany the lessons. In each course Volume 1 has 75 lessons and is for the first semester while Volume 2 also has 75 lessons and is for the second semester.
Each course (the set of three books) also includes a very small booklet titled Guide for Parents and Teachers Using Exploring America (or Guide... Exploring World History), which is a teacher guide for the course books.
An optional Quiz and Exam book is also available for each course. In addition, students are required to read 13 books for each course; those books might be borrowed from the library, purchased as a "literature package" from Notgrass Company, or purchased elsewhere.
Students can work through each course independently for the most part, although parents/teachers will need to evaluate written assignments and might prefer to discuss some topics or readings with students.
The 10 review questions for each day from the optional Quiz and Exam book might seem a bit overwhelming if students were to write out answers to all of them every day. Some require brief answers, but some will require essay answers. In addition to the review questions, there are questions on the literature assignments. All these questions serve the purpose of helping parents/teachers assess whether or not students are actually reading and learning the material, so they are useful! However, you might assign some of these for compositions and use others for discussion.
The Quiz and Exam book for each course contains a history quiz for each unit and four quarterly history exams (six history, English, and Bible exams in Exploring America), plus an answer key that covers all daily questions, literature questions, quizzes, and exams, so you will have plenty of accountability no matter how you use the review questions.
Remember that the Quiz and Exam books are optional, so you need not use them at all. The author tells us: "The reviews, quizzes, and tests are optional because our main goal is to encourage students to enjoy history and great literature and to become good writers. We believe that the assignments included with each lesson and each unit encourage this enjoyment." Nevertheless, I suspect most parents will want the Quiz and Exam book to keep students accountable.
As a component of the Bible instruction, there is a weekly memory verse to be learned. Parents/teachers will need to work with students on recitation of the verse.
Lessons are divided into weekly units. Each unit begins with a brief introduction, titles of the five lessons for the week, list of books required, and choices for a writing assignment for the unit. Some lessons might require more time, so you might spend more than five days on a unit. There are only 30 units per course, so students should have plenty of time to complete each course even if they take extra time for some lessons.
The weekly writing assignment questions are thought-provoking and often require further research. For example the three choices for Lesson 30 in Exploring America are:
"Write a two- to three-page paper in which you compare the religious experience in the Massachusetts Bay colony and that on the frontier during the Second Great Awakening."
"Research Meriwether Lewis and write a two-page report on his life."
"Write a letter to a friend in which you discuss your views on a significant national issue."
There is really no direct instruction in composition or literature (i.e., characters, plot, foreshadowing, etc.); students are told to read and write. The "Guide for Parents and Teachers" suggests some composition programs you might use if students need more direct instruction in composition and essay writing. Easy Grammar Plus is recommended for students who need further study in grammar.
Students should be spending an average of about one hour per day in each subject area, although reading the assigned literature might require more time than this. The actual time per day in each subject area will definitely vary. This will be particularly true on the fifth day of each unit since those lessons are primarily Bible studies.
All course books are illustrated with black-and-white photos, drawings, and graphics. Indexes are included at the end of Volume 2 of each course and also in both books of course reading material. The writing style is more interesting than in most histories since it is colored by commentary and opinion. Now for some particulars on each course.
Exploring America
As I mentioned before, there are two volumes with the daily lessons. Volume 1 covers Columbus through Reconstruction, while Volume 2 continues with the late 1800s through the present.
Every five lessons form a unit. Each unit begins with a brief introduction, a list of required books--generally the Bible and one or two other books, memory verse, and the choices for writing assignments. One of the books used most frequently is American Voices, the third book that comes with the Exploring America course. This is a compilation of documents, speeches, essays, hymns, poems, and short stories that are to be read in conjunction with the lessons. During the second semester, students also write a research paper.
The 13 books recommended for use with this course are The Scarlet Letter, Narrative of the Life of David Crockett, Narrative of the Life of Frederick Douglass, Uncle Tom's Cabin, Company Aytch, Little Women, Humorous Stories and Sketches (Twain), Up from Slavery, In His Steps, Mama's Bank Account, Christy, To Kill a Mockingbird, and The Giver. The Guide for Parents and Teachers lists specific incidents, ideas, or words in some of the books that might be objectionable to parents. The Guide also offers suggestions for substitute books.
In the main textbooks, each day's lesson includes presentation of the historical information as you find in other history books. However, it also presents more information on religious events and issues than do most texts. In addition, it clearly has a limited-government, conservative viewpoint. What might be controversial political opinions (e.g., problems resulting from the New Deal's expansion of "social planning" and government intervention) are explained at length, with recognition often granted to the positive effects. Topics such as the Scopes Trial receive more attention than usual with a broader explanation of their importance. Bible lessons (every fifth lesson) often touch on historical and cultural topics beyond U.S. History.
Exploring World History
Even though Exploring World History is a two-volume study, coverage is necessarily limited. The choice to present the course from a biblical Christian worldview, dictates heavier emphasis upon biblical history. Thus, the first seven chapters deal with a Christian perspective on history, the role of religious motivations in history, Creation, sin, arguments for a young earth, a biblically-based presentation of early life (no cave men and no evolution!), arguments for the existence of God, stories of Abraham, Joseph, Moses, David, Solomon, Cyrus and other key figures from biblical history, as well as a brief study of Israel, Babylon, Assyria, Persia, and some of the other ancient civilizations in relation to the Bible. Egypt and Sumer receive a bit more attention than the other ancient civilizations that interacted with the Israelites.
With that much attention given to biblical foundations and early civilizations, it limits the amount of time available for other topics. Thus, topics such as the Greek civilization, the Roman Empire, the Renaissance, the Reformation, the Age of Exploration, the history of Asia, and the history of Africa, are allotted only one week each. Even World Wars I and II are combined into a single week.
While the layout of the course is similar to that of Exploring America, there are a few minor differences. Each lesson includes a grammar point—an explanation of a single topic such as the usage of "who" and "whom." No exercises or testing is given on grammar points, but students are expected to apply them in their written assignments when appropriate.
Rather than a single research paper assignment, students are given the optional assignment of "The Nation Project." One of the writing assignment choices each week has to do with The Nation Project. Students focus on a single country with a series of writing and research assignments throughout the year. Parents can decide whether or not to have students do the Project, and the course can still be completed for full credit with the other assignments.
The third course book, titled In Their Own Words, includes original documents, poems, short stories, excerpts from novels, hymns, and speeches that relate to historical topics in the lessons. The 13 books that comprise the bulk of the literature for the course are Mere Christianity, The Cat of Bubastes, Julius Caesar, The Imitation of Christ, Here I Stand, Pilgrim's Progress, A Tale of Two Cities, Pride and Prejudice, Heart of Darkness, Eric Liddell: Pure Gold, The Hiding Place, Animal Farm, and The Abolition of Man. As with Exploring America, potentially problematic references in the literature are mentioned, and substitute books are suggested in the Guide for Parents and Teachers.
I mentioned earlier that these are challenging courses. While the textbook reading is not overly challenging, the amount of reading in the other books coupled with the numerous writing assignments requires a significant amount of personal diligence and effort. Self-motivated students who enjoy reading and writing will do best in these courses and are likely to very much appreciate the format.
Students who struggle with the reading or writing might use the courses in an abbreviated manner rather than trying to accomplish three full subject credits. The easiest way to lighten the load is to use more traditional workbooks or other resources to work toward part of the English credit. However, keep in mind that the integrated learning that happens by using the recommended resources is likely to provide a much better and more interesting education.
Pricing
All prices are provided for comparison only and are subject to change. Click on prices to verify their accuracy.
Exploring World History Curriculum Package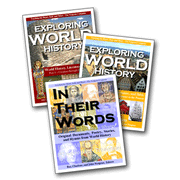 Ray Notgrass
Exploring World History Curriculum Package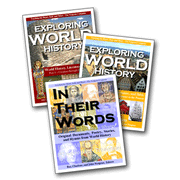 Ray Notgrass
Exploring America Curriculum Package
Exploring World History Curriculum Package
Instant Key
Suitable for: independent study
Audience: high school level
Need for parent/teacher instruction: minimal
Prep time needed: 0
Teacher's manual: essential (comes with textbooks)
Religious perspective: Christian (Protestant)
Publisher's Info
Notgrass Company

975 Roaring River Rd
Gainesboro, TN 38562
800-211-8793
email: books@notgrass.com
www.notgrass.com
Home
|
Updates for Top Picks
|
Great Book Reviews
|
Articles
|
About Cathy Duffy
|
Contact Us
Ordering
|
Submit Products for Review
All reviews and articles on this site belong to Cathy Duffy unless otherwise identified. No review or article may be copied or reprinted without permission except for a single copy of a review made for temporary use AND not shared with others. Our organization does not engage in any solicitation activities in California specifically targeting potential customers residing in California (including distributing flyers, newsletters and other promotional materials, sending emails, initiating telephone calls or making referrals in person) that refer potential customers to the retailers with whom we have links.


© Copyright 2010-2014 - Cathy Duffy Web Design by Servator Design