Journey into Africa
Journey into Africa
African history often gets shortchanged in some of the best world history textbooks, but you can remedy that situation with Journey into Africa. The core book is titled Journey into Africa: A Creative Study of History, Geography, Animals, and People from a Christian Perspective. With only this book you can provide an excellent foundation in African history, culture, and geography for children in grades five through eight.
The book is printed in full color with lots of photos, maps, and illustrations. It really is a visual delight. Children might read the book on their own, but it also should work well as a family read-aloud (including even younger or older children). The first six units are written as if they are spoken by a tour guide. Every so often a question is inserted; these are printed in italics and highlighted green. The idea is that a tourist or friend is asking a question of the tour guide. You can see how this might work well with family members taking turns reading as the tour guide or pretending to be the tourist asking questions. When you're reading, you'll have to "detour" to read picture captions and the occasional sidebar, or to try out a recipe.
Ten "In Service of Others" articles are scattered throughout the book. These inspirational stories tell of people who "have followed their dreams and used his/her talents in Africa."
The subtitle of the book tells us that it is written from a Christian perspective. This happens very naturally at appropriate moments in the text. The deeper Christian thread is that the book helps us develop a love and concern for the people of Africa.
Each chapter ends with a review page of comprehension questions, discussion questions, research topics, shorter research assignments for oral presentations, "logical thinking" questions that might also require a little research, vocabulary words list, jokes (yes, there are actually jokes in the review section!) and recommended books. Answers to the questions are in the back of the book. Brief teaching instructions are at the front of the book, so there is not separate teacher manual.
Even though the book is 323 pages in length, Ann Jansen still had to be selective about topics to keep the book to a reasonable length. She begins with an overview of Africa in the first unit then divides Africa into five geographical regions for the next five units. She overviews each region, then narrows down to a more in-depth study of only one or two countries in each region.
Unit seven studies animals of Africa and Unit eight features four art projects. Chapters within these two units are intended to be read and used while studying the first six units. It should take about 14 weeks to complete the study.
The How to Draw and Color book teaches children how to draw all the animals studied in the seventh unit plus a few extras. The drawing method is copying shapes as illustrated in the book rather than having children draw what they actually see—some parents will prefer one method to the other, so it's up to you whether or not to use this approach.
The Coloring and Fun Pages book has appealing, black line coloring pages plus activity pages such as rebuses, mazes, word searches, and crosswords. This book is also optional.
You can expand the study and make it easier on yourself by buying the Unit Study Kit. The kit features expanded lesson plans for the fourteen-week unit study that should require about three hours per day, four days per week. While the kit primarily targets grades five through eight, it also includes activity pages for children in grades two through five as well as for those in eighth grade and up. Since lesson plans for several ages are included, a strength of this unit study is that your children and you will learn about Africa as a family. Another great feature is that all the supplies needed for the entire course are included. The kit includes the instructor's manual with lesson plans, student activity pages, three copies of the core book, three copies of Coloring and Fun Pages, one copy of How to Draw and Color, an Eyewitness book on Africa, Just So Stories by Rudyard Kipling, a biography of Samuel Morris (from Christian Library), a book and CD on deserts (from Interfact), African Activity Book, Nigeria (from Evan-Moor), DVD's, games, review cards, three music CDs, and all the art and science supplies needed.
I wondered why three copies of the core book were included, so author Ann Jansen explained that her "target market" is families with two or more children who will be participating. Within the unit study, students use the core books for history, geography, science, and art, so the core books are used very frequently. Also, children each need to have the text, maps, photos, and illustrations in front of them for discussion, questions, and some of the activities.
Those with older children might want to check out the self-guided version of the course for children in grades seven and up. This lighter version covers geography, history, science, and vocabulary. The instructor has duplicated pages so he/she can jump in at any time to quiz the student or help with questions.
Whether you do the expanded unit study or just the core book, this is a wonderful way to teach your children about Africa.
Pricing
Unit Study Kit $329.00

All prices are provided for comparison only and are subject to change. Click on prices to verify their accuracy.
Journey Into Africa: A Creative Study of History, Geography, Animals, and People from a Christian Perspective
Ann M. Jansen
Journey Into Africa How to Draw and Color
Ann M. Jansen
Journey Into Africa Coloring and Fun Pages (Journey Into Africa)
Ann M. Jansen
Journey Into Africa: Flash Cards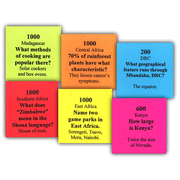 Journey Into Africa Instructor's Manual
Ann M. Jansen
Journey Into Africa Student Self-guided Lesson Plans
Journey into African Songs CD - Slightly Imperfec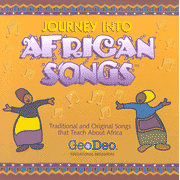 Journey into Rhythms CD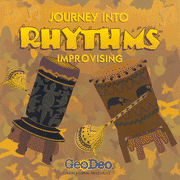 Instant Key
Learning Styles: All
Suitable for: family or one-on-one
Audience: grades 5-8
Need for parent/teacher instruction: high
Prep time needed: minimal
Teacher's manual: unit study instructor's manual optional, but core resource book is essential
Religious perspective: Christian
Publisher's Info
GeoDeo Educational Resources

19808 Homestead Road
Clearwater, MN 55320

(320) 252-1100
email: info@geodeo.com
www.geodeo.com
Home
|
Updates for Top Picks
|
Great Book Reviews
|
Articles
|
About Cathy Duffy
|
Contact Us
Ordering
|
Submit Products for Review
All reviews and articles on this site belong to Grove Publishing, Inc. unless otherwise identified. No review or article may be copied or reprinted without permission except for a single copy of a review made for temporary use AND not shared with others. Our organization does not engage in any solicitation activities in California specifically targeting potential customers residing in California (including distributing flyers, newsletters and other promotional materials, sending emails, initiating telephone calls or making referrals in person) that refer potential customers to the retailers with whom we have links.


© Copyright 2010-2015 - Grove Publishing, Inc. Web Design by Servator Design