A Literature Approach to U.S. and World History
A Literature Approach to U.S. and World History
U.S. and world history are combined in this senior-high level course that covers the time period from the Civil War to the 1970s. Following the format of other Beautiful Feet study guides, this one uses a number of "real" books as the foundation, providing activities to be used for each chapter or group of chapters as students read through each book. Activities include reading, composition, discussion, vocabulary work, drawing, geography, and research. Students can easily fulfill their history and language arts requirements for two years through this study. Study is divided into four units: The Civil War Era; Post-Reconstruction to the Great War; the Great Depression, WWII, and The Korean War; and the Civil Rights Era up through the 1970s.
Among the books used in the study are A Basic History of the United States by Clarence Carson; Uncle Tom's Cabin; Across Five Aprils; Rifles for Watie; The Red Badge of Courage; Harriet Beecher Stowe and the Beecher Preachers; Sojourner Truth, Ain't I A Woman?; Virginia's General: Robert E. Lee and the Civil War; A History of US: An Age of Extremes; The Jungle; Bully For You, Teddy Roosevelt!; Stalin: Russia's Man of Steel; The Yanks Are Coming; All Quiet on the Western Front; A History of US: War, Peace and all that Jazz; To Kill A Mockingbird; History of US: All the People; No Promises in the Wind; House of Sixty Fathers; Hitler; Number the Stars; Escape from Warsaw; The Trapp Family Singers; The Hiding Place; Anne Frank: Diary of a Young Girl; The Story of D-Day; America and Vietnam: The Elephant and the Tiger; The Vietnam War: How the United States Became Involved; The Endless Steppe; Hiroshima; So Far from the Bamboo Grove; and Victory in the Pacific.
Note that three volumes from the History of US series are used, even though that series has been criticized for its liberal leanings and omissions. The study guide turns such problems into learning lessons by pointing out the biases and directing us to resources (books, web sites, etc.) with contrasting viewpoints. The History of US is included in spite of its problems because it is one of the few well-written sources on U.S. History for junior and senior high level.
Many other books and a few videos are also recommended; they can be used as substitutes for or in addition to the other resources. Parents will need to participate in and direct the study to some extent. Teacher notes at the end of the guide help parents do that even if they don't have time to read through all of the books.
The literature used for the study is sold in two separate packs so that you can spread the cost out. You might also want to check to see if you can't borrow some of the books from the library to keep costs down.
Pricing
Guide$16.95
literature pack - combined parts I & II $149.95
literature pack - combined parts III & IV $159.95

All prices are provided for comparison only and are subject to change. Click on prices to verify their accuracy.
U.S. and World History: From the Civil War to Viet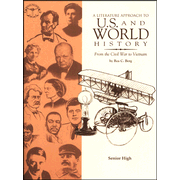 Rea C. Berg
Instant Key
Suitable for: independent work
Audience: high school
Need for parent/teacher instruction: minimal to high--your choice
Prep time needed: minimal--mostly choosing which books to read
Teacher's manual: essential
Religious perspective: Protestant
Publisher's Info
Beautiful Feet Books

1306 Mill St.
San Luis Obispo, CA 93401
800-889-1978
email: letters@bfbooks.com
www.bfbooks.com
Home
|
Updates for Top Picks
|
Great Book Reviews
|
Articles
|
About Cathy Duffy
|
Contact Us
Ordering
|
Submit Products for Review
All reviews and articles on this site belong to Grove Publishing, Inc. unless otherwise identified. No review or article may be copied or reprinted without permission except for a single copy of a review made for temporary use AND not shared with others. Our organization does not engage in any solicitation activities in California specifically targeting potential customers residing in California (including distributing flyers, newsletters and other promotional materials, sending emails, initiating telephone calls or making referrals in person) that refer potential customers to the retailers with whom we have links.


© Copyright 2010-2015 - Grove Publishing, Inc. Web Design by Servator Design