Foreign Languages for Kids by Kids (FLK) has two introductory Spanish DVDs with optional ancillary components that teach Spanish to children from as young as preschool level up into the teen years. This is an immersion approach, but the videos are carefully designed to make the content comprehendible for those who have no prior exposure to Spanish.
Videos feature only child actors who appear in a series of skits, thus the "for kids by kids" in the company's name. The children are of various ages up into the teens. (Note: Those who prefer conservative styles of clothing might be bothered by the teen girls sometimes wearing short shorts and tank tops.)
All of the conversations are in Spanish, although those conversations tend to use fairly simple vocabulary most of the time. Skits are orchestrated to emphasize particular words or phrases, sometimes repeating the same vocabulary in a number of different contexts. For example, to teach children how to tell how old they are, one child "interviews" many different children to ask them their age. Children respond with various phrases so that those watching learn not just one simple response but a few possible responses. Words are often overlaid on the videos so that children who are able to read can see how the words are spelled as well as how they are pronounced. Children on the videos generally speak more slowly than normal Spanish speakers, so it is generally easy to make out what they are saying.
FLK videos were filmed with multiple cameras in colorful settings, and they were professionally edited and produced to include lively background music. DVDs are introduced with a flight theme by a young boy dressed as a pilot, and the three segments on each DVD are called "flights." The flight theme pops up other places from time to time.
Each DVD has a total run time of about 45 minutes. A suggested schedule page that came with my DVDs recommends that children watch the first segment straight through on the first day, then re-watch it in segments a few times so that children have plenty of time to absorb the vocabulary and usage. Each segment concludes with a rapid visual review of the vocabulary that has been introduced in that segment.
The first video introduces three brothers whose interactions dominate most of the skits. One likes to eat while the other two like to read and play basketball; their personalities and preferences are fodder for some of the other skits. In the three segments on the first DVD, we learn basic conversational vocabulary such as hola, gracias, donde esta? (where is it?), words related to breakfast, pelotas (basketballs), and grande y pequeño (large and small). The second video teaches words related to lunch and colors as well as other frequently-used words. For example in the "The Wacky Rainbow Restaurant," the children argue about whether or not they like leche verde (green milk) using me gusta (I like). A third DVD should be available by late 2014. Video lessons on the DVDs are also available online with a free 48-hour trial period.
I highly recommend the optional sets of stickers that correlate with the first DVD if you are working with children who can recognize words. Children (or adults) can place the stickers on objects around the house that will reinforce the vocabulary. Stickers are at least 1.5 inches high and generally from 2.5 to 3.5 inches wide with large lettering, so they are easy to see.
Older students—probably at least third grade level and up—might want to also use the FLK Airlines On-Board Activity Books. These are very attractive and colorful workbooks that reinforce and expand upon what was presented in the videos. There are workbooks for each of the first two segments on the first DVD with the third under development. (I don't know whether or not workbooks to accompany the second DVD are planned.) I would begin workbook activities after students have watched the correlating video segment at least once, but they are probably most effective when used after multiple viewings.
Workbooks have word searches, crosswords, and other puzzles as well as fill-in-the-blanks, matching, circling, and drawing activities. Some grammar is included in the workbooks. The first workbook explains masculine and feminine nouns and the singular and plural articles that are used with them. It also has a brief explanation about accent marks. The second workbook teaches about personal pronouns, estar and ser, and the conjugation of the verb comer.
Each workbook also has a few pages about a Latin American country—Peru in the first book and Colombia in the second—and idioms. Answer keys are at the back of each book. The workbooks are available in either print or digital editions.
The DVDs and workbooks are not intended to serve as a complete high school Spanish course. Rather, the goal is to offer an engaging way to introduce students in preschool through junior high to the Spanish language.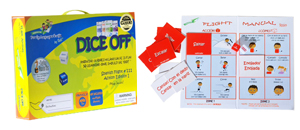 The Dice Off™ game for students ages seven and up adds another layer of reinforcement that most students will really enjoy. Even adults who are learning Spanish might play this game.
You will need two to four players to play the various versions of the game. The game has four individual game boards that each feature different verbs and adverbs that players say and act out. The goal in some variations of the game is to cover all of the squares on your board, while in others the goal is to remove the cover squares. The colorful game components—game boards, verb and adverb cards, colored die, challenge cards, and stickers—are very sturdy and should stand up well to repeated usage.
Dice Off builds on the flight theme with the game boards called "flight manuals" and "pre-boarding" preparation, and game variations for "boarding, taking off," and "landing." Students should have completed at least the first DVD of FLK before tackling the game. If students are not already familiar with the vocabulary, they can learn it fairly quickly during the "pre-boarding" stage. While knowing the vocabulary is important, "Gotcha" and "Faker-Mistaker" cards make play more complex—what happens on one player's turn can affect the advancement of other players.
The game's design is unusual. While it takes a few minutes to understand how the various options work, it really is quite simple to demonstrate to children. Most variations of the game should play fairly quickly, but the variation where players try to cover all 12 squares might take significantly more time, especially with four players. Players should begin by concentrating on one flight manual at a time, working through variations of the game that become increasingly challenging. While Dice Off was created to reinforce the FLK program, it should work well for students who have worked through the first levels of other introductory Spanish programs since it uses common verbs such as comer, abrir, and leer (to eat, to open, and to read) as well as a few others such as patear and aplaudir ( to kick and to clap). Adverbs are very common words such as alto, baja, feliz, consado/consada, bien, and mal.
All of the Foreign Languages for Kids by Kids materials are of high quality and beautifully presented. Most children will want to use them! The immersion approach on the DVDs coupled with the workbooks should be very effective, and the game is really the icing on the cake.