See the complete review in 102 Top Picks for Homeschool Curriculum.
Teaching the Classics: A Socratic Method for Literary Education teaches parents and teachers how to understand and analyze literature using Socratic questioning and discussion. This seminar consists of a book and a set of four DVD's.
I began my review by reading through the book. Halfway through the book, I began wondering why I would need the DVDs. The book was so well explained and provided concrete models to work with. I expected the DVDs to be redundant. To my surprise, they were not. On the DVDs, Adam Andrews presents a live seminar, covering the material in the book and much more. His goal in the seminar presentation is to ensure that parents and teachers leave feeling competent to apply the methodology themselves. I think he accomplishes this very well while also providing the sort of inspiration that makes you feel like you just can't wait to try this out.
The DVDs run about 5½ hours. I expect you might watch through the entire course, then come back and re-watch sections as you begin to work with the different teaching strategies with your students.
In the first half hour or so of the seminar, Andrews lays the foundation. This part could possibly be a little redundant for those already very familiar with classical education, Socratic questions, and their use in conjunction with literature. But, it is absolutely essential for those unfamiliar with these things. Once past the introduction, Andrews introduces a method of tackling literature that applies to adult level fiction all the way down to children's story books. In fact, children's stories are generally easier to work with, so he recommends beginning (even with high school students) by analyzing a story written for children.
Three very useful appendices at the back of the book are referenced during the seminar. The first appendix contains "The Socratic List," an extensive, ten-page list of questions to use for discussions, arranged under broader categories of key questions. Questions are arranged from easier to more challenging levels of difficulty in each category. The teacher should select just a few of these questions to use for each discussion. Appendix B is an annotated, recommended reading list catalogued under three levels for young children through high school. Appendix C lists and defines literary devices students will learn to identify such as metaphors, alliterations, and onomatopoeias.
To help you get started, Andrews uses a number of literary works to demonstrate how to work through different aspects of analysis and discussion. Among this eclectic selection are "Paul Revere's Ride," The Tale of Peter Rabbit, Rikki-Tikki-Tavi, The Adventures of Tom Sawyer, Macbeth, To Kill a Mockingbird, and "Casey at the Bat."
You can teach all types of literature once you've gone through this seminar. You will not need to purchase any student books other than the literature itself....
Reading Roadmaps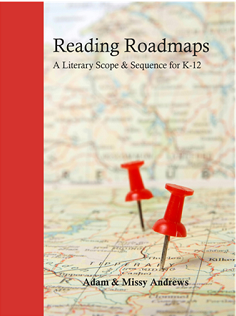 However, many parents have requested more help in selecting literature and identifying themes. So Adam and Missy Andrews have also published Reading Roadmaps: A Literary Scope & Sequence for K-12. In this book, they layout a number of options that range from daily or weekly literature lessons to "seasonal" lessons that are taught about four times a year. They identify their top recommendations for literature to be used and chart out plot, conflict, theme, aids/devices (e.g. allusion, parody, epic) for each literary work, arranging them by grade level. They also offer an alternative literary selection for each of the recommended works. Additional helps at the back of the book address writing from literature, learning objectives for each grade level, grading, and the major historical periods for literature with lists of exemplary works and the authors. Reading Roadmaps simplifies the process of using Teaching the Classics by doing some of the work for you.
Ready Readers: Teacher Guides to Socratic Discussion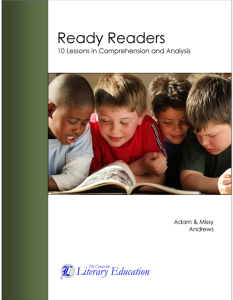 And if that's not enough, the Center for Literary Education also offers Ready Readers that do even more of the work for you. You can teach just about any literary works you want using the format taught in Teaching the Classics. Reading Roadmaps helps you select titles and know the key elements to address. However, some parents prefer more guidance, especially if they tackle literature with which they are not very familiar. Ready Readers are teacher's guides for specific collections of books that provide solid guidance for teachers who want to teach literary skills with great literature.
Thus far there are four guides. Ready Readers 1, Ready Readers 2, and Ready Readers 3 each cover from five to ten children's books. Ready Readers: The Chronicles of Narnia covers the seven books in that series....
Parents and teachers should first become familiar with Teaching the Classics methodology before using the Ready Readers. Guides all follow the Teaching the Classics approach to literary analysis and interpretation. Children identify the context, structure, and style of each work and complete a "Story Chart" graphic organizer for each book. A series of Socratic questions keyed to "The Socratic List" in Teaching the Classics is used to help students move from comprehension level to deeper thinking and analysis of the literary works.
The teacher's guides include overview summaries of plot, the conflict, setting, characters, and the theme for the benefit of the parent or teacher. Then they present the questions that help children to identify all of these things and more at a deeper level....
You might also want to follow up with Worldview Detective which is based on Teaching the Classics methodology.
I love the approach of Teaching the Classics, and I'm very pleased that the Center for Literary Education has taken extra steps to make the methodology that much easier to use.
Summary
Socratic teaching requires more from the parent or teacher than most of the study guides for novels that are popular among homeschoolers. The teacher must read and be familiar with the literary works to be able to lead a discussion.
Once a parent or teacher becomes familiar with the techniques taught by Teaching the Classics, those techniques are likely to become "second nature"—teaching this way will become easier and easier. And you are likely to enjoy it so much that you won't mind the extra time it might take.