BJU Press Literature (Jr. High)
Bob Jones University Press
Literature (Jr. High)
[The complete review appears in 101 Top Picks for Homeschool Curriculum.]
This is a review of the third editions of BJU Press's excellent literature program for junior high. The latest editions of both books are softcover and are formatted with more colorful graphic design for visual appeal than earlier editions.
I recommend that you purchase the teacher editions. There are two volumes for the teacher edition for each level. They have reduced pictures of the student text pages and all teaching material and commentary. Each TE includes a CD that has reading quizzes, writing rubrics, supplemental worksheets, and standardized test practices that are helpful. CD's also have some other items that are useful in classroom situations.
Lessons in the teacher's edition follow a format of overview, objectives, potential problems (e.g., objections to authors portraying animals as having human qualities), introductory discussion, the reading, analysis, application, and additional activities. Suggestions for journal writing are given. Vocabulary words with definitions are inserted right into the text of each piece in the student text.
There are questions at the end of each of each literary piece (or section of a piece for lengthier writings), and these are preceded by an insert called the "Thinking Zone." Thinking Zones are graphically-separated inserts that might take up about a third of a page. Thinking Zones highlight key literary elements and show how they have been implemented in the selection students have just read. They feel more like sidebars than instructional material although they accomplish the latter's purpose. Questions that follow are thought provoking, addressing literal, critical, interpretive, and appreciative elements. (Each question is labeled as to which of these areas it addresses.) Each unit has a Review in the student textbook. Reviews are tests that include questions with brief answers, multiple choice questions, true/false questions, matching and short answer questions, and one or two essay questions. Space is provided within these texts for students to answer questions from both chapter and unit questions directly in the book.
Homeschool Subject Kits include a student text and teacher's edition plus tests and a tests answer key for each level.
Explorations in Literature, third edition (2007)
The seventh-grade-level text covers a wide range of themes while emphasizing character. Literary analysis and enjoyment is taught from a Christian perspective, although literary selections are not all by Christian authors. One of the main purposes of this text is to help students progress beyond simply reading for pleasure to the point where they enjoy reading for inspiration and wisdom. Many of the selections should elicit strong emotional reactions....
Excursions in Literature, third edition (2008)
This eighth-grade-level text covers a variety of themes portraying a Christian's journey through life, including choices he must face....
Pricing

Save 15% & BONUS SmartPoints at the Homeschool Buyers Co-op
All prices are provided for comparison only and are subject to change. Click on prices to verify their accuracy.
Explorations in Literature Home School Kit 3rd Edition
$133.34 List Price at Rainbowresource.com
BJU Excursions in Literature Grade 8 Homeschool Ki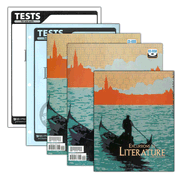 $144.44 List Price at Rainbowresource.com
$137.00 List Price at Christianbook.com
Instant Key
Suitable for: one-on-one or group plus independent work
Audience: grades 7-8
Need for parent/teacher instruction: moderate
Prep time needed: low
Need for Teacher's Manual: essential
Religious perspective: Protestant
Publisher's Info
Product Photos
Home
|
Updates for Top Picks
|
Great Book Reviews
|
Articles
|
About Cathy Duffy
|
Contact Us
Ordering
|
Submit Products for Review
All reviews and articles on this site belong to Cathy Duffy unless otherwise identified. No review or article may be copied or reprinted without permission except for a single copy of a review made for temporary use AND not shared with others. Our organization does not engage in any solicitation activities in California specifically targeting potential customers residing in California (including distributing flyers, newsletters and other promotional materials, sending emails, initiating telephone calls or making referrals in person) that refer potential customers to the retailers with whom we have links.


© Copyright 2010-2014 - Cathy Duffy Web Design by Servator Design