Excellence in Literature: Reading and Writing through the Classics - American Literature and British Literature
British Literature
These two Excellence in Literature books guide students through self-directed study of classical literature. Author, Janice Campbell wants to prepare students well for rigorous college work, so she directs them to do their own independent research and writing while reading each classic work. Truly designed for independent study, the only "oversight" is the requirement for a writing evaluator to use the provided Evaluation Rubric form to let students know how well they are satisfying the demands of each written assignment that is the culmination of the study of each work.
Nine units in each book should take four weeks each to complete. The course can easily become an Honors course as students read an additional book listed for each unit and complete a 6-10 page paper. At that point, Honors students should be prepared to take the corresponding CLEP exam to both demonstrate advanced proficiency and earn college credits. Campbell says that the Excellence in Literature guides are intended for students in grades 8 through 12, but the content is definitely worthy of high school credit, even if completed by an eighth grade student.
It is helpful if students have completed the Teaching Writing: Structure and Style (IEW) course from the same publisher, but it is not essential. An alternate Evaluation Rubric includes elements from IEW (e.g., inclusion of dress-ups) for use with students familiar with the techniques.
While Teaching Writing is not a prerequisite, students should have fairly solid background in literary analysis and essay writing. Consequently, Campbell recommends The Elegant Essay Writing Lessons by Lesha Myers and Teaching the Classics: A Socratic Method for Literary Education (for literary analysis), both from IEW, be completed before these two guides. Another IEW option for study of literary analysis might be Lesha Myers' Windows to the World: An Introduction to Literary Analysis.
Literary works are studied in a chronological fashion. In British Literature, students will study Beowulf; Canterbury Tales; an expanded study of Edmund Spenser, Sir Gawain, and the Arthurian legend; King Lear; Paradise Lost; Pride and Prejudice; Great Expectations; Wuthering Heights; and To the Lighthouse. American Literature covers Benjamin Franklin's Autobiography, a joint unit on Rip Van Winkle & The Legend of Sleepy Hollow plus works by Henry Wadsworth Longfellow, The Last of the Mohicans, The House of Seven Gables, Moby Dick, The Adventures of Huckleberry Finn, House of Mirth by Edith Wharton, The Great Gatsby, and The Old Man and the Sea.
Study of each literary work follows a similar format each month. Students select the version of the work they will read; specific recommendations, occasionally including an online version, are provided for many of the works. Campbell provides students with minimal background information in the guide, but she directs students primarily to numerous internet resources (specific URL's) plus other books, DVD's and audio resources. Most research will likely be completed online. Recommended sources offer context for the literary works as well as biographical information on the author. For those wishing to expand their understanding of the historical context, there are recommendations relating to art, music, videos about the same historical era/topic, and other extras such as field trip suggestions.
Instructions for each unit in the guide end with an Assignment Schedule with instructions for each week. For each assignment, students write an Author Profile following a format taught in the guide. They will also complete at least one additional, lengthy written assignment that will be a form of literary analysis. Models of the different types of writing are provided along with brief instructions. Students will learn to use MLA formatting, the common form for college papers, for their written assignments.
In addition to the guide and the books they will read, students must have a good dictionary, a thesaurus, a writer's handbook, and a binder where they will accumulate their course work. It is expected that students will look up words with which they are unfamiliar as well as grammatical and structural questions.
While these are not specifically designed to be "worldview" type courses, the author sometimes integrates worldview type questions as she directs students' attention in their study of some books. Campbell also recommends use of The Worldview Supplement to Teaching the Classics (the prerequisite listed above) to aid both student and teacher explore literature with worldviews in mind.
Students completing either of these courses should be miles ahead of most of their high school contemporaries in their ability to read and analyze literature at a sophisticated level. The challenging writing assignments also promise to develop student skills in composition to a high level.
Pricing
All prices are provided for comparison only and are subject to change. Click on prices to verify their accuracy.
British Literature: Excellence in Literature--Read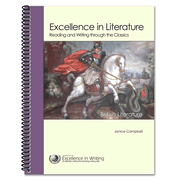 Janice Campbell
$29.00 List Price at Christianbook.com
Excellence in Literature: Literature and Composition English 2
Janice Campbell
English V: World Literature
Excellence in Literature Content Guides for Self-Directed Study: British Literature (Reading and Writing Through the Classics)
Janice Campbell
$29.00 List Price at Christianbook.com
Excellence in Literature Content Guides for Self-Directed Study: American Literature (Reading and Writing Through the Classics)
Janice Campbell
$29.00 List Price at Christianbook.com
Instant Key
Suitable for: independent study for grades 8-12
Need for parent/teacher instruction: only to evaluate written assignments
Prep time needed: none
Teacher's manual: N/A-student directed study from this guide
Educational philosophy: classical, real books, college prep
Religious perspective: Christian
Publisher's Info
Home
|
Updates for 100 Top Picks
|
Great Book Reviews
|
Articles
|
About Cathy Duffy
|
Contact Us
Ordering
|
Submit Products for Review
All reviews and articles on this site belong to Cathy Duffy unless otherwise identified. No review or article may be copied or reprinted without permission except for a single copy of a review made for temporary use AND not shared with others. Our organization does not engage in any solicitation activities in California specifically targeting potential customers residing in California (including distributing flyers, newsletters and other promotional materials, sending emails, initiating telephone calls or making referrals in person) that refer potential customers to the retailers with whom we have links.


© Copyright 2010-2014 - Cathy Duffy Web Design by Servator Design