Want to know the best products in the homeschool market?
Cathy Duffy's book, 103 Top Picks for Homeschool Curriculum—new for 2022—makes the job of selecting the right curriculum easy!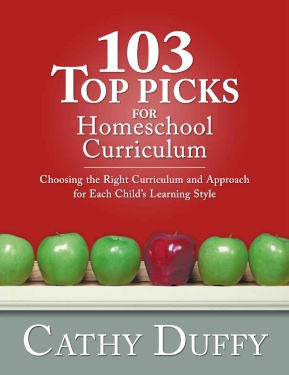 - Learn how to select the curriculum that works best for each child
- Use charts to help you identify what resources will work best for you
- Read the reviews of Cathy's Top Picks
Technological innovations in homeschool curriculum and the many new publishers entering the market provide homeschoolers with more choices than ever. In 103 Top Picks for Homeschool Curriculum, Cathy highlights the best products among the thousands available in this rapidly expanding homeschool marketplace.
The first part of this book helps homeschoolers learn how to select curriculum. Cathy simplifies the curriculum selection process with questionnaires and charts. She walks her readers through the process of figuring out their preferences in terms of approaches to education, learning styles, and goal setting.
Armed with that knowledge, homeschooling parents can use the charts in the book to identify which of the 103 Top Picks are most likely to suit their children. Reviews of Cathy's Top Picks are included in the book. Her reviews evaluate the 103 Top Picks in regard to content, educational approaches, learning styles, and practical features such as prep time needed, ease of use for the teacher, religious viewpoint, and available formats. The charts summarize this information in an easy-to-use format that shortcuts the selection process.
103 Top Picks for Homeschool Curriculum is a must-have for new home educators!
103 Top Picks for Homeschool Curriculum is available only as an interactive PDF. Loaded with hyperlinks and weblinks, it makes it easy to find what you need in the book, connect to reviews of related products online, or go directly to the websites of the publishers of Cathy's Top Picks.
FAQ
How is this different from 102 Top Picks?
102 Top Picks was published in 2015, and many outstanding, new products have been developed since then. Technological advances also mean that there are many creative options for curriculum formats and delivery systems. Cathy's Top Picks include some time-proven products from past Top Picks selections along with many new and innovative products. The essential process for curriculum selection remains the same, although the first five chapters that cover that process have been significantly rewritten.
How does this differ from How to Choose Homeschool Curriculum?
How to Choose Homeschool Curriculum features the first five chapters from 102 Top Picks, giving you the tools to figure out which curricula will work best for you and your child(ren). Rather than the chart system in chapter six of the Top Picks books, it directs you in how to use the free advanced-search tool on this website to narrow down your choices from among all of the reviews posted on the website. Those new to homeschooling might prefer 103 Top Picks since it narrows down the range of choices to consider.
Customer and reviewer comments:
"...I would buy it for myself or a friend without blinking. This is an invaluable tool, especially if you are just starting out. Even as I say that, I have been homeschooling for ten years and I am still getting excited about using Cathy's forms and reading through each section more carefully." (Amy, www.bowofbronze.com)
"Oh my goodness, what a calming & reassuring resource this has turned out to be! I have spent the last couple of years trying to get the hang of homeschooling but floundering the whole time. Yes I have read all the blogs and talked to many other homeschoolers, but it's hard to apply advice from one family's experience and expect it to fit my own.
For the first time I feel like I have a solid direction to head, thanks to Cathy's careful guidance. She has helped me figure out my teaching style/preference as well as my daughter's style of learning.
As with any form of lasting education, the proof is in the application. She helped me connect the dots between teaching/learning styles and the kinds of curriculum that support that. What a relief!! I am entering the new school year with a LOT more peace and confidence.
Thank you, Cathy, for this invaluable resource."
- Esther W - Co-op member
"My two youngest children (ages 5 and 9) and I recently embarked on our first, daunting year of homeschool. In preparation for it, a friend of mine recommended I get this book. WOW. I had been so overwhelmed with the number of curriculum options available. This book was a like a flashlight in the fog! We decided to take an eclectic approach to homeschool. "102 Top Picks" helped me target the best curriculum for my family's goals and my children's learning styles in several different subject areas. I spent A LOT of time pouring through this book and using her recommended charts to target the most appropriate programs for us. I think laying that strong foundation was half of the battle to getting started and really set us up for success. So far, the kids and I are enjoying all of the programs we've picked and they seem to be working well. I wouldn't have even known about some of these options had I not purchased this book. Honestly, I don't know how anyone (especially newbies) could make a homeschool plan without it! Thank you, Cathy Duffy!"
- Amanda Lofink, Co-op Member
"I just wanted to tell you how your book set our homeschool off with success 4 years ago. I was so lost and even though I majored in Education, I still had no idea what curriculum to choose for our family. Your book was a crash course in educational philosophies and learning styles. AND gave us a mission statement that helped us not waste our time and money on curriculum that didn't support those goals. Every time a mom asks me about how to homeschool and where to start, I buy them your book and ship it to them via Amazon. Then I tell them to call me. I can't tell you how many I have bought! But your book is a wealth of information, I know I can't do it justice. I was having coffee with a friend a couple days ago and she said, "You know what book transformed our homeschool? 101-" And I yelled, "Top 101 Homeschool Curriculum by Cathy Duffy! It's so much more than the title! It totally equipped me in making decisions for our school too!" Anytime I see a new curriculum, I jump on your website. All that to say, thank you so much for your book! And the ongoing reviews for future curriculums. I honestly have no idea what I would do without them."
- Linday G.
"Cathy has saved me hours, if not days, of work! I am so grateful for her book. This year I was revamping all of our homeschooling books (either used up or needed a different style) and needed information for three different grade levels for eight different subjects! I was able to find what would work best for our family and each child individually all within her book. Even after I finished the book, I decided to check out some other suppliers. I was unhappy with them all; either quality, price, or content. I would end up back at what Cathy recommended every time. This has been EXACTLY what I was looking for. I really trust her reviews and love the outlook she shares within her book. I cannot tell you what a blessing this book was for me this year. I am recommending it to all my homeschooling friends. Thank you!!!"
- Amber, Homeschool Buyers Co-op Member
"Top Picks assisted me in not only defining my style of teaching but how each of my children learn best. With the curriculum descriptions I was able to select and consider curriculum that would work best for my family saving me much time, money and frustration. I have suggested this book to many other homeschoolers and will always suggest this book to those just entering homeschool."
- Kris P.
Buy 103Top Picks for Homeschool Curriculum today!