Sarah Janisse Brown, the creator of the Thinking Tree books and the concept of Fun-Schooling, has created a huge variety of books on topics for different age groups from preschool to adult. Some of the many topics are science, history, spelling, handwriting, money, journalism, fashion, Bible, sports, inventors, and even Minecraft™. She packages some of them together in curriculum bundles for each grade and further designates packages for either boys or girls. She has also created individual resources for students with dyslexia or dyscalculia, and grade-level bundles for those with dyslexia or ADHD.
Brown's fantastic artwork will probably grab your attention first. Most of these books are heavily illustrated, and most of them provide opportunities for children to color in the illustrations. Thinking Tree books are printed in black and white for that purpose. However, these are not primarily coloring books. Rather they are guided-journaling books that encourage students to explore the outdoors or dive into a specific topic, researching what they're interested in by using books, documentaries, and websites.
While Brown is a Christian and has many Bible-themed journals, most of her books have no religious content. Most Thinking Tree books can be used with multiple ages, and many are written with the Dyslexie font that is helpful for children with dyslexia.
The books vary in design, but they are similar in that they generally provide prompts for students to research topics rather than serving as sources of information. Most of the books ask questions or give directions, then they direct students to use other resources for information without listing particular ones. This format is typical for most levels. For instance, even How to Make Money: A Handbook for Kids, Teens & Young Adults primarily uses questions as prompts to get the reader to think about different issues or steps they need to take to be able to make money.
Some of the books for preschoolers and kindergartners differ since young children are not yet able to read, research, and write like older children. For example, My First Fun-Schooling Math Workbook includes activities for learning to read and write numbers, spell number words, count up to 30, recognize shapes, and learn the days of the week and months of the year. It also has mazes and games. No research required!
Most of the books will serve best as supplements, and I think they will be particularly useful for those using a unit-study or living-books approach. If your children are learning primarily from reading books or being read to (from historical novels, information books, books on science topics, etc.), The Thinking Tree books can help you cement that learning with research, writing, and drawing activities.
I'll focus on two of the Thinking Tree books to give you a better idea of how they work.
Nature Study - Seaside Science - Curiosity Journal: A Handbook of Observation & Discovery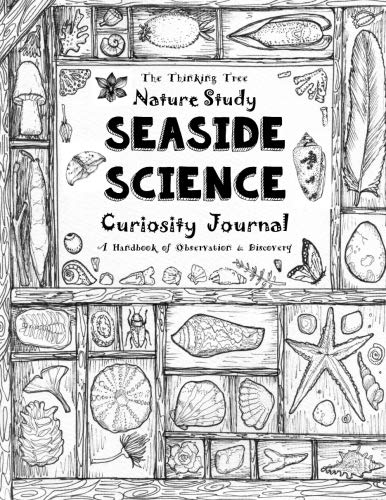 Nature Study - Seaside Science - Curiosity Journal: A Handbook of Observation & Discovery is a secular book with no mention of either creation or evolution. This book is great for vacations at the beach, for those living close to the beach, or for kids who just want to learn about the ocean.
At the beginning of this 232-page book, there are pages for keeping track of other related books students use and documentaries they watch. Many pages include prompts with ocean-related topics to look up then write about or draw.
Often the journaling pages direct the student to go outside for a nature walk and draw certain animals or flowers from seaside areas. There are also many pictures and drawings of plants and animals from seaside areas to research. Students might color or draw some of them. (Sometimes it's hard to identify a flower without the color.) If you aren't by the beach, students can use books or other resources for their observations. Seaside Science includes many pages for adding the student's own photos, artwork, and nature-walk findings. A student can literally add color to every page of this book as well as to the cover.
A few activities stretch into critical thinking. For instance, one activity has two photos of different beaches from opposite parts of the world. The student is asked to study and compare the beaches, then is given space to share his or her research.
Time Travel World History: Heroes & Villains of History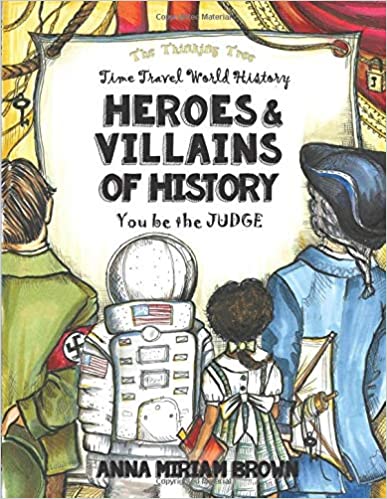 Time Travel World History: Heroes & Villains of History is a 211-page book recommended for ages ten and up. It covers 50 people such as Christopher Columbus, George Washington, Julius Caesar, Charles Martel, Osama Bin Laden, Josef Mengele, Rosa Parks, Charles Darwin, Joseph Stalin, and Michael Jackson. The Catholic missionary, Mother Teresa is also on the list along with a number of Protestant missionaries such as Hudson Taylor, Amy Carmichael, and Lottie Moon. There are four pages for each person, and you can easily substitute other people since the questions and activities are nearly identical for all of them. The name shows up only at the top of the first page, and the pronouns are changed for men and women.
There is space on the four pages for each person for students to draw a picture or paste in an image, but most of the space is taken up with questions with lines for students to fill in with their researched answers. The first question asks students to guess whether the person is a hero or villain and explain what gives them that impression. Then they research questions such as: "What were his goals?", "What did he actually accomplish?", and "In what ways did his life affect our world?" Other questions ask about the person's family and beliefs. There is also space for students to write a random fact and a quote. On the fourth page, students write a short autobiography as if they were this person, and a final question asks students to re-evaluate whether the person was a hero or a villain.
You can use whatever resources you choose as reference material. There are a few pages at the back where you can keep a record of resources if you wish to. The quality of learning this way will vary depending upon the resources used and the depth of the student's research. But it can be an excellent way to learn, especially if students are able to find research presenting both positive and negative views of a person.
Unlike many of the Thinking Tree journals, this one does not have pre-drawn pictures for students to color, although it does have space for them to create their own drawings.
Summary
Those using just about any style of homeschooling can benefit from The Thinking Tree journaling books. They provide plenty of opportunities for students to research and learn—either independently or alongside parents. And if you have artistic learners who enjoy researching and then recording that research with drawings, lists, photos, etc., they will probably love these books.
(Reviewed by Cathy Duffy and Nikki Farmer.)