The ThinkPlay® construction kits are great for children from preschool age up into the teen years. The mainstays of the ThinkPlay kits are the brightly colored Morphun® blocks and shapes that vary from kit to kit. Some of the blocks in each kit have connectors on more than one side that allow children to easily build in multiple dimensions. Each kit comes with one or more sturdy, spiral-bound guide books that have pictorial illustrations showing the steps to build various things. The kits each come in a large plastic tub with handles that lock the lid down.
Morphun blocks can connect with DUPLO™ bricks, although the two products are not affiliated. Unlike the situation with DUPLO bricks, as children get older, they don't have to graduate to different types of Morphun blocks. Instead, the kits for older children add different types of blocks, wheels, gears, rods, cranks, and other components that allow them to build much more complex creations with the same blocks.
Be aware that children might sometimes have a little trouble getting the blocks to go together. You might assist if necessary, but children will develop dexterity as they practice building. These blocks stick together well so that children can actually play with their constructions.
ThinkPlay Preschool
The preschool kit comes with a guide that says kindergarten on the cover. However, the guide is presented in three sections with the first two sections written for children two and a half and older, and the third section is written for ages four and up.
The 270 pieces in this set are mostly cubes and triangles with all sorts of configurations for connections. There are also rectangles, wheels, rods, and pins. While DUPLO bricks have studs on one surface and the studs connect to the underside of other DUPLO bricks, Morphun blocks have varying numbers of sides with studs, undersides (with receptors for studs), and smooth sides. All of the cubes and rectangles have a hole through the middle where children can insert one of the rods. Rods allow even more types of connections, and the rods along with the wheels make it possible for children to build a vehicle that moves.
ThinkPlay STEM Junior Extra
The STEM Junior Extra kit appears to combine two sets into one since there are two guide books: Morphun Junior Guide Book and Morphun Junior Xtra Guide Book. This 400-piece kit is recommended for ages four to nine.
The square blocks are half the height of those in the preschool kit allowing for more detailed building projects. Studs (if present) are on only the top of a block. Instead of studs on the other sides (as on the preschool blocks), these blocks feature a different type of join that requires children to slide blocks together vertically—a little trickier than the stud connections. For building horizontally, the blocks have this new type of connector on two sides with corresponding insets for these connectors on the other two sides. Triangular blocks have only the new type of connector. Most blocks do not have holes through the center (as with the preschool kit), but there are still a few that do. This kit also has wheels, three lengths of rods, and three types of small connectors (X, T, and L shapes) that can be used to join blocks.
Children can use the preschool blocks along with this kit, but not all of them will join together because of the different types of connectors. The more complex connectors allow children to build constructions that move in more ways than were possible with the preschool kit.
ThinkPlay Gears Extreme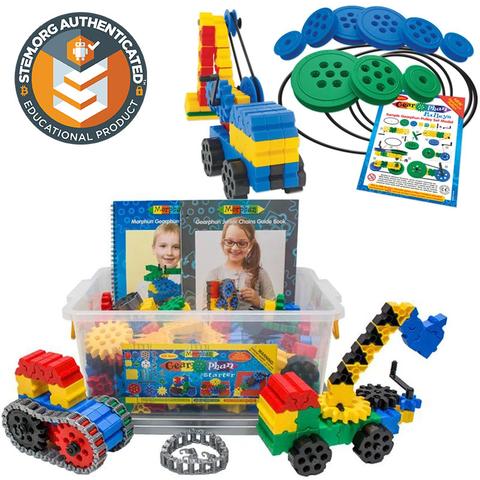 The Gears Extreme kit takes things to a whole new level. It is supposed to be for ages four and up, but I would recommend it for ages seven and up. This 400-piece kit has the same types of blocks as those in the STEM Junior Extra kit. It adds some base grids, gears (of two types and in five different sizes), wheels, chains, cranks, pulleys, pulley wheels, rods, different types of small connectors, and locking pieces.
There are five sets of instructions that come in different formats of loose-leaf pages, folded posters, and a book. All of them have pictorial, step-by-step instructions. Gearphun Starter has loose-leaf pages for 15 projects that acquaint children with gears and cranks. The spiral-bound Morphun Gearphun Starter Guide Book has three sections that gradually increase in difficulty. A packet with more than a dozen two-sided posters shows all of the steps for complex constructions. The Gearphun Junior Chains Guide Book consists of both loose-leaf book pages and four posters teaching how to construct projects using chains, gears, and cranks. And finally, there are four double-sided posters showing pulley constructions.
My grandchildren wanted to just jump in and build whatever they wanted with this kit until they realized that the instructions could help them build more complex items than they were envisioning. Once they got the hang of it by following one or two of the pictured series of instructions, they were off onto their own creations.
Summary
The ThinkPlay kits are outstanding and promise hours and hours of fun. The Gears Extreme set is definitely the one with the highest educational value, but younger children learn construction skills gradually with the other sets that prepare them for much more complex constructions.