My Whole Self Before YOU is a beautifully written and illustrated hard cover book intended to help parents teach their children how to pray. As a model of how to pray, the book uses its own version of The Lord's Prayer with simplified wording and rhyme. (A chart showing the "official" prayer alongside this version makes it easy if you want to teach the correct wording.)
In the book, each element of the prayer is turned into an expanded line of verse that children might easily memorize. For example, the book begins,
"Dear Father in heaven, I come and I bow
my whole self before you. Please hear me right now."
The book teaches one element of the prayer at a time with large, full-color illustrations. The goal of the book is to guide children in their understanding of who God is and how to talk with Him in a meaningful way.
A brief learning guide at the back of the book includes Bible truths with lists of verses and short summaries of each verse or passage along with instructions for using them.
My Whole Self Before YOU Study Guide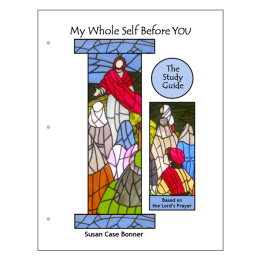 A separate 124-page study guide repeats the Bible truths from the learning guide and then adds activities that reinforce the lesson. The study guide is best for ages 8 to 12. Parents will need to read and discuss the Bible passages with children before asking them to answer questions. Most lessons have questions that require matching columns, or providing fill-in-the blanks or full-sentence responses. The questions might be used orally with young children while those who are able might write their own answers. There are also some puzzles and some passages from Scripture presented as plays. Each lesson concludes with prayer. Most children who are able to write should be learning the adult wording of The Lord's Prayer, and they might even skip the hard cover book and participate only in the study guide lessons. The answer key is included at the back of the study guide. The study guide is available in pre-punched loose-leaf pages (to go into your own binder) or as downloadable files. According to the publisher, parents have permission to reproduce pages for immediate family members in their home. The publisher sells digital licenses for other group use.
Susan Case Bonner has also written My Whole Self Before YOU: The Prayer Guide. This is a Bible study/prayer guide that works through Bonner's "simplified, rhythmical" version of the Lord's Prayer. For each sentence of the prayer, biblical truths are provided followed by Scripture references and suggested prayer templates. Parents could work through this together with upper elementary and middle school students, while teens and adults might use it on their own.