Razzle Dazzle publishes two instructional writing programs—Expository Writing and Creative Writing—plus five levels of Daily Dazzle: A Daily Lanuage Arts Skills Review and The Book on How to Really Teach Writing. The instructional books target students in grades 4 through 8, while there are separate Daily Dazzles for each of grades 4 through 8.
Each product comes in a three-ring binder. Parents/teachers have permission to reproduce the appropriate worksheets and reference materials for their family or classroom.
All materials except The Book on How to Really Teach Writing are designed to help students learn and work independently to a greater degree than most composition skills resources. Any of them might be used with either individual students or groups.
Free PDF sample lessons from each book are available at the publisher's website.
Expository Writing
Expository Writing begins with lessons on basic paragraph writing through narrative, descriptive, persuasive, and expository paragraph writing assignments, all at an introductory level. It then addresses lengthier compositions that contain a number of paragraphs. From that point, you might use lessons in whatever order you prefer although Research Paper lessons need to be used in order.
Other types of writing lessons are personal narrative, descriptive essay, cause and effect essay, friendly letter, compare/contrast essay, "a weekly story elements letter to document reading" (a unique idea that helps students learn to write about literature), business letter, summary paper from a survey, summary paragraph from expository materials, news stories, "listening to literature" notes, taking notes from literature, and eight lessons on writing a research paper that break the process down into smaller steps. (Note: The research paper includes a bibliography but no footnotes.)
It should take at least one school year to complete all of these lessons. Then you might repeat the curriculum another year, asking students to choose new topics for each assignment.
Lessons all follow a similar format. Instructions are first. These are written directly to the student as numbered steps to follow. Almost all lessons include some sort of graphic organizer template for students to use to identify or arrange elements of their composition or brainstorm ideas. Examples and/or models are provided in each lesson. Some lessons include pages for rough drafts. Students will typically write at least two rough drafts before tackling the finished product.
Some students will be able to work independently through these steps, but most will benefit from discussion and interaction as they consider topics and ways to tackle each assignment. Also, younger students are likely to need more assistance than older students.
For every assignment, students use a scoring rubric that identifies key elements that will be evaluated within their composition and possible points to be earned. There are specific rubrics for each assignment that deal with such components as the inroduction, the body of the essay, the closing sentence, and legibility. There is also an alternate rubric that you might wish to use with students once they have mastered the basics (suggested for use beginning with lesson 9). The alternate rubric— "Scoring Rubric for Six Traits of Writing"—addresses more challenging skills such as ideas/content, voice, word choice, and fluency.
Many of the rubrics include a "conventions" category meant to encompass spelling, grammar, punctuation, and capitalization. Some rubrics have space for you to identify a particular skill or convention you wish to emphasize for an assignment.
Students self-evaluate before turning in assignments. The parent/teacher completes a similar scoring rubric for the assignment, and student and teacher then compare their evaluations and discuss discrepancies. This process really encourages students to take more responsibility for completing assignments properly.
At the back of the binder is a reproducible "Tool Box." This is a 20-page reference resource on grammar, punctuation, capitalization, spelling, literary devices, and paragraph construction. Obviously, it is not as comprehensive as a handbook such as one of the Write Source books, but it can be kept readily at hand in a student binder.
Lessons were originally written for classroom use, so they sometimes mention using peer evaluation. This might not be an option in a homeschool setting, but the parent/teacher can do the evaluation in these situations. Other occasional references to the classroom setting do not detract from use of the program by homeschoolers.
Creative Writing
Creative Writing is designed much like Expository Writing with two significant differences. Instructions are written to the teacher rather than the student, and examples and/or models are included in only a few of the lessons.
There are 32 lessons, and they should take about one school year to complete. As with Expository Writing, you might reuse at least some lessons in the program with different assignments another year. The first lesson is similar to the sixth lesson in Expository Writing which teaches children how to "break" their writing into paragraphs. Students will need to know how to construct a basic paragraph before beginning Creative Writing. The rest of the lessons might be used in whatever order you choose.
A wide range of creative approaches is used to develop various writing skills. For example, students write a fairy tale from someone other than the main character's point of view to learn how to plot a story and develop a theme. Another assignment asks students to describe an emotion to learn how to write with sensory language. Yet another lesson teaches students how to write dialogue as they write about one of their holiday experiences. Some of the assignments involve fairy tales or tall tales.
I took exception to only one lesson that asks students to write about preparing and delivering an ice cream sundae to "some who is nice" or "someone who is not nice." This is supposed to serve partially as a way for "young people to get things that are bothering them 'off their chest.'" However, unless you were to include a Christian perpective it could be a very negative experience. This is really a very small issue in context. The other lessons should be lots of fun to use. There's even an assignment that might be very uplifting—for students to "think of one good thing that they could for themselves, their family, a friend, the state, the United States, animals, plants, the environment, mankind."
Lots of different graphic organizers are provided with the lessons so each lesson seems unique. These visual tools make the writing process easier for visual students who need extra help to develop their creativity, but they also provide interest and variety for everyone.
Rather than the scoring rubrics in Expository Writing, Creative Writing has two "Creative Writing Scoring Guides" that serve as rubrics. One of these should be used with each lesson. The first deals with fairly simple requirements such as "written in specified format," neatness and legibility, and "rough draft attached." It includes a line "rough draft signed by peer editor" which will likely need to be adapted for homeschool use. The second option evaluates more challenging skills such as ideas/content, voice, word choice, and fluency.
Creative Writing includes the same "Tool Box" at the back as is found in Expository Writing.
Daily Dazzles
Daily Dazzles A through E target grades 4 through 8 respectively for daily language arts skill review. Lessons target more than 17 skill areas with 20 activities to be completed each week. Each volume has lessons for 32 weeks.
This is really quite unlike anything else I've ever seen, but I'll try to describe it as best I can. For each week there is a single "Daily Dazzle" page with the 20 activities presented in individual boxes. Students have a worksheet with the same layout—identical worksheet every week—on which they will write their answers. Students understand what to do with each box as they become familiar with the worksheet format. They need their "response" form to know what to do with the "questions"on each week's sheet. Some answers fit within the boxes, while others are written on lines provided on the reverse of the response form. Answer keys are provided for each week's sheet.
Examples of some of the different skills: identify both the type of sentence—declarative, interrogative, exclamatory, or imperative—and the ending punctuation required; choose the correct form of a possessive word; identify either a sentence or a fragment; name the part of speech; choose the correct antonym; identify prefix, suffix, or root and give its meaning; put words in alphabetical order; and write in response to a writing prompt.
Some of the these activities will take a few seconds while the writing prompt is obviously going to take quite a bit more time. The idea is that students will be given a set amount of time each day (10 minutes is suggested) to work on that week's Daily Dazzle, turning the completed form in at the end of the week.
It might take a bit longer the first week or two as students become accustomed to the format. Once they've done so, they should be able to work independently and rather quickly.
Razzle Dazzle publishes both a classroom version and a homeschool version of each Daily Dazzle volume, with the homeschool version missing only overhead transparencies.
Each volume features a "Tool Box" similar to the writing courses. It has a few minor differences and one major addition—the inclusion of a table for prefixes, suffixes, and roots with their meanings. In addition, skills on each Daily Dazzle are linked to the tool box with page numbers so students can look up the rules to learn or review them.
The Book on How to Really Teach Writing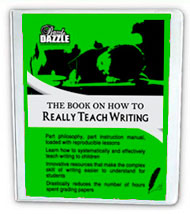 The Book on How to Really Teach Writing is a teacher's manual that both trains the teacher and provides the tools for actually teaching students in grades 4 through 8 both creative and expository writing. While it is written for group classes, it can be adapted for use with a single student. (It incorporates peer editing which isn't possible with only one student.) Teachers need to interact with students, especially as they are learning techniques and skills or trying to come up with topics. As students learn the techniques they will be able to do much of their work independently.
The book includes writing prompts for creative writing, visual organizers, scoring rubrics (including specialized forms for various expository assignments), assignment schedule forms, teacher checklists (to remind the teacher what needs to be done), a research information work sheet (for research papers), and the same Tool Box reference guide mentioned above under Expository Writing.
The Creative Writing and Expository Writing books reviewed above walk students through the learning process presented in this book. If you are good at adapting lessons and coming up with your own assignments beyond the creative writing prompts, you might work with only this book, but if you want more help, you are better off with Creative Writing and Expository Writing books. Some forms included in The Book on How to Really Teach Writing are the same as those in the other books. If you are using the other two books, what you gain from this manual is a better understanding of teaching strategies.