Create-A-Story Game
The folks who came up with the Create-A-Story board game deserve high praise for incorporating some of the best story-writing strategies into a game format that should be great for students about fourth grade and above.
The game actually has two parts: the first, moving around the game board and collecting cards that will become components of your story; and the second, putting the pieces together into an actual story, then writing and scoring the story according to how many of your game cards were incorporated into it.
Part of the difficulty for young writers is figuring out what to write about. It is sometimes difficult for them to come up with characters, plot, theme, setting, conflict, climax, and resolution, all while using elements of style like description and dialogue. This game makes the process much easier by providing a number of these elements for the writer.
There are decks of cards that have topic sentences, settings, characters, plot elements, resolutions (as in how the story turns out), lessons (the moral of the story is…), descriptions (e.g., hairy, cold and rainy, majestic), and dialogue (words like "laughed," "questioned," and "roared" that are to be used after direct quotes). Some blank cards are included so you can add story elements of your own.
Every player selects a topic sentence card before play begins, then as they move around the board they land on other story elements and draw a card each time from the dialogue deck if the space says "dialogue," from the description deck if the space says "description," etc. There are some "Free Choice" spaces so players can select a story element they are lacking.
When they reach the end of the game board path, they are ready to put their story together. They need not use all story element cards they have drawn, but they get points for those they do use. They will generally have some cards that just won't fit with the others, but they should still have plenty with which to work.
Each player takes an Outline Sheet from the pad provided with the game and begins to write down story elements he or she plans to use. Players decide which characters will be good guys or bad guys. They choose which plot to use. Then they write down the key plot elements: the conflict and four steps for what happens first, second, etc. All of this has to lead up to the resolution shown on one of the cards they have drawn.
After they've written down these story elements, they actually write their story. The length of the story should depend upon the age and ability of a child. With a younger child, I might require them to sort through all their cards and limit their selections to fewer than I would allow an older child, just to keep the story brief. Generally, I would expect stories to be anywhere from one to two pages long, but it certainly is possible for students to write much longer stories if time permits.
Once stories are complete, you use the score pad that assigns point values for the various story elements that were used in the story. As the teacher, you can also set your own standards for spelling and grammar, perhaps giving extra points in those areas. Note that references to transition words on the score sheet and in the instructions are a bit confusing since no list of transition words is actually included in the game. However, the list is available on the publisher's website at: www.createpress.com/pages/tips.htm along with free downloads of a "Writing Adventures Journal Plan" (to help students learn to journal) and a supplemental teacher's manual for the Create-A-Story Game.
The game requires adult assistance unless you have older students who have become familiar with the game and who are able to select and fashion story elements together without assistance. There are pawns for up to six individuals or groups of players; children can write stories on their own or as teams in a cooperative effort. However, the game will actually work with only one child if you think of it as a tool for writing a story rather than a competition. Ultimately, story writing is the goal more than winning the game even though children might not catch on to that right away. The story elements in the game will frequently require silliness and creativity to fit them together into a cohesive story. That means that children are likely to have a lot of fun figuring out which ones to use and how to put them together.
Writing Adventures, Books
Create! Press publishes other products that you might find useful for composition and grammar. Their two workbooks, Writing Adventures, Books 1 and 2, teach basic grammar, punctuation, and composition skills in a format that seems most suitable for older students needing remedial work. Beginning with identification of subjects and verbs, the first book presents simplified, condensed coverage that should help a student gain a foundational grasp of grammar. All activities include writing as well as what I would consider optional drawing activities. Composition lessons move quickly from sentence building, through paragraphs to very short stories (as students might write in the Create-A-Story game). The second book adds more challenging grammar lessons and shifts into essay writing. A number of reproducible visual organizers for essay writing are included.
Writing Adventures Game Pack
The Writing Adventures Game Pack reinforces lesson material in the two workbooks. A double-sided game board comes with sets of cards (that you need to cut out) and playing pieces. You can play numerous variations depending upon which side of the board and which cards you choose to use: identifying parts of speech, punctuation corrections, subject/verb agreement, editing sentences with errors, identifying phrases, constructing sentences from sentence parts collected as they move around the board, constructing compound sentences, and identifying similes. Although designed as a companion for the workbooks, these games work fine on their own.
Stepping Stones: The Expository Writing Game
While Create-A-Story assists children with creative writing, Stepping Stones helps them master expository writing with a focus on five types of essays. This is more of a creative teaching tool than a game since there's a prescribed process students will follow that walks them through the creation of an essay.
It comes with a double-sided 11 x 17" game board, game pawns, and a small packet of reproducible graphic organizers and essay outline forms. There are also sheets of cards to be cut apart and used for the game that you should laminate before using. There are topic sentence cards plus "writing process" cards that are numbered and titled for each of the five essays. Students will select or be assigned the type of essay they will work on before you start. One student or a group of students can work through the game together. The group needs to be small enough for a parent/teacher to interact individually with all students.
To begin, students select topic sentence card which might have a complete or partial topic sentence. Topic sentences were created for typical schools so they include topics that relate to school or other topics of concern. For example, one topic sentence reads, "Peer pressure is the best way to stop drug abuse." Blank cards are provided, and you might want to create some of your own topic sentences.
From that point, students simply move their pawns one space at a time, drawing cards which have been placed in numerical sequence to walk them through the process. They will follow directions to brainstorm using a brainstorm map, select an audience, select ideas from their brainstorm map, create an introductory paragraph, choose transition words to connect their ideas, write a main idea sentence for a paragraph, elaborate on a main idea, provide an example to support a main idea, or follow similar steps to create whatever type of essay they have chosen to write. The types of essays they might write are informative, persuasive, operational, comparison and contrast. A reproducible score card helps students and teachers keep track of which types of essay each student has tackled thus far.
The graphic organizers and outlines are attractively designed tools that really help students work through the writing process. They might also be used on their own for additional writing assignments apart from the use of Stepping Stones. While Create-A Story supplies writers with more of the "pieces" they actually need to include in their writing, Stepping Stones supplies the process for essay writing and a topic sentence, leaving more work for the student. Because of this I would likely use it with older students, probably for grades five through eight, but maybe even up into high school if need be.
The Writing Adventures System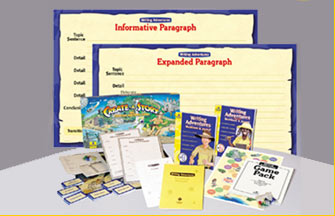 If you like this process and activity oriented approach to teaching writing, you might want to invest in The Writing Adventures System. It includes all of the items mentioned above plus a Teacher's Manual, Graphic Organizer Poster (2-sided poster) and Pads (preprinted forms for a five-sentence informative essay and an expanded version of that essay). The Teacher's Manual is the most important item. The manual guides you through teaching the writing process using the other resources in the system. It teaches parts of speech, syntax, punctuation and capitalization along with composition skills from sentence basics through essay writing. Some activities are for groups and would have to be adapted or skipped if you are working with just one child; it would be best to teach at least two children with the system if possible. The publisher encourages you to pick and choose lessons from the Teacher's Manual to suit your situation, but I would probably purchase individual components to use if I did not intend to use the entire program (or most of it).
While the system begins with skills that children in first and second grades might be scheduled to learn, the content of sentences and instruction is really suitable for children at least third or fourth grade and above. It seems most ideal for students fifth grade and above who have struggled with language arts or have a poor foundation. You can have children at different grade levels working together through many of the activities, challenging older students to use more advanced vocabulary and more complex sentences. You can use the program over a number of years as you challenge students to write at more challenging levels.