I found Oak Meadow's Preschool Play program a delightful contrast to most other preschool programs for homeschoolers. Unlike academically oriented programs that provide information, worksheets, and scheduled learning activities, Preschool Play uses lots of stories, songs, physical movement, imaginative play, and involvement in real-life activities. It's more like preschool "programs" from generations past before preschool became the new kindergarten. Oak Meadow says that it can be used with ages two through five, and there's enough material to use the program for more than one year.
The program consists of the coursebook, Preschool Play: Seasons of Wonder; the music CD, I am Kind by Lindsay Munroe; and three hardcover books titled Read to Your Toddler Every Day: 20 Folktales to Read Aloud, A Bedtime Full of Stories: Folktales and Legends from Around the World, and The Barefoot Book of Children.
The 363-page coursebook arranges the material into five main sections titled:
Autumn: Working Together
Winter: Caring for One Another
Spring: Diversity Makes Us Stronger (Note that the diversity discussed in this section has to do with nature and wonder rather than gender, marriage, and other hot topics.)
Summer: Community
Anytime: Kindness
The four seasonal sections are subdivided into three months each, and some of the activities are dependent on the season to some extent. For instance, Winter activities include poems related to cold, wind, and snow; coaxing flower bulbs to bloom indoors; and house cleaning to welcome the new year. The Summer section accommodates year-round homeschoolers, but many of its activities could also be used at other times of the year. You can follow the seasonal outline or use sections in whatever order works for you.
For each seasonal section, the first two months both include a story within the coursebook that highlights the theme. You can choose any story you like for the third month of each seasonal section, although suggestions from the hardcover books that come with the course are provided for each season. Read to Your Toddler Every Day and A Bedtime Full of Stories both feature tales and legends from around the world, representative of many different cultures. The Barefoot Book of Children introduces the topic of diversity through images and text without getting into hot topics aside from one reference to same-sex parents. There are great discussion ideas at the back of The Barefoot Book of Children that you should check out before you start reading. (Otherwise, you might not realize they are there until you've completed the book.)
The stories within the coursebook are to be read several times each, and patterns are included for felt shapes for each of the stories if you want to use a storyboard as you or your children retell the stories. Children might also want to hear repeated readings of stories from the other books.
The Anytime: Kindness section is briefer than the other four sections of the coursebook. Parents should look through this section and take note of activities that might fit well at particular times of the year, such as those for birthday celebrations and forest hikes.
Each section of the coursebook has poems, songs, games (outdoor, indoor, solitary, group, etc.), activities, and recipes that children can help with. Instructions for activities are included when needed. The coursebook encourages work with natural materials and fibers, such as braiding fibers or creating a winter wreath from fir branches; creative play such as building a castle with large cardboard boxes, sheets, and whatever else is on hand; and projects such as building a bird nest out of modeling beeswax. The activities often assume that you have access to a garden, outdoor areas to make mudpies, and easy access to nature in general, but occasional suggestions for those in urban areas without easy access to nature are included.
Sometimes, the coursebook might suggest a video online for parents, but it's really self-contained with most of what you need (other than activity resources) within the coursebook.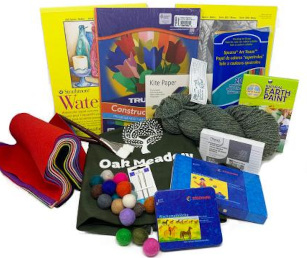 Near the back of the coursebook are numerous resources for parents. Most important is the multi-page chart of required materials (arranged by sections of the course). The lengthy list and the inclusion of unusual items might seem daunting to some parents, so Oak Meadow offers a Preschool Craft Kit with some of the uncommon items along with some that are easy to find. For example, it includes construction paper, index cards, and art tissue paper, along with more difficult-to-find items such as beeswax modeling wax; block-style, beeswax crayons; a darning needle; felting sheets; and the Natural Earth Paint kit.
Summary
Preschool Play: Seasons of Wonder might seem old-fashioned to parents who have been encouraged to take a more academic approach to preschool, but it should appeal to parents who want to help their children learn through play, stories, crafts, and life experiences.