Preschool classrooms often strive to imitate real life by setting up learning centers that mimic the home. So they have the kitchen learning center, the gardening learning center, and the dress up learning center along with math and language centers. Many parents don't realize that they already have "learning centers" and most of the resources they need for preschoolers in their homes. Unlike preschool classrooms, they don't have to recreate the reality that already exists. Preschoolers can work in the real kitchen or the real garden. They can learn to count the number of library books they have borrowed or the number of toys that can be taken out at one time. They can learn one-to-one correspondence by helping to set the table for the number of people in the family. They can recognize letters on food product containers. And, at home, we can certainly add additional resources: magnetic letters, bins with arts and crafts supplies, sensory learning materials, games, PlayDoh, strings and beads, puzzles, sidewalk chalk, watercolors, building blocks, and whatever else suits your needs.
The Homegrown Preschooler is a delightful, practical book with loads of photos and illustrations that capitalizes on the ready-made learning environment at home while also suggesting extra resources that make learning a joyful adventure.
The Homegrown Preschooler is also a wonderful antidote to the recent push for academically-oriented preschool programs. Despite many studies that show that preschoolers learn best through hands-on, experiential learning, many preschools are shifting toward a heavier emphasis on academics, even using workbooks to teach beginning math and language arts skills. The Homegrown Preschooler demonstrates a more developmentally-appropriate way to teach young children. Lee and Richards Point out that, "Young children learn best when they experience concepts in a real way" (p. 19).
Authors Kathy Lee and Lesli Richards explain to parents how they can provide a preschool education that is likely to be even better than what a preschool can provide because it is individualized to each child and each family situation.
In the first few chapters of the book they lay the groundwork as they talk about child development and age-appropriate learning that is adapted for each child. The authors share many comments about their own children. (Parents with autistic children might especially appreciate Lesli's comments about her son and how successfully they have home educated him in spite of a doctor's dire prognosis.)
Because teaching a preschooler happens in the midst of the rest of family life, it can be difficult to get everything done. So the book includes tips on housekeeping and organization, potty training, dealing with tantrums, and many of the other realities of life. It also includes sample schedules and favorite recipes for meals as well as various forms of "art dough." On top of that, because of their own experiences, Lee and Richards share suggestions for dealing with children with special needs, chronic illnesses, and adoption.
While Lee and Richards present many learning activities within the first nine chapters, the second half of the book, beginning after chapter nine, focuses entirely on specific learning activities presented under the headings of home life, science, gross motor, fine motor, math, language and emergent literacy, art and sensory, and social-emotional. Activities are listed and described, but they are not set up in lesson plans. These are lists of ideas from which you should select those that are most suitable for your children and your situation. There are so many activities listed that you could never do all of them. There are activities that will be suitable for a child working alone or a group of children, for indoors or outdoors, and for independent learning or parent directed or supervised settings. Children's storybooks are listed with tie-in activities for each one. In addition, activities range from simple to complicated, so you can always do something even during the tough seasons of life.
The book's appendix has a weekly Activity Checklist for you to plan and track activities; a Getting Started Checklist with lists of items to collect; resource lists for educational supply retailers; sources for children's books and educational resources (a surprisingly short and limited list); lists of recommended books, websites, blogs, and apps; and instructions for making an easel, light table and sensory table. There's also an index which I found extremely helpful.
A Year of Playing Skillfully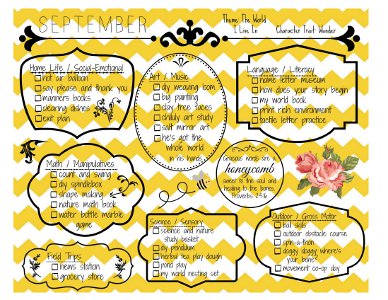 Parents love the concept of the book and the ideas, but many parents want a program laid out for them in advance. So Lee and Richards have created lesson plans called A Year of Playing Skillfully.
This one-year program is available in both ebook and print versions. The pages of the print version are on glossy heavy-weight paper, and they are three-hole punched for you to insert them into your own binder. Monthly charts as shown on the left as well as a bundle ot 28 "printables" are included with the print book. Printed on glossy card stock, these pages will be used for keeping track of things as well as for games and activities. Many of the printables will be cut into cards or game pieces. While you can print both book and cardstock pages from the ebook file, the pre-printed versions are likely to be more durable than what you might print out. By the time you pay the costs for color printing and three-hole punching of the book pages, and then pay for color printing on two-sides of card sheets, you might think the extra cost for the printed version is well worth it. My recommendation is the option that includes both ebook and print versions (same cost as for only the print version) since you'll have the beautifully-printed pages, and you'll also have the ability to easily print out pages with supply lists, book lists, recipes, planning pages—pages you might want to carry with you—so you can keep your binder pages intact.
Each month is organized around both a theme and a character trait. For example, the October theme is "Fall and Apples," and the character trait is orderliness, while March uses a theme of "Rhythm and Rainbows" and teaches the character trait of patience.
An index at the back helps identify particular topics, skills, or activities in case you want to use something out of order. Recommended children's books that you might read aloud are listed within each month's lesson plans, but there's also an index of children's books, listing them by month all on one page.
For each month there is an overview page that you can print out for easy reference. Lesson plans do not set up a schedule of what to accomplish each day. Instead they present activities from various areas. Activities are presented under the headings, Mom's Toolbox—a couple of great resources that mom might want to have on hand for repeated use, Home Life and Social/Emotional, Books (children's storybooks and related activities), Language and Literacy, Math and Manipulatives, Science and Sensory, Art and Music, Gross Motor and Outside, and Field Trips. Activities are described, generally with more detail than in The Homegrown Preschooler. The book is very heavily illustrated with great photos (probably of the authors' children) that illustrate the activities. A supply list for the month follows the activity suggestions. Parents will still need to plan ahead, gather resources, and prepare learning materials, but the lesson plans select and organize options around themes—a step that saves parents a tremendous amount of time.
Summary
Since The Homegrown Preschooler is published by a secular publishing company, there are not Christian references in that book. However, A Year of Playing Skillfully reflects the Christian beliefs of both authors, and that is reflected in the Bible verse for each month, the treatment of character traits, the Christian presentation of Christmas and Easter in the months of December and March, references to Bible stories, recommendations of hymns to sing, and suggestions for Christian books and devotionals in the "Mom's Toolbox" section.
The Homegrown Preschooler is a fabulous resource for all parents (and grandparents!) of preschoolers since you can do as much or as little as you please. You are certain to be inspired with loads of ideas that you just can't wait to try with your children.
Note: At The Homegrown Preschooler Store you will also find Water Beads (for sensory play) and a Color Mixing Kit (with tools and paints for learning how to create various colors).