Discover! offers social studies, science, and language arts courses for grades one through six, available in either worktexts or their online "blended" format. Math courses will also be available by the summer of 2023. The two formats offer very different experiences, but both rely on the same course books. I'll discuss the books first, then explain the additional features of the blended option.
Course Books
Each course has two, full-color student worktexts—one for each semester—and an instructor guide. The consumable worktexts contain both instructional information and activities. The physical books are either used on their own or with the online resources in the blended format. Students write on most worktext pages, whether they use only the worktexts or the blended online courses.
While the worktext format might suggest this is a traditional style curriculum, the lessons and instructor guides include activities for different learning styles, such as discussions, reading aloud, drawing, writing, completing graphic organizers, field trips (virtual or in person), and hands-on projects. The worktexts themselves sometimes direct students to do online research, although the blended online option adds a greater variety of online activities.
Lessons often include scenarios or stories that grab students' interest. The scenarios are often written in a conversational style, posing questions for students to think about or respond to. The rest of the lesson content is more like that of traditional worktexts. While the design of these courses is ideal for homeschoolers, the stories and exercises refer to traditional school settings rather than homeschools.
The worktext content is secular and aligns with national standards. Even so, the courses do not discuss evolution or the age of the earth, saving those topics for junior high and above. The blended format includes an option for Christian families to use "Faith Connection" activities, but those are only available with that format. Both formats include work on the development of emotional and social skills and environmental awareness.
The language arts courses are comprehensive, including phonics and reading skills in the early grades. The only thing you might need to add is handwriting instruction.
The science courses are excellent, covering a broad range of topics with plenty of hands-on learning and practical applications.
The social studies courses have very limited coverage of world history and modern American history, concentrating more on communities, cultures, and geography. Following are the main topics for each social studies course:
First grade: families, cultures, the world around them, community leaders, laws, and work vocations within the community
Second grade: geography, maps, communities, resources, jobs, income, and environments
Third grade: different regions of the world, human impact, travel, trade, the environment, citizenship, the role of government, and how government works
Fourth grade: key moments in world history during the 1600s and 1700s, American history from colonization through the Civil War
Fifth grade: geography and cultures of Asia, Africa, Europe, Central America, and the Caribbean
Sixth grade: ancient civilizations: Egypt, Israel, India, and China (Note that the study of Israel includes some historical information derived from the Bible.)
How Lessons Work
Each course has 72 to 76 lessons, some of which are chapter reviews. The lessons are grouped into about 10 chapters in each course. Each lesson should take two or three days to complete.
The courses generally follow the same format for each lesson. An introduction includes the lesson objectives, a reminder for topics to review if needed, a list of materials needed (if any), and an introductory activity or information in a call-out box. After that, the lesson has an "Explore" page designed to engage students' interest. Explore pages vary greatly—in English Language Arts courses, for example, this may include a reading passage that poses questions to consider, a drawing assignment, an observation assignment, an easy research activity, or a writing prompt. After the Explore page are one or more "Read" pages that present the lesson material. "Practice" and "Write" activities are often between and after "Read" pages. Next is a "Skill Builder" page for students to practice previously learned skills. Lessons conclude with a "Show What You Know" page, which checks student comprehension of lesson material while also providing a form of accountability.
The information is frequently broken up with practice exercises and critical thinking activities, and they include built-in reviews and assessments. End-of-chapter assessments are in the instructor guide, and you can choose either a question-and-answer assessment or one that is project-based or creative if that better suits your child.
Various types of call-out boxes in each lesson present information or activities aside from the primary text. Among these, you will find projects, crafts, games, interactions, online resources, field trips, scavenger hunts, and much more. Some activities require outside research, such as a third-grade-science activity to create a bird guide about four or five birds that live in the student's area. An occasional "Online Connection" in student worktexts directs them to search for something online.
Instructor Guides
The instructor guides provide lesson objectives, items to review, ideas for addressing learning styles, activities for both remediation and extension, occasional "co-op" activity suggestions for group classes, and answer keys. Because the courses require critical thinking, writing, and personal applications, many student responses will not be predictable. This means parents must spend some time evaluating student work.
Online "Blended" Courses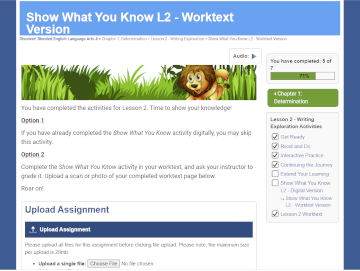 Discover courses can be taken in a blended format that uses an online system along with the student textbooks. These courses are available through a different URL dedicated to the blended courses. The overall "feel" of the blended courses seems quite different since they add online, multi-media content. Some of the online content is optional.
Blended lessons begin with "Get Ready" rather than the introductory section provided in the textbooks. This section might have some content like that in the workbook's introduction, but it is usually different.
Students still need to do written work and other activities offline. Those taking blended courses can download and print their workbook pages for each lesson rather than using a physical textbook. They need to write on the pages, so they still must be printed. The Show What You Know assessment at the end of each lesson is a possible exception; a digital version that can be completed online is included, although students can complete it on a workbook page, take a photo or scan it, then upload it. (I don't see why anyone would go through that bother when Show What You Know can be taken and scored automatically online.) Other activities, such as games, discussions, and science observations, are done offline.
Optional links to lessons on Elephango are included within the lessons. For example, the first lesson in fourth grade English Language Arts covers elements of a book, such as the table of contents, headings, index, and glossary. The interactive Elephango lesson digs deeper by explaining primary and secondary sources and providing activities for students to read from primary sources and answer questions about them.
Students can also upload any written assignments, which can be viewed and graded from the parent's dashboard, but uploading written work that needs to be graded manually doesn't make sense in most homeschool settings.
I mentioned earlier that families can use the Faith Connections option, a faith-related activity for most lessons. These are supplemental activities rather than the main lessons, and they have a Protestant slant. For instance, for a fourth-grade English Language Arts lesson on text features, the Faith Connection explores text components using the Bible--the Bible has only the 66 books included in most Protestant Bibles. Students answer questions online, and they are scored immediately.
The Show What You Know, Interactive Practice, Elephango, and Faith Connection activities allow students to correct their answers and retake quizzes.
The blended online option makes it easy for students to know how much to complete each day, and it includes additional online lesson material that significantly enhances the courses.
Summary
The courses in either format are relatively easy for homeschoolers to use for one-on-one instruction. For at least first and second grade, the courses need to be used in a highly interactive fashion. Discussion suggestions are in the instructor guide along with directions for hands-on activities, outdoor learning, and other activities. For third grade and above, the courses gradually shift toward more independent study, although they continue to require some discussion, parental assistance, "public" presentations, or other interactions. This combination of independent work and interaction helps keep parents "in the loop" regarding what students are learning whether through the worktexts or online.