Memoria Press has created three core world geography courses plus review courses. The first two courses—Geography I: The Middle East, North Africa, & Europe and Geography II: Sub-Saharan Africa, Asia, Oceania, & the Americas—are for approximately grades four through seven. Review courses are used to reinforce material learned in the first two courses. The third course, Geography III: Exploring & Mapping the World, should be best for seventh and eighth graders.
Memoria Press also publishes a separate geography course for learning about the United States, and they recommend beginning the study of geography with that course.
Geography I and II
The first two courses are somewhat similar to each other, so I'll discuss their features first. The primary goal of both Geography I and Geography II is to help students learn the names and locations of countries and their capitals. The courses also teach very brief history of each country.
Each course has three required components: a student text, a workbook, and a teacher guide. An optional set of Geography Flashcards can be used with both courses.
The student texts for both courses are similar in layout but with some minor differences. Each course is presented in units that cover groups of countries. An overview is on the first two pages of each unit. Then the lessons cover either individual countries or groups of countries. Each lesson has a map labeled with only the names of countries and their capitals plus a few major features such as rivers or mountain ranges. More details are provided in the accompanying text, photos, and charts.
The student text for Geography I: The Middle East, North Africa, & Europe presents information for most lessons in two parts: "History's Headlines" and "Tour of Today." Given that Memoria Press resources support classical education, the History's Headlines sections frequently make connections to the ancient world, especially the ancient Roman Empire. A chart of "Fast Facts" for each country lists current information, such as the capital, the language, major cities, the population, religion(s), landforms, bodies of water, climate, resources, and an explanation of the country's flag. The same page includes a blackline drawing of the country's flag for students to color using the full-color flag images at the back of the student text as a key. (Coloring the flag is the only "writing" done in the student text.)
The student text for Geography II: Sub-Saharan Africa, Asia, Oceania, & the Americas presents information a little differently. The lessons have charts with current data on the selected countries. The text for each lesson begins with a "Did You Know" section with bullet-pointed geographical or historical facts. Most lessons include one or more paragraphs about specific geographical features, and there is often another brief section about history or current events.
The set of Geography Flashcards covers 192 countries. One side of each card has the name of the country and an outline map of the country shown within a continent or other geographical surroundings. The other side has the name of the country and a blackline drawing of its flag. Students might color the flags on the cards rather than in their books.
Workbooks for both courses have the same maps as do the texts, but the maps are unlabeled. Students will label the maps with words from a list. In the Geography I: Student Workbook, there is generally one page per lesson, with the map taking up about half of the page. The rest of the page has lines to enter facts presented in the student text. The Geography II: Student Workbook typically has a two-page spread for each lesson. A map takes up one page, and there are more facts to cover on the facing page because the lesson covers multiple countries. Most of the information to be filled in is predictable, but "Fun Facts" can be selected by the students and will vary. Review lessons for each unit are included in the student workbooks.
Teacher guides for each course are identical to student workbooks but have overprinted answers and map labels. They do not include all of the information in the student texts. Quizzes and tests are at the back of each teacher guide along with answer keys.
Geography I and II do not require any additional research or resources. The teacher guides have brief teaching instructions that describe how a teacher should interact with students. Part of the teacher-led lessons includes a discussion about whether a country's boundaries are natural (e.g., formed by a river, body of water, or mountains) or manmade. However, aside from the discussion of boundaries, it seems to me that all other lesson material can readily be gleaned directly from the student textbooks. Consequently, I expect that most homeschooled students will complete lessons on their own, working independently.
These are not comprehensive geography courses that include significant study of each culture and in-depth study of geographical features, climate, and resources. Rather, they are intended to familiarize students with the location of and basic information about each country and its neighbors. The Geography I and II courses will require very little time to complete, and the review courses described next will take even less time.
Review Courses
Memoria Press has come up with a unique method for students to review material learned in their geography courses with separate review courses for the United States: States & Capitals, Geography I, and Geography II. They recommend that students begin with the United States: States & Capitals course, then follow with Geography I and Geography II over the next two years. While students study Geography I, they should also use The United States: States & Capitals Review to help retain knowledge from the U.S. course. Similarly, while studying Geography II, they should also complete Geography I Review. These first two review courses have students identify names of countries and their capitals through mapwork as well as by filling in blanks and completing matching activities.
Geography and Timeline Review Worksheets is a third review course intended for use after Geography II. The timeline review is based on the assumption that students have completed other Memoria Press courses for history, geography, and Christian Studies. Students alternate between geography and timeline worksheets, completing one per week. Timeline worksheets have students fill in key information next to dates. Geography worksheets have them identify countries and their capitals on maps.
Memoria Press packages the appropriate review courses in their grade-level packages and within some of the geography course bundles, but you can buy all items separately.
Geography III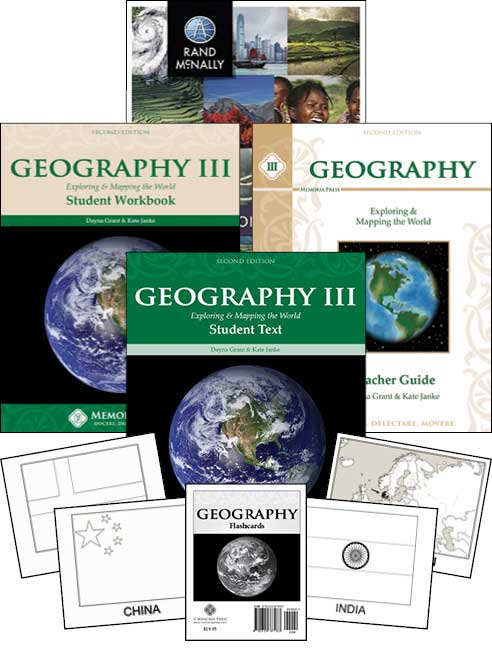 Geography III: Exploring & Mapping the World is more comprehensive than the first two courses since it covers the entire world with a study of both physical and human geography. As the Geography III: Student Text explains, human geography has four main categories: cultural, economic, political, and historical. Since the text is only 121 pages in length, and those pages include many illustrations and maps, the coverage of human geography is quite limited. For instance, the five Nordic countries of Iceland, Finland, Denmark, Norway, and Sweden are covered together in about one page of text.
The text hits some historical highlights, but it is not intended to be a complete history. Students will learn about the geographical location, topography, climate, culture, history, and religions of countries and regions in a quick overview. This course is designed to provide junior high students with the context for high school history studies. If students know the locations of countries and their geographical features, along with some basic information about cultures, religions, economics, and historical events, they will better understand the lengthier explanations about historical events they will encounter in those courses. Geography III has a brief United States review near the beginning of the student workbook.
Map work plays a major role in this course. In the Geography III: Student Workbook, students are given lists of places and features to locate and label on partially labeled maps. They will also be learning how to draw a complete world map—a Robinson projection map. You will make multiple copies of the outline for this map that is found in both the teacher guide and student workbook. Students will work on sections at a time, gradually learning how to draw all of the continents in their correct locations and label countries, capitals, and key features.
The student workbook has questions and map work for each of the course's nine units. Every unit has comprehension questions requiring a mixture of brief and paragraph-long responses, such as, "Give a brief overview of the Arab Spring" (p. 38). Some units have long lists of countries for which students need to write in the names of their capitals. And every unit has one or more of the map activities I described above.
An appendix in the student workbook has instructions and the outline for the Robinson projection map work, extra assignments that might be completed by students as part of an honors course, and a three-page "Major World Religions" chart that can be completed as part of the honors work.
The Geography III: Teacher Guide has the complete text of the student workbook with overprinted answers, 22 pages of reproducible maps, nine unit exams, a final exam, and answer keys for all exams.
The Geography III set includes the teacher guide, student text, student workbook, Geography Flashcards (the same set that is used with Geography I and II), and the Rand McNally Classroom Atlas. The atlas is primarily used for optional research.
There are optional lesson plans for this course. They might be helpful if you want to use the atlas or the flashcards since neither of these items is mentioned as part of the coursework in the other course resources.