Geography Songs includes an audio CD, a workbook, and a giant map. The CD features 34 catchy songs. The workbook has words to each song, maps, a crossword puzzle, a test, and an answer key. The workbook is reproducible, so one set is all you need for the entire family. The giant map shows the world, the 50 states, and the solar system. Children color and label the world map. All of these work together to build familiarity with the locations of planets, continents, countries, and states.
Many of the songs are sung in a style that reflects the culture of the geographical area which helps with memory association. All three components were updated in 2014 to reflect the current names of countries. You can also purchase each of these three components separately if you wish.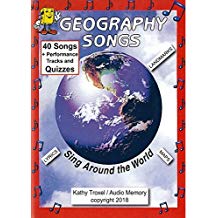 The newest version of Geography Songs is presented on a set of three DVDs. The DVDs includes the 34 songs from the Geography Songs CD plus all of the songs from the Audio Memory States and Capitals CD plus the "Canada Provinces, Territories, and Capitals" song, an audio lesson on the states of Mexico, and the "Maritime Southeast Asia" song. Each video song is followed by a quiz or a karaoke performance track.
The songs are presented against backdrops of colorful photos, animated maps, or lyrics. These add a valuable visual element. While some songs repeat a number of times, the visuals change with each presentation.
As I mentioned, quizzes are included periodically on the DVDs. Quizzes don't actually require students to do anything other than review information. They show blank lines with only the first letters of missing words, but there isn't any way for students to write in answers. You should probably pause the DVDs to give children an opportunity to orally fill in the blanks by either singing the songs or saying the missing words, but there are no built-in pauses for this. The visuals on the DVDs make them fun to watch, and perhaps this will make the songs more memorable for children.
Geography Songs is not intended to be a comprehensive geography course. Instead, it serves as an introduction to further study. Children might be overwhelmed if you have them listen through the entire CD or watch an entire DVD in one sitting, so the best way to use Geography Songs is to use only the song or songs that relate to whatever country or continent you are studying at the moment. (Also use pertinent pages from the workbook as they relate if you have the workbook.) These songs can help students recognize and associate countries, states, etc. in their proper geographical areas, and some students find the musical associations much easier to recall than words and images alone.