World History resources for homeschooling written from a Catholic perspective are fairly limited, which makes Creation to Present: A Catholic World History Resource a valuable contribution to the marketplace. Author Marcia Neill originally published one large volume that was primarily a timeline resource, but that also included some information for teaching history. Creation to Present greatly expands the information into this 245-page book. It is essentially a guide for using a "real books"/unit study approach for teaching history at all grade levels. Ideally, it would be used in conjunction with Marcia Neill's separate book Catholic Timeline Illustrations, but that isn't required.
Creation to Present is published in a plastic spiral-bound book with tabs for easy reference. The seven tabs are for Timeline, U.S. Presidents, Popes, Literature, Textbooks, Movies, and an Index. The Timeline and Literature sections are the largest and most useful for selecting resources and planning your courses. The Timeline section has chronologically arranged charts showing the people or events, date for location on timeline, and a brief summary of the contribution of the event or person. There is also an identifying code for those events or persons for whom there is an illustration in the Catholic Timeline book. While there are hundreds of illustrations in the Timeline book, there are still many more people and events in the charts that you might choose to study. Tabs for U.S. Presidents and Popes are really specialized subsets of the primary Timeline tab section that add much more detail on each president and Church history respectively. The timeline sections sometimes include cross references to Scripture and to the Catechism of the Catholic Church when appropriate.
Under the Literature tab are chronological listings of historically-based literature. Listings include author, publisher, publication date, number of pages, ISBN numbers and appropriate age range. Listings are not annotated. Within the Literature tab section is also an extremely helpful four-page chart titled "Unit Study Approach to Teaching History." It recommends two excellent Catholic unit study series (Connecting With History and History Links). But for those who wish to put it together themselves, the charts show a suggested progression for history study from grades 1 through 12 with key topics for each period. Tied with each period of history/grade level are suggested topics for religion, literature and science so that you can use history as the core theme for your unit studies. Specific resource recommendations are included only for history, although many of these may double as your literature selections.
The Textbook tab offers traditional textbook suggestions for history at each grade level that are either Catholic or relatively neutral.
The Movies tab introduces a surprisingly large section of recommended movies, also arranged in chronological order. These entries have fairly lengthy descriptions along with ratings from both the Motion Picture Association of America and the United States Council of Catholic Bishops (USCCB) when available.
Catholic Timeline Illustrations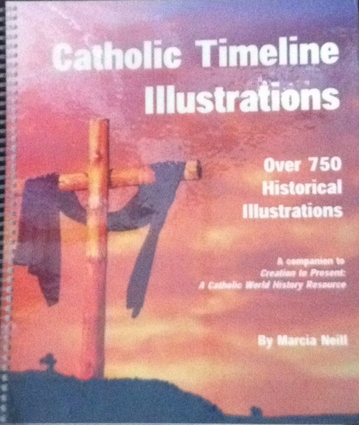 The timeline illustrations, timeline strips (printed on cardstock), and instructions for creating the timeline are now contained in a separate package. Most timelines present world history from a Protestant view, breezing over early church fathers and other people and events that receive greater attention in Catholic history texts. This timeline set includes most figures you find in other timelines plus those of special interest to Catholics.
The colored, cardstock paper needs to be cut into strips to mount on the wall. Of course, you can always use the timeline figures in a notebook or a different mounting or display system if you prefer. The 750+ figures are engravings, drawings, and photos, mostly from out-of-print resources. Some more recent historical event photos taken by a White House photographer have been included by special permission. Each picture (approx. 2" x 2") is labeled with names or events and dates. These are printed with black ink on cream-colored cardstock, and some of them may be colored in with soft colored pencils, although it isn't necessary. Additional information about each character/event is on the back of each picture.
Either Creation to Present or Catholic Timeline Illustrations may be used independently, but together they provide the key ingredients for putting together a fascinating journey through history for Catholic families.