History Quest: Early Times serves as an introduction to the history of prehistoric times up through 800 CE (Common Era). It is written primarily for use as a read-aloud book for children in grades one through four, but older students in fifth and sixth grade can read it without assistance. This is the first book in a series under development. There is also a companion History Quest: Early Times Study Guide that is appropriate for grades one through four. Both books are available in either print or ebook editions.
History Quest: Early Times can be read on its own or it can be used as part of a more comprehensive course such as that presented in the History Quest: Early Times Study Guide. First, I'll discuss the book as a stand-alone item.
History Quest: Early Times
Author Lisa Hawkins set out to write History Quest: Early Times with specific goals in mind. She wanted to write in a way that was both engaging for children and strongly based on historical facts. She wanted to avoid the promotion of religious, cultural, or political agendas. She wanted to include information about influential women and underrepresented groups who are often ignored. The result is a secular history that teaches through a style that mixes storytelling focused on narrow topics with a presentation of more comprehensive historical information. It includes the discussion of various religions and their practices without promoting any of them. Christianity receives very little attention in contrast to the discussion of other religions which seems odd since it has had far broader impact than some of the other religions.
Each chapter of this 516-page book is written in two parts: a broad historical overview of events is followed by a "History Hop." The History Hops are written as if the child reading or hearing the story is traveling back through time to interact with a person from that era.
Hawkins presents the broader history in a way that helps children make connections. For example, she introduces the Andean civilization by saying:
Many thousands of years ago, people began to build civilizations all around the word. There were a total of six different civilizations that started from scratch—that is, they started without anyone teaching them how to do the many things that people living in civilizations do. You already learned about the ones in Mesopotamia and Egypt. But this one started far away from those others, clear on the other side of the world, on the western coast of South America in what is now Peru. This ancient civilization formed near the Andes Mountains, so it is known as the Andean civilization (p. 102).
The History Hops take an entirely different approach. History Hops focus more narrowly on a particular aspect, event, or person of a culture or historical period such as the high priestess and author Enheduanna of the Akkadian Empire, the embalmer of the Pharaoh Tutankhamun in ancient Egypt, and potters and weavers in the Andean civilization. These fictional stories usually begin with the child suddenly finding him or herself in a strange place, observing life in that historical era. At some point in most of the History Hops, the child has a conversation with a person that is based on either a real or imaginary person. The author grants the time-traveling child the ability to both read and understand the language of the people of that era so that they are gleaning historical and cultural information from conversations and observations in their time-travel surroundings.
The approach used by Hawkins allows her to include much more information than other history series that use a story-telling approach─series such as The Story of the World by Susan Wise Bauer, The World's Story by Angelo O'Dell, or the Simply Charlotte Mason history series by Sonya Schafer. Because History Quest: Early Times is so content rich, it can be used for fifth and sixth graders as well. However, because the topics covered should have been studied at some time prior to the end of sixth grade, I wouldn't recommend it as a core text beyond that level.
History Quest: Early Times Study Guide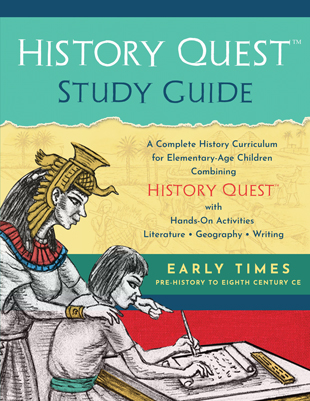 The History Quest: Early Times Study Guide, written by Lisa Hawkins and Lindsey Sodano, uses both History Quest: Early Times andThe Usborne Internet-Linked Encyclopedia of World History
as spine books to present a more comprehensive course. Other books on specific topics are recommended for each unit but are not required. The use of additional books and many activities provides more historical content and more learning-style options.
The first 193 pages of the book are the actual study guide. The next 75 or so pages are for students to use as they create a History Travel Log in their own three-ring binder.
A number of other supplies will be needed for activities: a variety of art and craft supplies such as scissors, glue, paints, paintbrushes, clay, craft sticks, and markers; cooking ingredients for activities that involve creating food products; and a variety of other items such as a clay pot, cardboard boxes, apples (for mummification rather than eating), and paper towel tubes.
The study guide is arranged into 27 units with an additional four "Hygge History" units interspersed through the course. The Hygge History units are more laid back with no worksheets or assignments. Instead, one or more books are suggested for studying the Epic of Gilgamesh, Greek mythology, Hindu mythology (from the Ramayana), and Chinese mythology.
The units should each take a week to complete. For each of the 27 regular units, the study guide first lists the resources you will need. Then it displays a five-day schedule showing which pages are to be read from the spine books and the other activities to be completed each day.
The five days for each lesson are labeled Discover, Explore, Create, Demonstrate, and Enrich, reflecting the different types of learning that will take place.
The first day, Discover, has one or more reading assignments from the two spine books, and it sometimes adds map work.
The second day, Explore, has you or the student read the History Hop part of the chapter from History Quest: Early Times. Then students work on their History Travel Log. Using templates from the student pages, they mark on a timeline then cut, paste, and color an illustration from the student pages—or draw their own illustration. They can write or dictate answers to questions about the History Hop regarding whom they met, what they saw, and what they learned. During some weeks, they might also explore historical sites using Google Earth.
The third day, Create, is for art, cooking, and projects such as creating a model of a ziggurat.
The fourth day, Demonstrate, gives some choice as to how children will demonstrate what they have learned. All children are to read through the terms and concepts shown at the beginning of the unit, then parents can decide whether or not to have children copy some or all of them into their history notebook. After this, parents can choose from three options: present children with questions that require short answers, ask the child to narrate verbally or in writing what they have learned, or have the child copy or take from dictation a passage they will write in their history notebook.
The fifth day, Enrich, is the most flexible as it presents suggestions for websites to explore through links found at Pandia Press, supplemental books to read, and videos to watch for enrichment.
If you use the study guide, you will probably spend an entire school year on the course, but you can reduce the number of activities to fit into a shorter timeframe if need be.
As I mentioned at the beginning of this review, the History Quest: Early Times Study Guide is for grades one through four. Fifth and sixth graders should be doing more academically challenging support activities that are not provided within this study guide. You might have them create their own travel log from scratch, write summaries or commentaries about what they read, or read and research particular topics.
While you can buy a print version of this book, the price is significantly higher than for the ebook. Because of the cost differential and the fact that you need to print out many of the student pages, I recommend purchasing the ebook.
Summary
History Quest: Early Times can be used as a secular history on its own or as a spine book within a more comprehensive course such as that described above. Using the study guide as well gives you a more substantial course along with opportunities for students to demonstrate what they have learned.