ALEKS® (an acronym for Assessment and Learning in Knowledge Spaces) offers online, comprehensive math programs for grades three through twelve in either English or Spanish. ALEKS also has high school chemistry, but their math courses are the focus of this review. A student subscription allows the student access to any ALEKS course, but only one course at a time. A subscription includes both a student and a master account for the parent or teacher.
ALEKS uses artificial intelligence to assess student knowledge and skills before students begin their coursework, a process they call Knowledge Check. Before beginning the Knowledge Check, the program shows the student the location of key items on the screen and how to use on-screen tools to enter different types of math answers (e.g, operation signs or the numerators and denominators in fractions).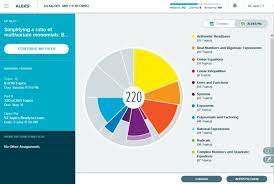 Based on the Knowledge Check, the program creates a personally-designed pathway for each student. This is presented visually as a pie chart before students begin their lessons.
The program aims to keep students working at just the right level, so they are challenged without being frustrated. It continually adapts so that the course is presenting new material at a point where the student is ready to learn it. If a student is not able to successfully learn a new topic, it is reintroduced at a later time. If a student struggles with a problem, the program will sometimes step back to an easier version of that type of problem. Students can select "I don't know," but this does impact their grade. On the other hand, if students are consistently getting the answers correct for the same type of problems, they are not required to do the entire set.
The learning pathway adjusts as needed throughout the course. This is reflected in changes to the pie chart that show topics that have been mastered, those learned but not mastered, and those still to be learned. Periodic reassessments continue to update the student's learning path while also ensuring that the student remains familiar with previously learned concepts.
The program automatically presents topics in a particular sequence that gradually increases in difficulty. However, it does offer students the option of switching to another topic from time to time. The topic that was pre-selected by the program will still be presented after the topic selected by the student has been completed.
The program presents problems that often require students to work with paper and pencil (or use the online calculator), then enter their answer on the screen. It avoids multiple-choice questions where students can guess at the answer.
Students are given immediate feedback as they answer each problem. If students miss a problem, they are given additional opportunities to get the correct answer, and the system tracks this. Students can click on the "explanation" button if they do not know how to arrive at the answer, and this will show them how to work the problem.
All coursework is online, and no textbooks are required. Math instruction is presented with both text and graphics but without any voice-overs or audible explanations. For this reason, ALEKS will probably work better for visual learners than for auditory learners. I see this as a positive feature for visual learners since the student who can read fast and grasp a concept quickly from the visuals can skip quickly through the explanation. Those students do not need to wait for an audible explanation to finish before they can tackle problems.
In addition, the program does not have animations and lengthy transitions between problems that waste time—one of the big complaints I have about many online math programs for the elementary grades.
While I like the efficiency of the program, the displays on student screens are rather bland. There are no cartoon characters, animations, or visual backdrops to make the program visually appealing. Parents need to judge for themselves whether this is an important consideration.
The master account gives parents access to detailed reports on student learning. Reports can also be set up to be automatically emailed to the parent.
ALEKS QuickTables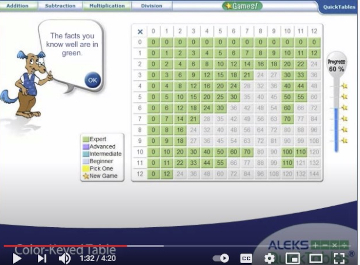 The ALEKS QuickTables program specifically targets the mastery of math facts for addition, subtraction, multiplication, and division for zero through twelve. Students can subscribe to only QuickTables and use it alongside other math programs. However, access to QuickTables is linked from the main navigation menus for the ALEKS comprehensive program up through junior high. So ALEKS students get QuickTables at no extra cost.
Students choose which QuickTables operation to work on to practice math facts. Cartoon characters add visual appeal that is lacking in the comprehensive program. Color coding on a chart shows student progress, and there's also a progress bar to the right. Each time students reach the next star on the progress bar they are rewarded with a game.
With QuickTables, you can adjust program settings, but this program doesn't adapt as do the comprehensive courses. It does track student progress, and it allows the parent or teacher to add new fact tables and generate optional, customized worksheets. Students working through the comprehensive ALEKS courses do not have to use QuickTables unless the parent or teacher requires it, but it's a great tool to ensure that students master their math facts.
Summary
ALEKS has been used by millions of students and has justifiably developed an excellent reputation. I have reviewed other programs that are supposed to adapt to student learning, but I wondered if that was really happening. With ALEKS, I could actually see immediate changes in response to the answers I submitted. The efficiency of ALEKS in identifying the needs of the learner and individualizing instruction is the best I've encountered in any of the math programs I have reviewed.