NASA rocket scientist, university professor, pilot, and mom Aurora Lipper is dedicated to making science intriguing and fun for children. To that end, she has created both online science curriculum and packaged science programs (which include materials and equipment) for students in kindergarten through twelfth grade.
In Lipper's "e-Science" Curriculum and Science Mastery Programs as well as in her individual courses, the emphasis is on learning by doing. In both the e-Science Curriculum and Science Mastery Programs, hundreds of experiments are available to students. Even better, videos of Lipper demonstrating how to do each experiment allow all but the youngest students to work independently most of the time. However, parents will need to pay attention to safety issues and oversee experiments as needed to ensure that students use proper procedures and reasonable caution. For parents who might not have a science background themselves, or perhaps don't have the time to teach it, these programs are a welcome solution.
Lipper's specialty is in physics and engineering—not surprising given her background. So there are many experiments with electricity, magnetism, mechanics, matter, energy, light, sound, thermodynamics and much more. Chemistry and life science are also covered with some experiments in both beginning and advanced chemistry included. While hands-on experiments are the mainstay of Supercharged Science, there's much more to it.
Supercharged Science takes a secular approach but should not have any content in conflict with religious beliefs. They describe themselves as "creation neutral."
e-Science Curriculum
Supercharged Science offers the online e-Science Curriculum with options to suit students in kindergarten through twelfth grade. There are optional packages that include all materials for those who would rather not search out all the experiment resources themselves.
One thing that e-Science does better than almost everyone else is using hands-on activities to connect scientific concepts with practical applications in the real world. Experiments use mostly inexpensive, easy-to-find items. Once kids are excited by what they've built or experimented with, the course then introduces the academics. In this way, students have a deeper understanding of the material while enjoying it more than with traditional academic-focused approaches. Lipper explains that she has based this approach on how real scientists work in the real world.
A monthly subscription fee gives your family access to an amazing number of resources—more than 800 experiments plus enough educational material for at least two to three years of science education. For kindergarten through eighth grade, you might need nothing more than what is on the website. Sign in on the website, select which lesson you wish to use, then let your kids run with it. Science experiments are buttressed with easily-digestible information to convey the key points students should be learning. Quizzes will help you check whether or not that's happening. For high school (or junior high students needing more challenging material), you can access textbook readings, exercises, and quizzes for a complete course with both academics and lab work. for life science, biology, chemistry, and physics. Even with all this, the video presentations and experiments provide an indispensable core. Beginning with a video presentation then completing the experiment is likely to create excitement and curiosity about science that is difficult to achieve starting with textbook material.
In addition to the program material, Lipper teaches a live tele-class online every few weeks where students subscribed to e-Science can connect with her personally. While this component is offered live at a particular time, it is also recorded. Aside from the live tele-class, everything else can be accessed whenever it is convenient for you.
AP level programs are available for high school students for biology, chemistry, and physics.
Unlimited support is provided for students and parents. Whatever part of the course you are using, feedback or advice from Lipper or another expert in the field of science a student is studying is always available by email. There's also a place to share ideas and comments with other parents and students.
A 30-day trial period will allow you to sample the program with no obligation and costs just one dollar. Even if you decide to enroll, you can still cancel at any time without any obligation. Also, there's no need to enroll for a full year at a time; you just pay month-by-month with no long-term commitment.
Science Mastery Programs
Science Mastery Programs are offered at Silver, Gold, and Diamond levels and include access to all the online resources for time periods of one, two, and five years, respectively. Each level includes parts and materials for 100 to 600 activities and experiments plus a nearly 200-page experiment manual. Extra kits for more specialized projects (e.g., robotics) are also included, with more such kits added as you move up to the Diamond level. All of the video and audio material is provided on DVDs and CDs so you need not be reliant on an internet connection, but you still have both options. The larger programs for Gold and Diamond levels are serious science programs that include everything you need for two to three years of science education.
Supercharged Science takes a secular approach but should not have any content in conflict with religious beliefs. They describe themselves as "creation neutral."
Both e-Science and Science Mastery are comprehensive science education programs, but if you want all of the extra parts and pieces too, you may want to consider their Science Mastery programs. The prices are reasonable for all that you receive. Everything they sell comes with a full money-back guarantee and comprehensive technical support.
If you want to try out a free sample of the type of activities contained in these programs, you may download the "Science Activity Manual & Video Series" for free by clicking on this link: Science Activity Manual and Video Guide.
Individual Courses: Ultimate Science Curriculum Series
You might prefer individual courses that target specific areas, so Lipper has created those, too, with courses for Astronomy (1, 2, and 3), Chemistry (1, 2, and 3), Earth Science (1, 2, and 3), Electricity, Energy (1 and 2), Forces and Motion (1 and 2) Life Science: Biology and Microscopes, Life Science: Human Anatomy, Light (1 and 2), Magnetism, and Mathemagic (which has lots of fun math-related activities). Courses cost $74.95 each and vary in length, taking from 12 to 32 weeks each to complete. Courses are each contained on a single DVD that runs on your computer. (DVD video presentations will run on a television monitor, but the resolution will be much poorer.) Check the website for recommended grade levels for these courses. Lipper recommends them for various age-range groupings from K - 3 up to 5 - 8. Generally, I would recommend most courses for older students than does Lipper.
DVDs contain video presentations for each lesson plus a PDF student book for the course that includes material to read, questions to answer, and an activity sheet for each lesson. There is also a PDF Parent and Teachers Guide on each DVD.
A few DVD presentations for some courses are from other sources or presenters, and some lessons have more than one DVD presentation. For example, lesson 17 in Astronomy 2 features four presentations: one of a space shuttle launch, two from JPL Laboratories and the Chandra X-Ray Center respectively, and a fourth by Lipper demonstrating the experiment.
While most of the instruction comes from video presentations, each lesson has some brief material to read from the book. Sometimes the DVD presentation will focus on the experiment, while the book provides a more complete explanation of what the experiment teaches. The Parent and Teachers Guide has all of the material in the student book plus very helpful teaching suggestions and a list of materials along with sources for unusual items. The teaching suggestions are written for a group class in a traditional classroom, but homeschoolers can adapt many of the ideas. Some parents and teachers will also want to use the end-of-course evaluations that include both a lab practicum and a written test. While you can use the DVD courses without the Guides, it is well worth reading through the lesson presentations there to glean whatever ideas you can implement.
DVD presentations use photographs, illustrations, and live-action with Lipper providing voice-over instruction. Most DVD lessons are entirely live-action. She demonstrates all of the experiments, and step-by-step instructions are also in the book. Parents will probably want to watch the DVDs with their children so they are prepared to help as needed, and they will need to read the lesson from the book in advance to gather materials and prepare for the experiments.
Some experiments are relatively simple, while others might be suitable for science fair projects. (At least one course, Magnetism, has a fully developed science fair project as an example.) Most of the materials required are readily at hand, but some courses require more specific or specialized resources than others. For example, Astronomy 1 requires liquid crystal thermometers (available at fish aquarium stores) and music makers such as a tuning fork, a recorder, harmonica, or instruments; Earth Science 2 requires specific sets of rocks and minerals. Given that each course is suitable for three or more grade levels, some experiments will be more appropriate for older students than for younger within that range.
Each course has a common theme, but some courses seem to be a random selection of topics within the thematic area, while others are more sequentially organized (e.g., Earth Science 2). Topics were selected to reflect those in current science standards for the recommended grade levels, so even if they look like an eclectic mix, they ultimately satisfy those learning standards.
All courses include data recording activities with reproducible pages for students to complete. These pages also include questions for each lesson. Answer keys are at the back of each book. At the back of each student book, you will also find information about the scientific method, lab safety, methods for teaching science, and a glossary with vocabulary words introduced in these lessons. PDF student books for each course are generally about 60-90 pages in length.
Reviews of selected courses follow.
Astronomy 1, 2, and 3
There are three introductory Astronomy courses that teach about the universe, stars, and planets. Lipper recommends them progressively for grades K through 3, 4 through 6, and 6 through 8, but I think they are all most suitable for students in about fourth grade and above. Each can be used as a stand-alone course.
Each course begins with a lengthier first lesson. Originally, the same introductory lesson was included for each course since Lipper expected each course to be used with totally different age groups. However, I think parents might easily use two or more of these courses with the same age group. So to accommodate that circumstance, Lipper has replaced the introductory lesson in Astronomy 3 with other material and might do so with Astronomy 2.
The first lesson on Astronomy 1 sets the stage with a recorded webinar class presentation by Aurora Lipper. This DVD video presentation runs a little over an hour and includes some intriguing photos from the Hubble telescope as it presents fascinating facts about the universe, stars, and planets. There are occasional references to what might be viewed in the sky, but much of this depends upon your location and the time of year. To learn more about how to know how to identify constellations, planets, and stars from wherever you are located, you and your children can watch Lipper's "Star Gazing" video presentation for free on the internet by clicking here. You might want to have children watch the first presentation in Astronomy 1 in segments if the entire video exceeds their attention span. There is a lot of information conveyed in this introductory presentation, so spreading it out might be good just to keep from overwhelming students. This video is so interesting that students might not mind watching it more than once. In Astronomy 3, the first lesson is an extended presentation on black holes.
After the first lesson in each course, the rest of the lessons have shorter video presentations, some only a few minutes long and others up to about 10 minutes in length. Every lesson includes a science experiment or hands-on activity. A few lessons use games, and almost every lesson has a paper-and-pencil, data-recording activity of some sort. Most lessons conclude with review questions.
In Astronomy 1, in addition to the introductory overview, students learn about magnetism, the water cycle, the rotation of the earth and seasons, sound waves, volcanoes, and other topics, all within the context of astronomy. Note that a few activity pages in this course will need to be printed out in color for use in a game while others can be printed in black-and-white. Astronomy 1 has 12 lessons and should take about 12 weeks to complete.
Astronomy 2 is a 10-week course with 17 lessons. After the introductory lesson, new topics introduced include topics such as the relative size and distance from the sun of planets within our solar system, the effect of atmosphere on a planet's temperature, lunar phases, heat produced by the inner core of Neptune, binary planetary systems, the gravity of various celestial objects, and sundials.
Astronomy 3 is a 20-week course with 15 lessons. Among topics covered are magnetic pulses, retrograde motion, meteorites, Jupiter's moons, the sun, diffraction, black holes, and supernovas.
Earth Science 1, 2 and 3 (I reviewed only the first two courses.)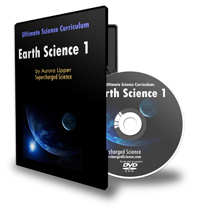 Earth Science 1 is an introductory level course with 32 lessons. While you could do one lesson per week, some are simple enough that you can easily complete two lessons per week. While Lipper recommends the course for grades K through 3, it seems to me more appropriate for grades 2 through 8. If you use it for the upper-grade range, you will need to supplement with additional learning activities to comprise a complete year-long course.
This course is very practical. Students begin with an introduction that explains the components of a weather station that students will build and use for their experiments. They will build a barometer, a thermometer, a cloud tracker, a rain gauge, and other devices which they will then use to measure and track the weather. Weather, then is the primary topic of most lessons in this course, although that topic stretches to include lessons about broader topics such as desalinization, thermal energy and currents, the properties of freshwater, and the production of energy by sunlight, water, and wind.
In addition to weather station experiments, students do many other experiments such as creating a hot air balloon to learn about the properties of air, temperature, and pressure. Some experiments are very brief, taking no more than two minutes for Lipper to demonstrate on the DVD. Since she explains how and why each experiment works in her presentation, you might want to have students perform the experiments from instructions in the book before watching the video. They can try to answer questions in advance or after watching the video, whichever seems most productive to you. Most experiments use items you'll already have on hand, but one likely exception is a liquid crystal sheet.
Earth Science 2 is about geology with an emphasis on rocks and minerals. Three brief introductory videos set the stage for the 28 experiments.
Students work with an assortment of rocks and minerals. Experiments begin with identification tests: color, streak, and hardness tests. Then students examine cleavage and fracture characteristics, perform acid tests (can be done with vinegar), and examine rocks and minerals for density, luster, and other features to help them understand the different compositions of each one. Students then do experiments to produce limestone and sandstone, create rigid foam, make a "test-tube cannon," create their own fossils, create laundry soap crystals that grow over time, and more.
This course is best for older students since some of the experiments, such as burning coal and making polyurethane foam, are a little bit dangerous. Also, the science is more difficult than in Earth Science 1. Lipper's recommendation is for grades 3 through 6, but I would recommend it for sixth-grade level and above, even for high school students.
Resources required are more challenging than for Earth Science 1. While some resources like a test tube and a propane torch are recommended, Lipper does suggest simpler alternatives that you are likely to have on hand.
Summary for Ultimate Science Courses
These Ultimate Science courses are superb for tackling special topics. They can be used alongside other learning resources if you want more "book learning." However, the hands-on approach is likely to motivate children to explore these topics on their own which is often the most effective way for anyone to learn. Click here for more information on the Ultimate Science series.