NaturExplorers Units
Shining Dawn Books' mainstay is their NaturExplorers Units, a collection of 21 e-books by Cindy West and Melissa Leach to be used for topical studies. They also publish two other interesting books by Cindy West that I will cover at the end, Loving Living Math and Loving Literature Grammar and Language Arts Packets.
NaturExplorers Units are unit studies that incorporate real books, nature walks and outdoor activities, experiments, crafts, art projects, recipes, building projects, writing, research, poetry connections, Bible lessons, art study, music connections, and internet links. All of these are listed (and described) as possible activities rather than as step-by-step lesson plans. It's up to you to select the best activities for your situation. Some activities have explicit instructions while others are general suggestions for you to flesh out. Some activity pages are included in each study but rather than typical worksheets, these tend to be charts, data recording sheets, or other sheets that accompany activities. You will likely want to have students create a binder where they can collect and organize their work.
Activities primarily target the elementary grades. However, added to each book are a number of activities for younger and older students so that you can easily have the entire family working together on whichever topic you choose. In addition, each book offers some ideas for group activity if you choose to use a study with a co-op or larger group.
Background information near the beginning of the book gives the parent/teacher a leg up on students before starting any activities. While you might share some of this information with students in advance, more likely you can draw on it as you work through various activities or encounter teachable moments.
One of the most valuable features of this type of resource is flexibility. You can do as much or as little as you like. These e-books are so inexpensive that they make a great way to try out this approach to learning with a minimal investment.
Studies can be used in conjunction with traditional programs or as selected series for a year-long program. For example, I might use Constant Conifers, Delightful Deciduous Trees, Fruits and Nuts, and Wonderful Wildflowers for a year-long study on plants and trees with younger children. Then I might return to some of these titles a few years later, assigning more research, reading, and writing for older students to do alongside another, more traditional course.
While the authors have a Christian viewpoint, it is mostly isolated into a section, "Bible Lessons from His Creation," rather than being threaded through the entirety of each book. The authors have avoided resources that talk about millions of years with only a few exceptions which they note in advance for you.
In addition to the aforementioned titles are studies on: Animal Signs, Beautiful Birds, Butterflies Fly By, Captivating Clouds, Coping with the Cold, Everchanging Erosion, Flying Creatures of the Night, Frogs and Toads, Fungus Among Us, Hard as a Rock, Incredible Creeks, Peaceful Ponds, Remarkable Rain, Spectacular Spiders, and Snow and Ice. Each of these studies is about 60 pages in length.
Two other e-book studies, Nature Studies Through the Holidays, are connected to the liturgical year. One is for the season of Advent and the other Easter. These are briefer studies at only 32 pages each. Christian content is obvious in these studies.
Loving Literature Grammar Packs
Loving Literature Grammar Packs is actually a 119-page e-book written for students in grades 3 and 4. Using a Charlotte Mason, literature-based approach to language arts, it works through 15 fiction, non-fiction and historical fiction books with week-long lessons. Children study the book, but within the context of the book study, they also work on developing reading skills, grammar, critical thinking, composition (including poetry), and spelling.
The selected books are picture books rather than chapter books, so they can be read rather quickly. Some of the books studied are Alejandro's Gift, Harry the Dirty Dog, Papa Piccolo, Spiders, The Hickory Chair, and The Raft.
Study of each book should take about one week, so this comprises about one semester's worth of study. In contrast to the NaturExplorers Units, there are worksheets for each book study with many questions similar to those found in other language arts programs such as those asking students to identify words in a sentence that should be possessive and need apostrophes. However, these questions all relate to the story in some way. The book contains a list of skills covered in the entire study with brief explanations. It does not directly teach students. Many of the skills will have been taught previously, but you will need to stop and provide more instruction if something new arises. This element might make it difficult for the inexperienced homeschooling parent who has a weak background in language arts.
The value of this approach is that language arts are taught within a context rather than in the teach-and-drill fashion that is most common. If students have already been exposed to some language arts instruction in earlier grades, this is a great approach since it avoids much needless repetition, briefly reviewing and teaching new skills without overkill.
Students should have a three-ring binder for their work. The e-book includes an answer key.
Loving Living Math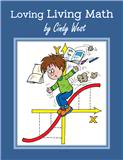 Author Cindy West's goal in Loving Living Math is to help parents break free from the drudgery of textbooks to experience math in real life, games, and projects. However, this isn't an anti-textbook approach. Rather, Loving Living Math is a supplemental resource for all grade levels that you can use alongside a text, substituting other activities a few days a week rather than covering all lessons in the text. While many ideas can be used for high school, most of the book will be most helpful for the elementary grades.
Among topics covered are creative "Skill and drill" ideas, logic, problem-solving, how to use manipulatives, integrating literature, using board and card games for math, and cross curricular activities. This 46-page how-to book includes some printable, sample activity pages and lesson plans as examples for you to try. Throughout the book are lists of some of Cindy's favorite books, resources, and websites (with hyperlinks).
Loving Living Math is a great way to start discovering the fun side of math.