I've read and reviewed lots of parenting books over the years, but Raising Respectful Children makes the top of my list. It is written from a Christian perspective, but it doesn't bludgeon the reader with Bible verses. Author Jill Rigby offers seasoned, practical advice on parenting that looks to the long term: What do we want our children to be like in their inner selves? One of the key ideas in this book is how important it is to help our children develop self respect rather than self esteem. If every parent could grasp even that one message, it could change the world.
But there's much more to this book than that single message. Rigby deals with the thorny issue of discipline, showing how established patterns of discipline will prevent you from having to dole out punishment. Making wise choices about media exposure for our children is presented as "protecting our treasure from trash."
Much of the book is about maintaining positive relationships with our children, modeling good character in our own lives, and other proactive things we should be doing to become better people ourselves because children learn more from what we do than from what we tell them to do.
Raising Unselfish Children in a Self-Absorbed World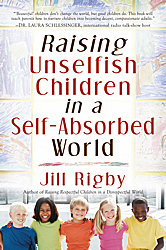 Jill Rigby expands on these themes and moves our family focus outward with Raising Unselfish Children in a Self-Absorbed World. I think most parents would agree that they would like their children to become compassionate, caring adults. But most parents haven't a clue how to make that happen. Rigby opens the first chapter with a beautiful analogy about either looking at a mirror, where we see only ourselves, or looking out a window where we see others. You might say the theme is developing virtues in our children--virtues such as love, generosity, forgiveness, gratitude.
As with Raising Respectful Children, this book is also about "parent development" as much as "child development." I think her three categories of parents—deflectors, deprivers, and developers—is a brilliant way of challenging assessing and challenging our own parenting skills.
Both of Rigby's books address parenting of children at all ages and stages, so there's something in here for everyone, even parents of adult children and grandparents.