The Premier Site for Homeschool Reviews!
Get a FREE subscription to Cathy's E-Newsletter
Cathy Duffy has been reviewing curriculum for the homeschooling community since 1984. She also reviews other resources she believes are important for those interested in homeschooling, education, the origins debate, and related political and spiritual topics. While we stretch beyond homeschooling, our primary goal always remains the same:
To help families successfully educate their own children!
Free Advanced Search and Save Features for Homeschool Curriculum
Check out our list feature to help you organize and review your favorite homeschooling curriculum reviews.
We've introduced an advanced search tool to make it easier for you to sort through all of our reviews.
Take the free Learning Styles Assessment to identify which resources are likely to work best for each child.
Cathy's Books:
Want To Know The 103 Best Products In The Homeschool Market?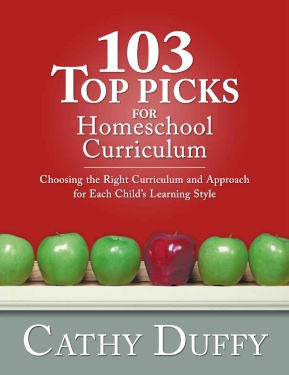 Cathy Duffy's book, 103 Top Picks for Homeschool Curriculum, makes the job of selecting the right curriculum easy! It includes extensive reviews of each of her Top Picks. This book walks you through the entire curriculum selection process, helping you select from only the best products on the market.
103 Top Picks for Homeschool Curriculum is a must-have for new home educators.
"...I would buy it for myself or a friend without blinking. This is an invaluable tool, especially if you are just starting out. Even as I say that, I have been homeschooling for ten years and I am still getting excited about using Cathy's forms and reading through each section more carefully."
(Amy, bowofbronze.com)
How To Choose Homeschool Curriculum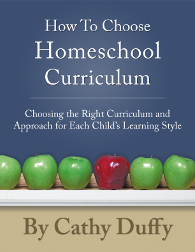 Want to know how to find the curriculum that will work best for each of your children?
Cathy Duffy's book, How to Choose Homeschool Curriculum presents the first five chapters of her Top Picks book (slightly adapted) and then adds a chapter showing how to use the free, advanced search tool on this website to allow you to choose from among all products Cathy has reviewed. (If you choose this book, you do not need 103 Top Picks.)
As in her Top Picks books, Cathy simplifies the curriculum selection process with questionnaires and charts. She walks her readers through the process of figuring out their preferences in terms of a philosophy of education, learning styles, and goal setting.