History of Art: Creation to Contemporary is an art history, appreciation, and activity course for students in grades two through six. The course teaches about representative artwork from 32 art movements. Lessons are presented in chronological order with a focus on western culture and Christianity rather than the entire world. The goal is to give students a framework for understanding the different art movements in relation to their historical and cultural settings along with an introduction to selected artworks and artists. The 32 identified art movements in this course are sometimes historical or cultural periods (e.g., prehistoric, Greek, Byzantine, and Celtic) and sometimes more closely associated with a recognized art movement (e.g., Golden Dutch Age, American realism, impressionism, and cubism). Christian art is featured frequently, even showing up in the lesson on pop art.
The course consists of a set of 32, full-color flashcards and a workbook. Both are available as printed products or as ebooks viewable on VitalSource, a proprietary digital bookshelf. The two components work together, although the flashcards can be used on their own. Music and lyrics for "The Great Art Hist'ry Song" are at the back of the workbook. This song, sung to the tune of "Ode to Joy," encapsulates all 32 art movements into four verses and should be used as a reinforcement and memory aid. As with many other classical courses, the goal is to teach students the "grammar" of art—basic information, vocabulary, and a framework upon which they can build in later years.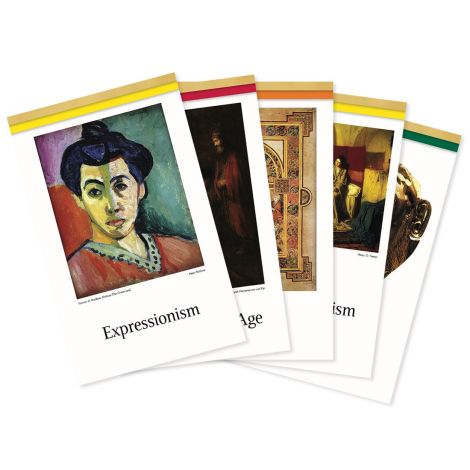 History of Art works fine as a stand-alone, one-year course, but it dovetails with Veritas Press's history program fpr grades two through six, using similar color-coded strips at the tops of the flashcards and workbook pages to show the period of history. Veritas Press's history courses each use a different set of 32 illustrated flashcards that highlight key people and events of the historical period studied each year. So while there are five sets of history flashcards, History of Art has only one set of 32 flashcards covering the entire span of history. You can spread the study of art over the five years it takes to cover the history cards. In the History of Art workbook, the introductory page for each art movement has a list of the corresponding history flashcards (with dates) for the time period, and the art card(s) are listed among the history cards to show where they fit chronologically. This makes it easy to pull in the art history cards (and lessons) during the five-year study of history.
How It Works
As I mentioned previously, the art flashcards and workbook complement one another. Each flashcard has images of two artworks plus information about the featured images. The cards also have the time period, culture, religious influences, or actual movement which the artworks represent.
The workbook has more than 300 pages, but you will probably want to remove the 32 pages with quizzes, the nine-page answer key, and the nine pages of cards that are used for two games. In the workbook, each of the 32 lessons begins with an introduction. This includes the list of history and art cards that I mentioned in my introduction, a few vocabulary words with definitions, and images of one or two artworks—works not included on the flashcards. Every lesson has one or two worksheet pages with questions for students to answer using complete sentences. The answers can be found on either the flashcards or the introduction page for the lesson. You can use these questions for either written or oral responses, and there is space for children to write their answers in the workbook.
After this, the content of the lessons varies. There will always be at least one of four options: a hands-on art activity, an art study, a reading, or an "Artist of Faith" biographical sketch. Art activities range in complexity from coloring a picture of a vase of flowers to making egg tempera paint to use on a drawing of an angel. Art studies have images and information to read about particular works of art. Readings are usually about topics such as perspective or the symbols used in paintings of various saints, but the readings sometimes address more narrow topics such as the one titled "Warhol and Wyeth." The two-page articles about Artists of Faith feature biographies of historical artists or interviews with contemporary artists along with images of some of their artworks. Some of the reading material in the lessons is labeled for older students, so you won't use all of the course content with younger children.
Every third lesson includes review. Often, the review asks students to identify works of art from the flashcards and give the title, artist, date, and art movement. Weekly quizzes generally repeat questions from the review worksheets.
A few other activities are included in the course. I mentioned the workbook pages with cards for two games—the Curator Game and Art Memory Game. There are also some great suggestions for activities to be done on a field trip to an art museum on page 224, along with two supporting activity pages. One page is a form for a student report on a particular artwork that they find interesting. The other page is for an Art Auction Game where students secretly write down four artworks in the museum they would buy at an art auction (assuming money is no problem) then compare their selections with others after the field trip.
History of Art can be easily adapted for different ages, perhaps even including students younger and older than the target audience of grades two through six.
Many parents are concerned about nudity in art, and a few nude images are included here. However, they are carefully selected and presented to be less revealing than in some other art history courses.
Christian content shows up throughout the course, including in the interview question asked of contemporary artists: "How does faith work itself out in your art?" The course is suitable for all Christians students, although there are a couple of minor instances where a Protestant perspective is evident. (One such example is in the reading about Albrecht Durer that reflects Durer's sympathy for Martin Luther.)
Veritas Press sells the flashcards and workbook individually, but you might want to get their Art History 2-6: You Teach Kit that includes both items plus a PDF book with scripted lesson plans written for homeschooling parents.
In Summary
While some classical approaches to teaching art in the elementary grades rely primarily on images and memorization, History of Art fleshes out lessons with interesting information that helps students think about art movements and their relation to history. The inclusion of hands-on activities and games makes the learning fun.