Both How Great Thou ART books are written for teens and may be taught by an instructor or used for independent study. You can begin with either book although it seems to me that using them in order makes the most sense since some topics are developed more in-depth in the second book. Each student needs a copy of whichever book you choose since some work is done directly in the book. Also, each book comes with a set of 5 heavy cardstock cards for pen and ink drawing assignments.
As far as supplies, each course requires only a few good drawing pencils (HB, 3B, 6B), a kneaded eraser, a ruler, an extra-fine black marker pen, a calligraphy pen, pencil sharpener, and the text.
Lessons follow an orderly progression. For example, in Book I the first lesson begins with drawing lines; next, ellipses; then glasses and jars that are made from lines and ellipses; and so on. There are 68 actual lessons, but suggestions for many, many more based on the information taught. Students learn shading, texture, composition, shadows, foreshortening, nature studies, human anatomy, portraits, one-point perspective, and other topics. Some of these topics will require practice for mastery, so students should not be expected to zip through all of the lessons in a regular progression. Students are encouraged to draw from life and nature which helps develop observation skills. I appreciate the author's provision of examples of errors to avoid as well as plentiful examples of proper technique.
Book II quickly reviews a few of the fundamentals of drawing taught in the first book, then takes students through numerous still-life lessons to practice composition skills, shadows, shading, and pencil control. Students then learn how to reproduce drawings on grids, changing the scale. Next are lessons on one- and two-point perspective. Then it introduces pen-and-ink drawing, followed by extensive lessons on anatomy, and final lessons on lettering, calligraphy, and creativity.
In both books, space for each lesson's assignment is provided adjacent to each lesson, and quite a few extra blank pages are provided for practice at the back of the book for students to create their own sketchbooks.
Both books are beautifully illustrated with sketches. In keeping with the nature of sketches, there is a loose creative feel, but with elements of beauty and grace. I am impressed with these books! They have a Christian perspective; they cover skills in a logical, comprehensive order; they provide clear instruction and evaluation; and they are inexpensive. While students can work through these books on their own, parents who prefer to be more involved in art lessons can purchase the single-volume teacher's manual that covers both Books I and II. It adds background, suggestions, and tips for each lesson that go beyond what is provided in the lesson books.
The Wonderful Art of Drawing Horses (ages 8 and up)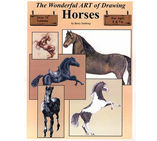 This special topic course is very similar in both presentation and layout to the How Great Thou ART books for older students. Children learn basic techniques while focusing on drawing horses. It really is suitable for a wide variety of ages and skill levels, including artwork examples from young beginners to advanced experts. Art supplies required are a set of drawing pencils, a set of colored pencils, a black drawing pen, water-soluble colored markers, and a #7 paint brush. Like most of the other books, this too includes five marker cards. A bundled set of the book with all the art supplies is available.