Marilyn Romatka teaches folk art techniques in live classes, but she also teaches through video instruction, individual kits, and her book, Creative Crafts of the World. Her projects vary from relatively simple to very complex. Even the simple projects are not typical arts and crafts projects, but instead are beautiful windows into other cultures.
Viking knitting is an excellent example. Romatka provides some historical or cultural context for each project. In this case, Viking knitting traces back almost 1,300 years to Vikings who looped wire into rope, then stretched these ropes into jewelry to be worn by leaders. This same looped wire technique is used by students to create a necklace. You can learn how to do this in the book, through Romatka's video class, or with one of her kits. In this case, I recommend the kit, possibly in addition to the book or video instruction. The resources needed for this project (and some others) are unusual enough that it makes sense to buy them prepackaged.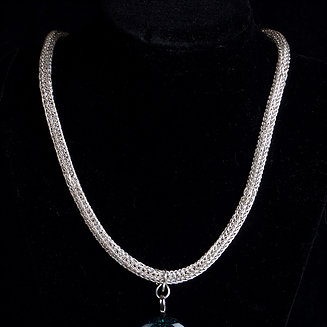 Projects like the Dragon Boat (Chinese), Baumschmuck (German ornaments), Paper Stars (another German craft), and Dreamcatchers (Native American) are relatively easy and don't require a lengthy attention span. Some like Aboriginal Dot Painting are not that difficult but require patience and attention to detail. Some like Pysanky (Ukranian decorated Easter eggs) require unusual resources, many steps, and attention to detail. Viking knitting was challenging to get started, fairly easy after the beginning, then challenging again when it came to adding the final pieces for the closure. Romatka has a free, short class, Findings and Fitting for Viking Knitting, that might be especially helpful for those using the book or kit for Viking knitting, so don't miss this opportunity for extra help.
Romatka has been teaching folk arts in group classes for years, so she's aware of issues likely to arise and cautions you in advance when there's a step that tends to trip up students. The videos include even more detail than do either the book or the kits since Romatka talks while she demonstrates. For example, in her different presentations on creating European Paper Stars, the kit and the book both explain the basics while the video covers the basics and also discusses different materials that might be used successfully in place of the prescribed kite paper, the best way to cut the paper, and other helpful details. On the video, she also shows additional ways to fold and layer paper to create different effects that are not shown in the book or kit. However, the book and the kit offer plenty for the novice paper star maker, even though there's more information in the video.
As with her video class for making European Paper Stars, other video classes are great. You can purchase classes individually, so you are able to choose only what interests you. You can see what's available at https://www.taprootvideo.com. Romatka gave me access to her courses on Viking Knitting, Bow Loom Weaving, European Paper Stars, Beginning Temari Balls, and Braiding with Backbone. While I can vouch only for the quality of Romatka's classes, other folk artists offer other classes on this site that might be of interest. You can purchase three days of streaming access to a class, lifetime streaming, or a DVD plus 30 days of streaming. Courses list needed materials before you buy and give you a preview, so it's easy to decide which courses will work for you most of the time. I think Braiding with Backbone is an exception since the advance information is not detailed enough for you figure out what resources you will use in advance… and it requires unusual resources that might be challenging to find or make.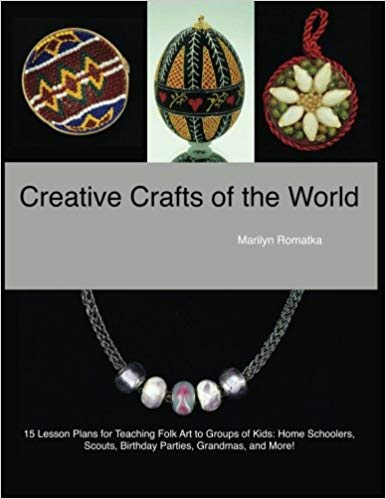 All of the video class topics except Braiding with Backbone are included in the book, Creative Crafts of the World. There are 15 projects in the book. Kits for Viking Knitting, Beginning Temari Balls, Dragon Boats, Paper Stars, and Bow Loom Weaving are available at taprootfolkartshop.com.
It is difficult to specify age ranges for these projects. Much depends upon a child's interest, fine motor skill, and span of attention. There's no top age limit. Many adults will enjoy these projects as much or more than children! So if you are looking for arts and crafts activities that produce beautiful results while adding to historical and cultural understanding, these are great resources. And if you live in the state of Washington, you might even be able to enroll in one of Romatka's live classes.