The Institute for Excellence in Writing's (IEW) flagship product is Teaching Writing: Structure and Style, a seminar that teaches parents IEW's Structure and Style writing method—a sequence of skills for both structuring written paragraphs and lengthier written work while gradually implementing stylistic techniques to improve the quality of writing. IEW has produced several courses based on content from history, literature, and the Bible for students to practice and apply what they learn in Structure and Style. This review focuses on the Bible-based writing courses, Bible Heroes for younger students and Bible-Based Writing Lessons for older students.
Bible Heroes
Bible Heroes: Writing Lessons is a great program for implementing the concepts of IEW's Structure and Style method with students in first and second grade. The course can also be adapted for students up to about fourth grade which is a bonus if you want to teach two or more of your children together. Parents or teachers need to be familiar with Structure and Style or be working through Teaching Writing: Structure and Style as they teach this course. The Bible Heroes teacher's manual tells you when you need to be familiar with a particular lesson in preparation for teaching a lesson.
When you purchase Bible Heroes, you receive a print edition of the student book as well as instructions for downloading the free teacher's manual. Each student will also need a three-ring binder equipped with about 25 clear sheet protectors into which they will place their completed stories.
Bible Heroes by Lori Verstegen has 27 lessons, and each lesson should take about a week to complete. Lessons are grouped into seven units covering key-word outlining, writing from key-word outlines, summarizing narrative stories, summarizing references (report writing), writing from pictures, and creative writing.
Each weekly lesson can be taught by a parent working one-on-one with a child or as a group class that meets once a week. Parental assistance is required as children dictate their paragraphs from their key-word outlines. Parents will need to help students add elements of style. Some children will be able to copy their paragraph(s) independently, but others will need assistance, and some children might need to dictate their final version while a parent types or writes it down. Because each student needs individual assistance, the course will not work in a traditional classroom setting.
As you might have assumed, each lesson features a different Bible hero such as Moses, Noah, or David. Brief Bible stories that stress positive character traits provide the content with which students work as they develop composition skills. The biblical content shows up as well in most lesson activities such as vocabulary, grammar practice, and games as well as in the suggested teaching presentation.
The first part of each lesson needs to be taught rather than left for students to do independently. Each lesson begins with a very brief review, followed by the introduction of a Bible verse, a Bible hero, and a virtue. Students read through the Bible story together, then work together with the teacher to come up with the key-word outline (KWO) which the teacher writes on a board. Students then write the KWO in their student books. Afterward, they narrate the story orally from the KWO. You can see that all these activities can be done without a group class, although many students will be very positively motivated by the group interaction. Students might also do oral presentations at the group meetings.
Parents will generally work through the remainder of each lesson at home through the rest of the week. On the second day of the lesson, the student dictates a paragraph from the KWO with the parent writing it down as a first draft. Students then work through lesson activities in the student book, some of which bring up elements that can be implemented as they begin to edit their first draft.
The rest of the week, students can do some additional revision, but they also begin to write or dictate the final draft of their paragraph(s). They can add a picture to it and then put the final product in a sheet protector in their binder.
At the end of the second lesson, the "checklist" is introduced. Simple checklists are included in the student book so students can check that they have paid attention to important elements in their paragraphs. Checklists vary depending on the assignment. Printable pages with the checklists are also in an appendix at the back of the teacher's manual.
Lessons follow a similar format within each unit, but every lesson includes a game, and there are also vocabulary games in an appendix in the teacher's manual that can be used at any time. At the back of the student book are 56 pages of cards and images for games and activities, all printed on cardstock. Game boards are printed within the regular student pages, but those pages are also in the teacher's manual and would be best printed out onto cardstock or mounted onto some sturdier backing. Game components are all included except for a die. While games are primarily for two or more children, many of them can be adapted to use with only one child. However, there are a few games that just won't work well without two or more children.
The teacher's guide is essential. It explains how to teach the course and provides suggested schedules, answers to review questions, examples of possible key-word outlines and brainstorming, game and activity instructions, reproducible game and checklist pages, and an appendix about "reward tickets" that you might use instead of grading.
Bible-Based Writing Lessons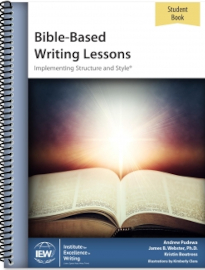 Bible-Based Writing Lessons by Andrew Pudewa, James B. Webster, PH.D., and Kristin Boutross can be used with students in upper middle-school through high school. The amount of teaching to be done by homeschooling parents or group-class teachers will vary depending upon the student(s) experience with Structure and Style.
The course consists of a teacher's manual and a student book, both spiral bound and printed in black and white, plus extra supplemental downloads.
The consumable student book has instructional material, source material for the lessons, and space for students to answer questions and do some of their writing.
The teacher's manual includes complete instructions for teaching the course. It has reproduced images of student pages (or sections of student pages) with suggested answers overprinted when applicable.
The course parallels the video-based Structure and Style for Students course layout with writing assignments incorporating elements taught in corresponding Structure and Style units. So lessons begin with Key-Word Outlines then follow with Writing from Key-Word Outlines, Retelling Narrative Stories, Summarizing a Reference, Writing from Pictures, Summarizing Multiple References, Inventive Writing, Formal Essay, and Critiques. There are one or more lessons for each section.
For example, the unit on Retelling Narrative Stories has five week-long lessons. In each lesson, students will work with a different Bible story, such as The Miracle at Cana, working through the entire process. They will write a key-word outline, then write a three-paragraph narrative from their outline. They will work on different aspects of writing the narrative each week. They will add different "dress-ups," such as adding an adverbial clause to their narrative of The Miracle at Cana. Because each lesson revolves around a different writing skill, the structure of the lessons varies.
A checklist form (from the downloadable PDF supplements) should help students check themselves to see that they have paid attention to structural elements and added the required elements of style for each assignment. Space for scoring assignments is included on these checklists.
Students also work on vocabulary within the lessons, using the set of vocabulary cards included in the student book.
Summary
Both Bible-based writing courses break the writing process down into very manageable and structured steps that make it easy for students to learn to write well. While it is possible to implement Structure and Style skills without "themed" courses such as Bible Heroes and Bible-Based Writing Lessons, these courses certainly make the process easier.