The Big Book of Writing Prompts for Kids, Vol. 1: 500 questions, story starters, and ideas to get kids writing aims to inspire students to write by presenting a huge variety and styles of writing prompts. It works best as a supplement—not as your core curriculum.
This PDF has 60 pages of prompts plus eight pages of lined paper for students to write on if they will be handwriting rather than typing into a device. Of course, with a PDF you can print out as many lined pages as you want.
Written for students in grades three through twelve, the prompts are divided into three sections for three groups of grade levels: grades 3-5, 6-8, and 9-12. For each group, there are five different categories of writing prompts for both fiction and non-fiction. The prompts for each group vary significantly to suit each audience. The pages are colorfully designed with visual dividers between prompts, making it easy to scan through them.
"What if" Prompts
"What if" prompts present situations, conditions, or events that can be the foundation of interesting stories. Among the prompts for grades 3-5 we find, "What if all your siblings grew up, but you were stuck as a kid?" (p. 6) and "What if you were flying a kite and it carried you away with the wind?" (p. 7). For grades 6-8, there are prompts such as, "What if you received a special necklace as a gift and it kept talking to you?" (p. 25) and "What if the place you lived became two-dimensional and you had to go on a mission to make it three-dimensional again?" (p. 26). Prompts for high school students are more challenging. Two examples are: "What if you've walked this street a hundred times before and never noticed until today that there is a child in every window who looks exactly like you at different stages of your life?" (p. 46) and "What if you learned you'd inherited an eco-tourism resort in South America, but you were expected to live there and run it full-time?" (p. 47).
"Picture this" Prompts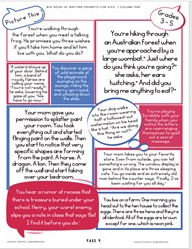 "Picture this" prompts give students a lengthier scenario to get them started. Among those for grades 3-5 is one that reads, "Your mom gave you permission to splatter paint your room. You took everything out and started flinging paint on the walls. Then you start to notice that very specific shapes are forming from the paint. A horse. A dragon. A lion. Then they come off the wall and start taking over your bedroom" (p. 9). An example from the section for grades 9-12 is, "You're playing in a championship hockey tournament. After a big win, you head outside the rink to get some fresh air and you see media people gathered around a well-known news reporter. It turns out, she's sinking in quicksand and they're trying to help her!" (p. 51).
Story Starters
Story starters provide students with the opening sentences. Students continue from that point to tell their own story. These are generally longer than the first two types of prompts, so I will share just one example from those for grade 3-5: "I woke up this morning and walked into the kitchen for breakfast. My dad was making coffee at the far end of the kitchen. His back was turned to me. I was just about to say good morning when he turned around and I realized that it wasn't my dad. It was a..." (p. 16).
Journal Prompts
Journal prompts might be the impetus for either fiction or non-fiction writing. Some of these are introspective, some call for imagination, and some ask for opinions. Two examples from those for grades 6-8 give an idea of the variety: "Do you prefer to follow a schedule or go with the flow? What happens when you're forced to do the opposite?" and "If you could invent a machine that would solve any problem, what problem would you solve? How would the machine make life easier?" (p. 38).
Non-Fiction Prompts
Non-fiction prompts are often very similar to the journal prompts. A few require factual information such as this one for grades 3-5 that reads, "Think of a person from history whom you admire. Explain why they inspire you" (p. 22). Some prompts require students to express an opinion in response to questions such as, "Is it a good idea to hold on to grudges? Explain why or why not" (p. 44). Other prompts might have students reflect on their own thoughts or feelings, defend a position, explain a process, compare and contrast two things, or describe an experience.
Summary
This collection of prompts seems more universally useful than some other collections of writing prompts I've seen. Also, I appreciate the fact that these prompts have been well designed to address each age group. With 500 prompts to choose from, there are bound to be many that will spark enthusiasm for writing in most students. While the Big Book of Writing Prompts for Kids was written to help students come up with interesting topics and scenarios to write about, you might also use it for ideas for public speaking.