As I write up this review, we are in the midst of the 2016 presidential election season, a perfect time to capitalize on current events to educate your children about the election process. And even if you choose to do this study when it is not a presidential election year, remember that we are never that far off from one and you can draw on instances from the past election.
The U.S. Elections Lap-Pak is a CD-ROM or download with printable files for creating a lap book on the election process for U.S. presidents. You will need to use Adobe's PDF reader rather than another type of PDF reader because of the complexity of the files.
The CD-ROM or download has templates and instructions for 21 learning projects for creation of the lap book, and it also has a booklet that provides text information plus full audio narration of the text.
You will want to first print out the text and get your lap book folder assembled. Text files have been formatted in three different ways. One file works well if your printer can automatically print the duplex file. Another format lays out pages in booklet fashion for you to print out pages individually. These first two formats result in a 24-page, half-sheet size booklet that can be stapled in the middle. The third option provides you with 13 full-size pages in PDF format. The smaller booklets will easily fit into the manila envelope that attaches to the lap book, while the larger pages will not.
The lap book base is constructed from one file folder and three sheets of heavy, colored card stock. Step-by-step, illustrated instructions walk you through its assembly.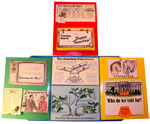 Templates for all of the projects that will be attached to the lap book should be printed on either white or colored paper. Many of these will have lines or sections for students to write in information, but some have pre-printed information. Students should use colored pencils to color in as many illustrations as they want. The projects themselves are all different from one another with fancy folds, pockets and inserts, fold-outs, and other creative ways to organize and present information. Decorative photos and illustrations are included to make the end product visually interesting.
The entire project walks students through the course in an orderly progression. After a brief introduction, the study begins with background on different forms of government, leading up to the creation of the United States as a constitutional republic. From there it continues with much narrower topics that all pertain to elections in the U.S., particularly elections of our presidents. Topics covered include the three branches of government, the right to vote, the election process (federal level only), election races, political parties, caucuses and primaries, the role of national conventions for the parties, running a campaign, election polls, election day, the electoral college, and Inauguration Day.
The audio files might be very helpful for young learners as well as for auditory learners. The instructions include start times within the file for each section so that you can easily maneuver to the right section of the two large audio files.
While the study is suggested for grades three through eight, I think most third graders will find the text material beyond them even though they might enjoy constructing the lap book. The amount of information is most appropriate for upper elementary students. Junior high students could go deeper. Suggestions for additional books and websites are included in the instructions in case you want to go further into some topics.
Students should each create his or her own lap book rather than try to work on one as a group project. They will personalize its design, and they should use it for their own study. Permission is granted for reproduction for individual family use but not for class groups.
Students who like arts-and-crafts should find the U.S. Elections Lap-Pak much more fun than a traditional textbook approach.
Note: InquisiKids makes the U.S. Elections Lap Book kit, a complete kit based on this lap-pak that supplies pre-printed items as well as consumable resources needed to create the lap book.