Geography Matters has created two activity books for studying the individual states of the U.S.: State Notebook and Junior State Notebook. The State Notebook is probably best for students in third through fifth grade while the Junior State Notebook is better for younger students in first or second grade.
Each State Notebook includes nine pages of stickers with state flowers, birds, and trees. Both books have one full page dedicated to each of the states. Lines are provided for students to write in information, and spaces are outlined for the stickers. On each page in both books is a small U.S. outline map for the student to color in the state they are investigating.
Both State Notebooks are designed to be used in conjunction with Geography Matter's Desk Atlas of the United States. Students can search the atlas to find information to be entered into the State Notebooks.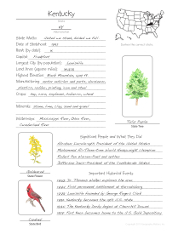 For the upper-level State Notebook, they will be searching for information such as the date of statehood, capital, largest city, waterways in that state, significant people (and what they did), and important historical events. For the Junior State Notebook, students have much less information to gather and fill in. They will need to identify the capital city, the state abbreviation, the date of statehood and its rank, a famous person from the state, and one interesting fact about the state. They have space to draw or paste a picture of something found in the state along with spaces for their stickers.
Students might be able to locate the information using other resources than the Desk Atlas of the United States, but by using the Desk Atlas you can be certain that students will find what they need.
The State Notebooks serve two purposes. Students learn something about each of the states, but maybe more important is the skill they develop in learning to read for information.