The Giant American History Timeline, Books 1 and 2 is a set that can be used together as your core organizing resources for a one-year study of United States History. While students will need to do additional reading and research, the books lay out a comprehensive, chronological program that should cover all of the content required for U.S. History through the use of reproducible activity sheets. The books are ideal for grades four through eight, but they have been used beyond those levels. The two books are:
Book 1: Pre-Colonization – Reconstruction (237 pages)
Book 2: 1870s – Present (245 pages)
Each book has eight units. While all units present history chronologically, three units in each book cover larger themes that overlap many of the time periods. For example, in Book 1, there are five units. The period of exploration and discovery is followed by the colonial period, the revolutionary period, creation of the Constitution, and the Civil War/Reconstruction era. The other three units all cover the entire period of 1790 through 1860, addressing expansion of the country, an "Age of Advancements," and social issues. In the second book, the three topics stretching over many time periods are, "Industrial Growth and Technological Advancement," "Big Business and Social Reform," and "America and the World."
While they were created for a classroom setting, the booksmight be even more practical for homeschoolers. They offer a great deal of flexibility as to how many activities to complete and how deeply to delve into reading and research.
With a parent or teacher guiding students, the reproducible activity sheets direct the learning. The two books themselves do not include much of the historical information. Instead the activity sheets guide students to gather and organize that information as they answer questions, complete graphic organizers, and do map work. Students have to think of events in relation to one another, identifying main and ideas and details as they arrange their pages.
Pages in each book have large visuals with dates (e.g., 1870, 1880, 1890), arrows, and a few topical captions that can be used as you create your timeline. Explanations and options are explained there as well.
Six types of activity sheets are repeated throughout the book, although each type is customized with particular activities for each unit. Title Activity Sheets present general questions regarding the main idea for that unit along with space for students to add an illustration. With Map Study Activity Sheets, students might label or color maps, and they might analyze information in relation to a map. Biography Activity Sheets include images of one or more people with questions for students to answer about each person. Primary source material appears on A Voice from the Past Activity Sheets. Students will read and answer questions in regard to the material. Time Machine Activity Sheets ask students to compare and contrast information about a social studies topic such as education during the Colonial period or entertainment in the early nineteenth century. A Postcard from the Past Activity Sheets have students research a historical site from the era being studied and create a postcard to "send" from there. While the Title, Time Machine, and Postcard pages are included in the same place in every unit, the other types of activity sheets vary from unit to unit. There are still other types of activity sheets, customized for each unit. For example, the fourth unit includes a "causes and effects" activity sheet for Shays' Rebellion and another for students to list arguments for and against the Constitution based on the Federalists and Anti-Federalists.
Because of the "graphic organizer" format, some activity sheets such as the last one I mentioned might not allow enough space for students to write, especially older students who should be presenting more thorough information. They could always attach further explanations, but keep this in mind as you assign the various sheets.
The two books are available in either print or ebook formats. Activity sheets and other pages you will use for the timeline in the printed books are blank on one side so that they may be removed and used directly from the book. If you are teaching more than one child or if you think you might need "back ups" for mistakes, you might want to purchase the ebooks.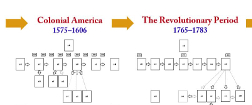 The timeline approach used by these books produces a very visual reinforcement of events in relation to one another. Rather than a "straight-line" timeline, The Giant American History Timeline books have students create a number of "posters" with arrows showing their relationships. You can make the timeline simple or you might make it more complex as is shown in the image. The entire timeline could take up to 100 feet of space, so you might post sections at a time or find some other way of condensing it to fit in available space.
The two books provide teaching notes for each activity sheet. While these notes sometimes have historical information, their primary purpose is to help the teacher present the activities rather than teach information. Students need sources for historical information. It seems to me that textbooks will be the easiest sources for students to use. Of course, one textbook might not have all of the information students need, so they might need other books or internet access for some topics. Answer keys at the back of each book provide parents and teachers with suggested information that should appear on many activity sheets.
For younger students in fourth or fifth grades, students might use texts such as A Beka Book's The History of Our United States, BJU Press's Heritage Studies 5, or America's Story (from Master Books).America from the Beginning might be used with students in fourth through eighth grade. Older students in grades six through eight might use resources such as The Landmark History of the American People; America, Land I Love, or BJU Press's The American' Republic. Of course there are other options, but this should give you an idea of what might work well with it. If you are working with older students, it will be important to demand a higher level of research, reading, and written work than for a younger child.
The Giant American History Timeline books each include a two-page assessment for each unit. The assessments each have matching and sequencing questions plus two short-essay questions. These are suitable for up through about sixth grade, but beyond that, I would require more from older students either in the form of additional research and writing or other assessment questions. Some of the afore-mentioned textbooks include questions that you could use.
The benefit of this approach is that instead of feeding information directly to students, it poses questions and directs student reading in search of answers. Parents or teachers might flip the approach and start with student textbooks then reinforce learning with the timeline activity pages. That, too, would be a practical approach. If you work from the activity pages, students might not read everything in a textbook, but that shouldn't pose a problem.
Granted, it is more work for a parent or teacher to coordinate the type of learning I describe here. If you are not sure you can handle it, use a text as your mainstay and use as many of the activity sheets as you can manage. For those with greater confidence as well as the time it will require, I encourage you to work from the The Giant American History Timeline books as your core since I believe this approach can provide great motivation for students.