Beautiful Feet offers two different guides for the study of Medieval History using real books, Medieval History: A Literature Approach for Fifth Through Eighth Grade by Rebecca Manor and Rebecca Allen (published in 2023) and Medieval Reformation and Renaissance History for grades nine through twelve by Rebecca Manor and Rea Berg (2012). Both guides cover the period from the fall of Rome through the early 1500s.
These guides lay out reading schedules for two wonderful collections of living books along with questions and activities. Both guides feature full-color and lovely illustrations.
Books Used with Each Guide
There is some overlap in the two guides, with both using Genevieve Foster's The World of Columbus and Sons, James Daugherty's Magna Charta, and Geraldine McCaughrean's version of One Thousand and One Arabian Nights along with different versions of Beowulf, Joan of Arc, and The Canterbury Tales. While you might use both guides with students working at different levels simultaneously, the guides do not line up very often to cover the same topics at the same time.
Each study uses a core resource book or "spine" to ensure thorough coverage. For the younger level, the core book is The European World by Barbara Hanawalt. Along with this and the books I've already listed, the study for younger students uses several other books, such as The Adventures of Robin Hood by Roger Lancelyn Green, Castle by David Macaulay, Morning Star of the Reformation by Andy Thompson, The Trumpeter of Krakow by Eric P. Kelly, Joan of Arc by M. Boutet de Monvel, and The Royal Kingdoms of Ghana, Mali, and Songhay: Life in Medieval Africa by Patricia and Fredrick McKissack.
At the older level, the core book is National Geographic's Medieval World. Rather than having students read a large number of literary works, this guide has students read selections from An Anthology of Medieval Literature in Translation along with the six books already mentioned and The Scottish Chiefs by Jane Porter.
Beautiful Feet sells the guides by themselves as well as packages for each level with the guide, the required books, maps, and timelines.
At the younger level, parents might read aloud with some fifth and sixth graders, while seventh and eighth graders read independently. But your family might enjoy reading many of the books aloud together, no matter the ages of your children. Each family will need to figure out the balance between reading aloud and independently.
Additional books are recommended for each of the eight units of the guide for younger students and for each lesson in the older-level guide, but I suspect most students will have plenty to read between the required books and internet source material. The guides let parents know that students do not need to read every page in every book. Students might even skip some books entirely, but not the spine books.
Most of the books used in both studies are religiously neutral even though they cover religious events. However, both studies have an occasional Protestant slant. The inclusion of The Morning Star of the Reformation at the younger level and the suggested internet resources at the upper level present a decidedly Protestant version of the life of John Wycliffe. The treatment of Martin Luther and the Reformation, in general, is through a Protestant lens. On the other hand, Joan of Arc by de Monvel (published by Beautiful Feet Books) has more of a Catholic slant.
The Guides
The two guides are arranged differently. The younger-level guide presents 98 lessons, arranged in eight units. Students should complete three lessons per week, each lesson taking one to one and a half hours. Optional activities, videos, and suggested reading for younger students guarantee that you will have more than enough material for a full school year.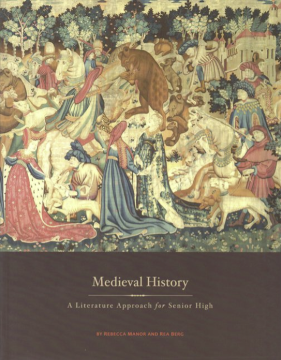 The older-level guide presents 35 weekly lessons. Parents can assign activities or trust students to budget their time for the week. Parents who want to assign activities for either level might prefer the PDF versions of these guides so they can copy and paste assignments from the guide to a student assignment sheet.
The guides occasionally have vocabulary words for students to define in preparation for their reading, and they pose questions for students to answer as they complete reading sections of each book. Students create a notebook for vocabulary words and answers to the questions.
Parents can choose how to use the questions. Many of the questions lend themselves to discussion rather than written work, and some questions might serve as essay topics. Answer keys are at the back of each book.
Other Activities
Map work and timeline activities are built into the lessons and should not be skipped.
Lessons are enriched with many optional, hands-on activities, projects, and recipes, plus website URLs and QR codes for additional information and activities. Activities, such as creating your own medieval manuscript or writing a medieval ballad and performing it, might require additional resources and a significant amount of time, so parents should read ahead to select and prepare for activities, perhaps in consultation with students.
Students will also create a portfolio of their best work—reports, projects, photos, poems, etc. Recognizing that we live in the digital age, the guides suggest that the portfolio can be a dedicated notebook, a website, or blog—whatever medium the student prefers.
Summary
While there are no tests for these studies, this approach to learning tends to be very effective for long-term retention since students usually become very engaged with the stories. Discussing and writing essay-type responses and reports, coupled with the internet and hands-on activities, help students assimilate information and process it at a deeper level than when they simply read a textbook, memorize information, and repeat it on a test.