Greenleaf Guide to Old Testament History
The Old Testament is the perfect place to start teaching history since it truly starts at the beginning. Many of us shy away from such a study because of the difficulties we might encounter, but the Shearer's have made it much easier with this Guide. It covers Genesis, Exodus, Numbers, Deuteronomy, Joshua, and most of Judges.
This Guide differs from the other Greenleaf Guides in that it is based upon Bible reading and discussion rather than readings from an assortment of books. (Either The Children's Bible Atlas or The Cultural Atlas of the Bible is recommended as a visual tool, but nothing else is necessary.)
We read through sections of Scripture with our children, then use the guide's questions to lead a discussion. The Shearers suggest using Charlotte Mason's "narration" technique where children relate back in their own words what has just been read. The questions generally focus on "who, what, where, when, why, and how" for historical understanding rather than as theology lessons.
Background information is included whenever it is useful. The Shearers also offer practical tips for dealing with the difficult passages like Tamar and Judah. You can tell from the suggestions that they have used all of this with their own family of seven children.
This is not like your typical Bible study material that uses stories or incidents to teach spiritual truths or doctrine. But even though that is not the primary focus, children will, indeed, learn foundational spiritual truths. Young children can easily answer most of the questions if they learn to listen carefully, but there are a few questions that will challenge older children to think more deeply. It should take a full school year to complete this book.
Famous Men of Greece, Famous Men of Rome, and Famous Men of the Middle Ages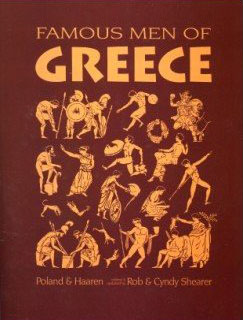 Instead of reading dry textbooks, children can learn about ancient history through biographical sketches of influential figures in the Famous Men books. Stories often build one upon another in chronological order. The effect is like reading a storybook, although not quite as interesting.
The Famous Men books were originally written in the early 20th century. These editions have been edited and expanded particularly to add a biblical perspective. To accompany each Famous Men book we also have The Greenleaf Guide to Famous Men of Greece, The Greenleaf Guide to Famous Men of Rome, and The Greenleaf Guide to Famous Men of the Middle Ages.
These Guides turn the reading into limited unit studies with activities, discussion questions, geography (including map building projects), and vocabulary for each chapter of each book. Biblical standards are used as the measuring rod when discussing the lives of the famous men. Chronological summaries of people and events are at the end of each book. Project work is optional for the most part, with more emphasis on reading and discussion. Frequently, lessons refer to supplemental resources for further research and reading on Greece, Rome, or the Middle Ages (available individually or in Greenleaf packages).
Of particular note in the Greenleaf Guide to Famous Men of the Middle Ages are the "worldview" comparison charts. On one chart we compare creation and end of the world stories from Teutonic mythology and the Bible. Greek myths are compared against the other two belief systems as we consider characteristics of God and the gods, what they value, whom they honor, what they honor, and man's purpose for living. Another chart compares beliefs of Islam with Christianity. Discussion questions in all of the guides cover names, dates, and events, but they go much further than textbooks in dealing with character issues and Biblical principles.
Greenleaf makes all of this even easier to use with their Study Packages. The Ancient Greece Study Package includes Famous Men, The Greenleaf Guide, The Greeks (an Usborne book), and Children's Homer. The Ancient Rome Study Package includes Famous Men, The Greenleaf Guide, City, and The Romans (an Usborne book). The Middle Ages Study Package includes Famous Men, The Greenleaf Guide, Castle, Cathedral, and Cultural Atlas of the Middle Ages.
Famous Men of the Renaissance and Reformation and Famous Men of the 16th & 17th Century
Greenleaf also publishes Famous Men of the Renaissance and Reformation and Famous Men of the 16th & 17th Century by Rob Shearer. This Renaissance and Reformation book also has a companion Guide. In my opinion, these books are best suited to older students at junior and senior high level although Greenleaf Press recommends them in their sequence for students as young as sixth and seventh grades, respectively.
Renaissance and Reformation with its companion Guide might be used as a full year program by adding just a few supplemental books. (Greanleaf has sold a package with a few recommended books, but two items from that package seem to be out of print as of summer 2010.) I appreciate the unusual selection of biographies in this Famous Men book. We meet famous men like Petrarch, Leonardo da Vinci, Erasmus, and some of the standard Reformation leaders like Wycliffe, Luther, Zwingli, and Calvin. But we also encounter characters such as Lorenzo d' Medici, Cesare Borgia, Niccolo Machiavelli, Albrecht Durer, and representatives of the Anabaptist movement. The result is a richer picture of the period than we typically encounter. The perspective is strongly Protestant.
Famous Men of the 16th & 17th Century serves as a continuation of Famous Men of the Renaissance and Reformation with 28 biographies beginning with Catherine de' Medici, (born in 1519). Among other characters introduced in this book are Elizabeth I, Sir Francis Drake, Sir Walter Raleigh, William Shakespeare, Galileo, Cardinal Richelieu, Charles I, Oliver Cromwell, William Bradford, Blaise Pascal, Rembrandt, John Milton, William of orange, John Locke, and Johan Pachelbel, and Louis XIV. As you might have already noticed from the selection of biographies, Famous Men of the 16th & 17th Century also has a strong Protestant outlook. There is no study guide for this book. You might combine it with Genevieve Foster's book The World of Captain John Smith for more comprehensive coverage.
The Greenleaf materials more than adequately replace textbook material. The Famous Men books can be read to children at very young ages, but the actual studies are more suitable for middle to upper elementary grades. Even though the reading level is a little young, junior and senior high students can read the stories. Guide activities can be stretched to meet the needs of most learning levels, although the Middle Ages guide seems the easiest to use with older students.
The Greenleaf Guide to Ancient Egypt
This Greenleaf Guide differs from the Guides on Rome and Greece in that there is no Famous Men book to accompany it. Instead, it uses six other books and the Bible as resources. The books are Pharaohs of Ancient Egypt, Time-Traveller Book of Pharaohs and Pyramids, First Travellers: Deserts, Pyramid, Tut's Mummy...Lost and Found, and Mummies Made in Egypt. There are many hands-on activities along with vocabulary and discussion questions. The general tone of this guide is slightly younger than that of guides for Rome and Greece. Since Egypt figures in chronological order before the others, it makes sense to use this book and the Greenleaf Guide to Old Testament History as your starting points, then follow with Greece, then Rome and the Middle Ages. Study can be adapted for children as young as second-grade level, although it should be perfect for the middle elementary grades.