Either Cuisenaire® Rods or Base Ten Blocks can be used for presenting concepts from addition through algebra. Cuisenaire® Rods are based on a metric scale with one white rod being one cubic centimeter. Rods of different colors are 2 through 10 centimeters long. Base Ten Blocks have pieces one centimeter long, 10 centimeters, squares of 100 square centimeters, and cubes of 1000 cubic centimeters, all the same color.
Books and resources listed below are examples of some of the resources for working with manipulatives, but there are many, many more.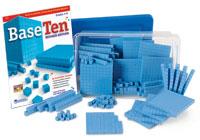 There are lots of different starter sets from which you might choose. I would encourage you to get a larger set rather than a smaller one.
Idea Book for Cuisenaire Rods at the Primary Level and Intermediate Idea Book for Cuisenaire Rods are both helpful for learning how to teach with the rods.
The Super Source series for Cuisenaire Rods is also excellent. There are three books in this series, for K-2, 3-4, and 5-6, although these grade delineations seem very arbitrary. Activities in these books frequently would be appropriate for other grade levels. Unlike most of the other books, these present a range of activities to enhance mathematical thinking and conceptual understanding in general rather than focus upon particular skills such as addition and subtraction. Some activities do focus on such skills, but they do not follow any logical sequence in doing so. Charts at the front of each book show which mathematical concepts/skills are covered within each activity, so you might use this to determine which activities to use when. They can be used in any order you choose.
Most activities are interactive, requiring a partner--Mom will do. Numerous blackline masters at the back of each book are used to construct game parts, serve as the foundation of activities, or function as worksheets or cut-and-paste projects to use with activities. Many activities are drawn from the same ideas found in the more specialized, topical Cuisenaire activity books, so you will discover many ways the Rods can be used through these activities which might help you decide which other books you might want to purchase.
There are also Super Source books for other manipulatives such as Pattern Blocks, Snap Cubes, and Geoboards, but I suspect that this series and the Cuisenaire Rods will be the most useful for homeschoolers.
Note: Graph paper marked in centimeters is difficult to find but is a valuable tool for use with Cuisenaire Rods, other manipulatives based on cubic centimeters, or simply for students to use to keep numbers properly aligned in problem solving. If you can't find any, you can create it quite easily on a computer.
Developing Mathematics with Base Ten provides teaching guidance and blackline masters for using Base Ten Blocks for grades 2-6.
Base Ten Blocks Activities shows how to use the blocks with activities for grades 1-6.