The Online Book Clubs from Literary Adventures for Kids aren't clubs in the usual sense. Instead, these are guides for the study of novels. They are presented online, but they do not require students to meet up with others online or to work with other students. These studies feature lots of activities for parents and students to use within their own families. Of course, families can also work together with others studying the same novel at the same time in a book club fashion, something I highly recommend even though it's not part of the design of these studies.
Each study should take a month to complete, although I can envision adding an extra week just to plan and execute the party at the end of each study. If you work with other families, you might meet either weekly or only for the culminating party for each study.
Literary Adventures for Kids has published many different Online Book Clubs, generally grouping them by age group. You can read my review of the Online Book Clubs for the elementary grades here.
Middle School Studies
The Online Book Clubs reviewed first are designed for students in middle school through high school, although they are best for middle school. Studies that are written only for high school are reviewed in the second part of this review.
The Online Book Clubs that are best for middle school are for novels such as:
A Wrinkle in Time
The House with a Clock in its Walls
Wonder
The Birchbark House
Holes
Where the Red Fern Grows
Bud, Not Buddy
Number the Stars
Escape from Mr. Lemoncellos Library
Mary Poppins
Love That Dog
Doctor Dolittle
Brown Girl Dreaming
Inside Out & Back Again
Enola Holmes
I Am Malala
The Little Prince
Some of these are grouped under particular topics. For instance, I Am Malala and The Little Prince are also listed as part of a forthcoming world literature series for middle school. There is also a new study titled A Study of Japan that I have not yet reviewed. This is a study of Japan's history, culture, geography, and economics that is not linked to a literary work.
You can purchase Online Book Clubs individually, but you save by ordering them as bundles. You need to obtain the novel for each study on your own. All of these studies are written from a secular perspective.
Online lesson plans guide you through each study. On your lesson plan dashboard, outlines are visible at all times on a left-hand navigation bar, and the selected part of the plan is displayed on the right.
Projects are a part of the studies, so a project resources list shows what you will need for each individual project in that study. After this, the menu shows lessons laid out for four or more weeks plus a culminating party.
Each novel is broken down into a manageable number of chapters to read for each section of a study. Some studies are clearly laid out for four weeks. Others, such as the Number the Stars Book Club, present lessons in parts rather than weeks. In this case, there are eight parts. You might complete two per week, although you could stretch the study out over eight weeks.
Students first read the assigned number of chapters. As they read, they are supposed to write down in their journal any sentences they particularly like or that have special meaning to them. They should also write down unfamiliar vocabulary words and look up their meanings. Students will also copy a passage from the novel, paying attention to spelling, capitalization, and punctuation.
"Rabbit trails" and "magic dust" might also be included in the lesson plan for each group of chapters. Rabbit trails are topics to explore that are tangential to the story. Number the Stars has many rabbit trails with as many as six in just one section of the study. For example, for the first week of that study, five rabbit trails cover the topics of Copenhagen, Hans Christian Andersen, King Christian and the Monarchy, the Nazis and Hitler, and Surrender of Denmark to Germany. Online resources provide information on these topics. Students can then type in their own comments to post on the web page, although this is optional. Magic dust activities are hands-on projects such as those for Number the Stars: finger crocheting, paper stars, making overnight oats, and creating a newspaper. Instructions are included.
The studies for middle school through high school have limited writing assignments. For example, in the Number the Stars study, the eighth part has a "Writing and Literary Elements" section that provides brief instruction and options for a writing assignment. These sections are written to incorporate elements of the Brave Writer approach for those familiar with it. Alternative assignments are given for those not familiar with Brave Writer.
There is yet another set of weekly activities that vary from study to study. This set usually includes an interactive activity. For example, in the Number the Stars study, each part concludes with a foreign language section where students will learn some basic vocabulary from either the Hebrew or Danish language, both of which relate to the story.
Each Online Book Club concludes with what is called "Party School." The lesson plan suggests food, decorations, and activities for this culminating party. The party can be great fun, especially if students do much of the planning and execution.
Studies Written for High School Level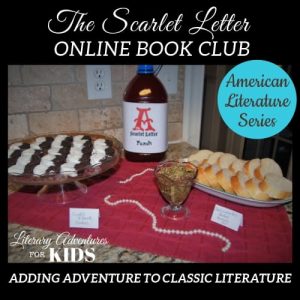 There are three series available for high school as of the summer of 2021, with more in production. I review the Poetry and a Movie series separately since it is quite a bit different than the other series. The other two series are American Literature and British Literature. World Literature has some book club studies available with more under development, and a Shakespeare series will follow that.
Ten Online Book Club studies for high school can be used together as a one-year course in American literature, British Literature, or the forthcoming World Literature. However, each study can also be used on its own. The studies for American Literature are for the books The Scarlet Letter by Nathaniel Hawthorne, Up From Slavery by Booker T. Washington, Of Mice and Men by John Steinbeck, The Great Gatsby by F. Scott Fitzgerald, To Kill A Mockingbird by Harper Lee, Fahrenheit 451 by Ray Bradbury, Slaughterhouse-Five by Kurt Vonnegut, The Outsiders by S.E. Hinton, Little Women by Louisa May Alcott, and The Call of the Wild by Jack London.
The British literature series includes studies for Alice in Wonderland, A Tale of Two Cities, A Midsummer Night's Dream, Murder on the Orient Express, Emma, Animal Farm, The Hound of the Baskervilles, Sir Gawain and the Green Knight, The Eagle of the Ninth, and Frankenstein.
World literature has a very multi-cultural selection of books. Studies for the following books are available as of August 2021: I am Malala, The Boys in the Boat, The Book Thief, The Alchemist, The Boy Who Harnessed the Wind, A Long Way Home, and Balzac and the Little Chinese Seamstress. Yet to come are studies for Refugee, Crime and Punishment, and Midnight's Children.
My review of study for The Scarlet Letter from the American Literature course shows how all of these studies work.
The Scarlet Letter Online Book Club
The Scarlet Letter and the other high-school-level online book club studies are similar to the younger-level studies in many ways. However, the high-school studies have a number of additional features.
Generally, the novel is all that is required, but sometimes an extra book is required as well. For example, along with the high school study for The Scarlet Letter, students will also need the book Breakfast on Mars and 37 Other Delectable Essays, an inspiring and entertaining help for essay writing.
The first of the weekly lesson plans begins with background information. For The Scarlet Letter, this includes a brief biographical video on the author, Nathaniel Hawthorne, plus an article about the Puritans. These are both accessed online.
High school students do not have copywork. Instead, the next section of the lesson plan includes instruction on literary devices and literary terms. Students then continue to concentrate on those devices and terms each week as they read, making notes and recording examples as they go.
The weekly lesson plans include a section on vocabulary, spelling, and grammar. Specific vocabulary words are assigned from each chapter, and an online Quizlet helps students check their mastery of the vocabulary words. For spelling, a Quizlet tests a student's ability to spell the vocabulary words. Then in the grammar section, students study specified grammar rules at the GrammarBook site. They will later apply what they learn in the "Show What You Know" section at the end of the lesson.
There are fewer rabbit trails in the high school studies than in the studies for younger students. (Rabbit trails are explorations of topics that are related to the story.) The only rabbit trails in the first week of the Online Book Club study for The Scarlet Letter are for Ann Hutchinson (a Puritan who disagreed with orthodox Puritan theology in the 1630s) and the book, Utopia. There are also fewer magic dust (hands-on) activities with only two for The Scarlet Letter—creating an illuminated letter and a fairy garden.
A month-long writing project is introduced the first week. For The Scarlet Letter, students will write a character-analysis essay. A number of activities that help them with this assignment include reading essays from Breakfast on Mars and 37 Other Delectable Essays, watching a video that teaches students how to create characters for their writing by drawing stick figures, writing short essay responses to literary analysis questions, and watching the video "How to Write a Character Analysis."
"Show What You Know" sections at the end of each week's lesson plan assess what students have learned, both by using dictation and editing exercises and by having students relate examples of literary terms they found in their reading. Finally, students will complete a cumulative vocabulary Quizlet. The estimated time to complete the "Show What You Know" section is 30 to 40 minutes each week, so this is a substantial assessment.
While these studies can suffice for an entire year of language arts, some high school students might also require additional instruction in grammar or composition if they are deficient in those areas.
The high school studies provide significantly more academic content than those that can be used for middle school through high school, but they still include the fun elements: rabbit trails, magic dust, and the party.
The Society of Literary Adventurers
The Society of Literary Adventurers is a membership plan (quarterly, yearly, or lifetime) that gives teens (and their parents) access to all of the studies. It also gives parents access to quarterly live workshops and a monthly, Interactive Book Club where the Online Book Club creator, Dachelle McVey, walks parents through the planning for a book club.
Summary
Other than the computer-scored online Quizlets for older students, parents are on their own when it comes to assessing how well students complete the various assignments. For this reason, these studies will work best if a parent has the time and skill to assess student work properly. Using the studies in a group class might be a great idea, but bear in mind that it might not be practical for a group class instructor to assess all of each student's work (especially with older students). However, the motivation and opportunities to share and discuss in a group would be great benefits.
I particularly like the way these Online Book Clubs take advantage of internet resources to enhance the study of novels while also adding activities for family involvement. The inclusion of spelling, grammar, vocabulary, literary analysis, and composition work means that these studies can cover a significant part of a student's language arts coursework for middle school students and up to a full year of language arts for high school. The best way to use these courses is to think of them primarily as literature courses, with the addition of supplemental work on other language arts skills. In that context, they offer solid content in an interesting format that is very easy to use.