Go Phonics is a very thorough, multi-sensory, systematic phonics reading program for grades K through 2, and it is also a fairly complete language arts program for kindergarten and first grade levels. Although all students can benefit from Go Phonics, it was particularly designed to meet the needs of students with dyslexia.
It begins with teaching the letters, their proper formation and sounds, and continues through fairly advanced phonics concepts. Go Phonics also teaches reading comprehension, handwriting (manuscript), spelling, rules, punctuation, capitalization, contractions, sentence formation and similar beginning language arts skills.
Go Phonics is compatible with Orton-Gillingham methodology which teaches explicit, systematic phonics using multi-sensory techniques. The specific sequence helps to minimize confusion for students.
Six consonants are taught first, followed by the short "a" sound. Then they immediately begin blending to form "at" then "bat, hat, fat," and "cat." Children begin reading "short a" stories early in the program after 15 letters have been taught.
Go Phonics is a "direct instruction" program with high parent/teacher involvement using interactive materials (not computer-based) along with a prescribed, sequential plan for teaching. Simultaneous multi-sensory techniques used throughout the program help to neurologically activate the brain. This is critical for successful learning for some children, and it also improves retention for all students.
Handwriting instruction in manuscript printing is included using the "stick and clock letter approach"—a more continuous approach to manuscript than "ball and stick" and designed to help eliminate reversals.
An audio CD has songs that reinforce some of the phonics and language concepts. The CD is packaged with a songbook with the music and words to all of the songs.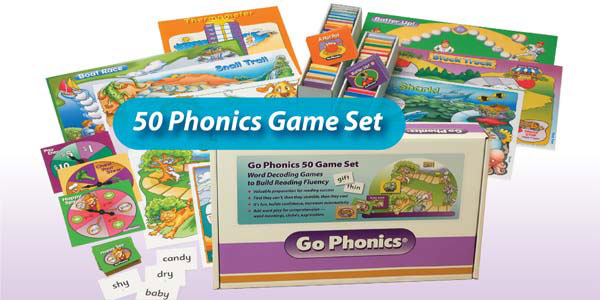 Go Phonics incorporates an assortment of 50 phonics games that reinforce learning as well. These include 50 card sets, 11 full-color laminated game boards, four spinners, an instruction booklet, and game pieces. These games are integral to the lessons, providing word decoding practice to build fluency prior to actual reading. This gives the students the needed repetition identifying the same code in many words. A set of 108 large letter cards is used for daily review of letters/sounds. Note that setting up the program requires separating all of the cards (both game cards and letter cards) that come on perforated sheets.
In addition to the above, there are four full-color charts. Three charts have 96 key words, and a prefix and suffix chart completes the set. They can be posted in your learning area to provide children with visual reminders of the letters and their sounds.
The main feature of the program is the series of decodable storybooks. There are seven spiral-bound readers with plastic covers. Like chapter books, they range in length from 64 to 118 pages and build on the sequence of 5 phonics levels. They support reading phonetically (rather than whole word memorization). The stories are limited to only those words with the sound/spellings that children have been taught so far in the sequence. Because the children get plenty of practice with the games, they are much more likely to read the story successfully. The sight words children will encounter are also taught in advance, before they come across them in a story. Story content revolves around everyday life with all ages and nationalities so the readers are not limited for use with a young audience.
There are five companion workbooks that are also integral to the lessons. While most written activity is done in the workbooks, there are also suggestions for creative writing activities beyond the workbooks. If you are teaching two children, you will need an additional set of workbooks for the second child. (They can share the readers.)
An Assessment CD has two printable books. One is a manual for the teacher and another for the student to view. They help you know where to start, find the gaps, and track each student's progress. There are instructions, assessment forms, and record keeping forms. While you can print them out by level as needed, it is probably more efficient to print these out and put them in a file folder ahead of time.
The Teacher's Guide is the core of the program. It provides detailed explanation of the program as well as step-by-step lesson plans. The Teacher's Guide repeats information from time to time so that you won't miss it if you are starting a child at a higher level. For those who prefer brief instructions, this might seem a bit much to wade through, but those who really want to make sure they don't miss a thing will feel very secure.
There is one more tool primarily for the teacher, and that is the Word Lists book. Here you find charts and lists of phonograms and their sounds, basic principles of phonics explained, spelling rules, reading rules (including syllabication), and lists of words that feature not only the phonograms taught in the program, but more lists than can be taught later. More than 140 lists make up the bulk of the book. You can also use these word lists for student practice, perhaps for additional spelling words, as a source for phrases for dictation, for making up more games, for vocabulary enrichment that's code-based, etc.
The program is ideal for one-to-one instruction and is adaptable to use with small groups if you have several students who are at the same level. The Teacher's Guide generally refers to a single "student" most of the time rather than "students." The program is designed to be taught by the parent/teacher with little independent work. Many of the games can be used without a group of children, and in that case, the parent/teacher plays with the child. Even when there are two or more children, the parent (or possibly an older child with excellent reading skills) needs to be present to ensure that children sound out words correctly. Note: The publisher tells me: "The games are designed so that if the mother is the other player, the student reads both his own card and her card (but she gets the points). That way the student gets double the practice."
The instructions direct the teacher to construct some additional items to be used, mostly in Level 1 – Alphabet lessons: a Feel Box, an Earphone, a Screen Board, and a work surface for practicing letter formation. This seems a lot of work for a single student! Depending upon a child's learning style and modality strengths, you might or might not need all these items. The Earphone will be helpful for children who have difficulty distinguishing sounds; it will amplify the sounds. The Feel Box adds a hands-on element as children feel an item hidden in the box and identify it with a letter being taught. Some children delight in this and it's unnecessary for others. I suspect that as parents proceed through the Level 1 lessons, they will find some parts of the instruction in each lesson plan useful and other parts unnecessary, depending upon the needs of each child. Nevertheless, the lesson plans are written to address most learning style needs, so parents should have all the help they need to teach their children successfully.
The appearance and quality of the program components are excellent. Even though everything is not printed in full color, plenty of components are. Both the color and black-and-white items feature outstanding artwork. I was also very impressed with the quality of the game boards. Some of these are "path" boards that might be used for other educational purposes when you've finished using them for phonics.
Go Phonics requires some initial set up time (about 3 hours) and more lesson preparation and presentation time than some other programs, but it also provides a more comprehensive teaching methodology. It should cover all of your language arts for kindergarten and first grade, and most of second grade.
What I have described here is the Home Program Package. It consists of the Home Edition Basic Kit (with consumable workbooks), and the Go Phonics 50 Game Set. The Home Edition Basic Kit alone includes just two of the game card sets (for Level 1) and does not include the rest of the games (for Levels 2-5). If you want to save money, purchase the Basic Kit and use the Word Lists book to make up your own sets of cards, and then use generic game boards from other games. If you are beginning instruction with a young child (e.g., a four-year old), you might want to split your purchase up and buy the Basic Kit first, then the rest of the games when you reach Level 2 - Short Vowels. The 50 Game Set can be purchased separately. Basic Kit purchases include a special offer discount when purchasing the games later.