Primary Arts of Language has two courses, Reading and Writing. Ideally they are used together, but both courses may be used on their own. The target audience is kindergarten and first grade, although lessons from the Writing course might stretch up into second grade. Both courses include additional audio, and video files as well as and reproducible PDF student materials on a DVD-ROM. On a lengthy introductory video on each course's DVD, author Jill Pike walks through an overview of both entire courses. Additional audio files offer interesting material that relates directly or peripherally to each course.
Primary Arts of Language: Reading (PAL Reading)
Primary Arts of Language: Reading is a unique reading program. The program was developed from the work of Anna Ingham, author of the Blended Sound-Sight System of Learning, adapting her ideas to the homeschool setting. It appears that there is some Montessori influence in the approach, particularly in the use of learning materials and the way children are instructed to use them.
PAL Reading uses poetry as the centerpiece for each lesson. Poems and worksheets are in the PDF student books which you will need to print out. Poems are also included in the appendix of the Teacher's Manual for easy reference.
While the method in which poetry is used is unique, other methods also set PAL Reading apart from other programs. Most obvious are the teaching of more sight words than is done in most phonics programs for homeschoolers, an unusual sequence of introduction for phonics, heavy use of games and word cards as key learning tools, and the incorporation of real books for reading material.
The companion course, Primary Arts of Language: Writing, might be used simultaneously, but younger children might need to develop better small motor coordination before beginning that course. Lesson plans in PAL Reading include mention of when to use PAL Writing if you are integrating the two courses.
Components of PAL Reading are the Teacher's Manual, a DVD-ROM, Phonetic Games book, The Phonetic Farm Folder and stickers. Student books are PDF files on DVD-ROM. In addition you will need a stack of 3 x 5 cards and a container for them, at least 35 manila file folders used to create games, a box or crate for storing the games.
PAL Reading is very teacher-intensive at the beginning, but gradually becomes much less so as children progress. Students work through four stages: Foundations, Activities, Discovery, and Library.
The Foundations stage is the most teacher-intensive. At this stage the teacher will read the poem for the lesson then guide a discussion about the poem. Students will learn two or three letters/phonograms per day for the first few weeks—note that PAL Reading teaches sounds of the letters (short sounds for vowels) rather than letter names. This is a rapid pace for children just beginning to learn letters and sounds, so adjust the pace of lessons depending upon each child's readiness. In addition, they will learn at least one more phonogram (e.g., /ee/ and /ow/ in the first lesson, /ck/ in the second lesson). Students will become familiar with The Phonetic Farm Folder, placing stickers for the different phonograms as they are learned. (The folder will serve as a ready-reference tool for children.) The letters are taught with "letter stories" that help children remember how to form each letter and sometimes the sound of the letter. For example, "'p' is the bubble letter. Make a stick that goes down into child's hand. Blow a bubble that will go 'pop.'" Letter cards in the games book are illustrated to reflect the Letter Stories.
Games assembled from the PAL Phonetic Games book are used as reinforcement and practice tools, first with child working with the parent/ teacher, then with another child or independently. The games are created by tearing out, trimming, and pasting the appropriate pages into a file folder to create a game board. Then cards, printed on card stock are cut out to use with the games. You need not create all of the games at once. You can do a few at a time as you need them. They are numbered to match lessons in the Reading course. You will have quite a few of these games "active" at any one time for a child to use for practice and review.
During the Foundations stage (and beyond) students will use one to four worksheets from the student book. Some of these require written work, and some will be colored, some will require matching work—there's quite a bit of variety involved. One of these will include the reading words learned in the lessons. This worksheet is to be attached to a clipboard and used cumulatively with others for review.
At the Activity Stage, students will have learned enough phonograms that they can work independently for a thirty-minute period. They will continue to learn more phonograms and words, but they will spend a this activity period working with the games. This is where I particularly see evidence of Montessori influence. Children learn how to work quietly and appropriately with each game, taking things out and putting them away properly. They can move from one game to another during each session. Of course, most of the games would be more fun if they have a partner, whether it's another child or a parent. You will want to rotate the games available to the child from time to time over the two to four months the child works at the Activity Stage.
Four vocabulary-controlled readers may be printed from the DVD-ROM. These are not essential to the program, but they can be used both as reward and reinforcement/practice. The first reader may be introduced after the first twenty lessons, which should be during the Activity Stage. Some students might be ready to tackle some of the recommended "real books" instead of the readers, but those who are not ready will probably appreciate the opportunity to read a "book" on their own. While the wording of the readers is not exciting, the drawings are attractive. Children might even color these in.
Children beginning the Discovery Stage should have mastered the phonograms. They are now ready to work with the Discovery "card packs." Ten cards per pack are cut out and used for decoding practice. Children will attempt to decode the words on their own after an initial lesson where the parent/teacher works with them. Students should spend thirty minutes a day for two to four weeks to master the thirty packs of Discovery cards.
The fourth stage is The Library. The thirty minute period is now used for the child to practice reading aloud to a partner. Lists of recommended books are in the Teacher's Manual, divided into easy, medium and hard books. Most should be available at your library. After a child has read a book to you, he or she can write the name of the book in a reading logbook. You might also have a child read to a sibling. Once a child has shown mastery in reading aloud, you can allow silent reading.
Through all four stages, lessons continue to be introduced with a poem. Students practice from pages on the clipboard. They work on or review the Phonetic Farm folder. They complete pages from the Student Books unless they are working in PAL Writing; in that case those pages provide sufficient work.
After completing the eighty lessons in PAL Reading, students should be able to read simple books with relative ease, but some students should be able to shift to the Library Stage after about sixty lessons. The program can be used very flexibly, adapting to the needs of each child.
There is some advance preparation. Parents need to watch the DVD presentation about how to use the program, and they should read the nine introductory pages in the Teacher Manual. Some cards needs to be cut out and some games assembled, then you're ready to go. Lesson plans for each day are thorough. You will have to plan ahead to add new cards, prepare new games, print out worksheets and/or readers (if you have not already done so). However, this prep work for daily lessons should not require much time.
Primary Arts of Language: Writing (PAL Writing)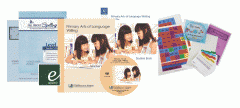 PAL Writing teaches printing, copy work, composition, and spelling. Components to this course are the Teacher's Manual and a DVD-ROM plus the complete All About Spelling Level 1 program (which is excellent). Three Student Books are included as PDF files on the DVD-ROM. You will need a container for 3 x 5 cards and a notebook with wide-lined paper. You will probably also want a small magnetic whiteboard for storing and using your magnetic letters from All About Spelling.
The lessons are divided into three sections focusing primarily on printing in part one, on copywork in part two, and composition in part three. The three Student Books on PDFs correlate with the three sections with worksheets for every lesson.
Lessons include much more than the single skill. Each lesson begins with the class journal where you write the day, date and a few sentences about what might be happening that day. Later students may help write in the journal.
In the first part (31 lessons) students work on learning to print letters, numbers, and words. The printing style is manuscript but in a style that keeps the writing instrument on the page as much as possible rather than drawing separate "balls and sticks." They also learn story summaries. Some brief stories are included in the Teacher Manual, but you will need to use additional stories of your own choosing. Using a sequence of questions, you help students identify key information from the story. Lessons conclude with a "spelling test" to check with students can write the sounds that they have learned thus far.
Part Two introduces All About Spelling and introduces "style enrichment" by teaching punctuation, parts of speech (at a very introductory level), and methods of adding style as they use language. Students will also need wide-lined paper or a notebook for copywork for this section. On the DVD-ROM are copywork pages with the little house used in the program to indicate the "attic" and "main floor" for letter placement on lines. Students continue to do oral story summaries but they move beyond to retell the stories on their own rather than just answer questions, what Charlotte Mason calls narration. There are forty lessons in this section.
Part Three moves into composition work with sixteen lessons working on techniques taught in Teaching Writing: Structure and Style for story writing, key word outlines, and other creative writing plus the use of "dress ups." They will do both oral and written work. The third part continues the All About Spelling program. Some students might have moved quickly through Level 1 of that program, and you might need to purchase Level 2; lessons are totally flexible as to the rate of progress made in All About Spelling so you can be using either level while completing lessons in Part Three. You need to take as much time as is necessary for your children with these lessons.
PAL Writing requires even less preparation than does the Reading course. The course content changes dramatically from section to section, so parents should refresh themselves with the DVD presentation or by reading through the upcoming lessons as to the techniques to be used for teaching the upcoming lessons. Lesson presentation will likely require a high level of interaction throughout most lessons.
The PAL Reading and the first section of the Writing course will definitely be useful at kindergarten level. The last two sections of the Writing course will likely need to wait a little longer for most students. It should work fine to spread the Writing course out over two or even three years! Both programs offer a great combination of structure for the inexperienced teacher and flexibility to adapt to the needs of each child.