ReadBright publishes a comprehensive program for teaching reading to children in pre-kindergarten through first or second grade. It uses Orton-Gillingham methodology, an intensive-phonics approach.
It presents phonetic words within three categories and also teaches some sight words. The three categories are taught with fanciful backstories to help students remember them.
The first category, Kid-in-the-Middle, consists of CVC (consonant-vowel-consonant) words, such as map. The backstory is that the kid in the middle is short and young and doesn't know how to say his own name. When asked his name, he answers with a short vowel sound. He doesn't even know how to wear a baseball cap, so he wears it upside down. This reminds students of the short vowel sound marking (a breve such as ĕ) that looks like the upside-down cap. Similar backstories are used to teach the other major concepts.
The second category is Magic e words that have a silent e, such as bake and rake. Other vowel combinations are taught in a third category that includes words with vowel digraphs such as ee, ea, ai, and ay; the r-controlled vowel sounds such as ar and er; phonograms such as igh; and the various sounds of the phonograms ow and oo.
The program teaches students how to decode words using phonics, and it also teaches students to encode words by identifying what letter(s) students need to say or write to make a phonetic sound. Encoding skills are vital for spelling. ReadBright requires less writing than do some other Orton-Gillingham-based programs and does not try to cover all areas of language arts for these levels as do some programs.
All of the books in this program are very colorful with excellent graphics and attractive illustrations. The program is designed to be multisensory with activity sheets, readers, songs, games, and hands-on activities, but you don't need to use all of the available components. In this review, I'll highlight those I consider most important.
Pre-kindergarten or Kindergarten
You can begin with the Multisensory ABC Activity Book to introduce both lowercase and uppercase letters along with their sounds through a number of activities suitable for pre-kindergarten or kindergarten. You might use it at either level, depending on the student's readiness level.
Children will trace letters, write the letters from models, form letters with clay, circle images of items beginning with a particular letter, draw lines to match columns of letters and images, cut out images and paste those beginning with a certain letter on a page, color in objects to identify either uppercase or lowercase letters, and a few other activities. The book works through the letters in alphabetical order then continues with about 30 pages that review what has been taught.
After the review pages are another 17 pages that help children identify initial and final sounds in words, have them practice visual discrimination for letters that look similar (e.g., n and u), and have them practice auditory discrimination for letters that might sound similar (e.g., b and p).
The Next Step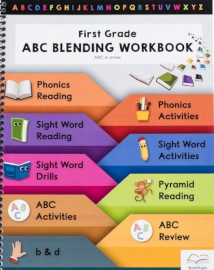 There are three possible starting points for the main phonics program depending upon a student's prior introduction to the letters, sounds, and blending. Even though some books are identified as being for first grade, you might want to use them earlier or later depending upon the needs of each student.
First Grade ABC Blending Workbook: ABC in Order
First Grade ABC Blending Workbook: ABC Out of Order
Set of three workbooks - 1: Kid in the Middle, Consonant Digraphs, Blends; 2: Magic E, Walking Talking Vowels; and 3: Ruling R, More Sounds.
Whichever avenue you follow next, you will need USB Level 1: Audio Songs and Classroom Printouts. The printouts include the 454-page Teacher's Handbook: Level One. The teacher's handbook has an extensive explanation of the program and its components (including some you won't need), schedules showing when to use the different course components for all levels, and specific teaching instructions for that level. The schedules cover the books I listed for the three possible starting points. (You still need the USB for each level for teaching instructions and resources.)
Students who still need to learn the letters and sounds should begin with the First Grade ABC Blending Workbook: ABC in Order. Over 12 weeks, this 179-page book teaches letters and their sounds and the identification of initial sounds in words. It covers the material much more quickly than does the Multisensory ABC Activity Book. Children will write letters and words, but they are not taught how to form the letters. (ReadBright's My ABC Handwriting Book teaches how to print both letters and numbers and could be used at this point if needed.) The schedule to follow if you start with this book begins on page 35 of the teacher's handbook. This schedule includes the set of three workbooks and takes 48 weeks to complete, so if you begin in first grade, it will continue partway through second grade.
First graders who need less review can use First Grade ABC Blending Workbook: ABC Out of Order. This 123-page book has some, but not all, of the pages that are in the ABC in Order book. It should take about eight weeks to complete this briefer review. Both books cover all of the same concepts, but the ABC: Out of Order book provides fewer activity pages for each concept. The schedule to follow if you start with this book begins on page 41 of the teacher's handbook, and it, too, includes the next three workbooks. Since this schedule takes 40 weeks, it probably will run a month or so into second grade.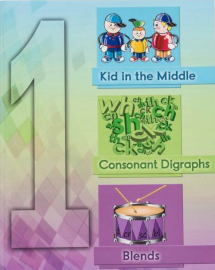 Children who know the letters and their sounds and can identify both beginning and ending sounds in words with short vowel sounds can skip both First Grade ABC Blending Workbooks and begin with the first level of the main phonics program—1: Kid in the Middle, Consonant Digraphs, Blends—then continue through the next two levels. You should be able to complete this set in about one school year.
Each level has one large workbook that has both instruction and student worksheets. These colorful workbooks feature large fonts that should be easy for students to read. Instructions for the teacher are printed in a small font. The workbooks have a variety of activities, many of which require students to write directly in the books.
There are seven sets of 12-page readers that are to be used alongside the workbooks. The readers are gorgeous with detailed, full-color artwork and have stories that use only phonetic concepts and sight words that have been covered in the corresponding workbook. The schedules in the teacher's handbook show when each reader is to be used. The number of readers in each set varies from three to eight. Three sets are used with the first level, and two sets are used with the second and third levels.
USB Drives
The USB drive for each level has three main folders: audio songs, teacher printouts, and student printouts. I'll describe details for only the first level, but the others are fairly similar.
Professionally produced phonics songs on the USB drive help students remember phonetic concepts. If there's a phonics song that ties in with the concept being taught, the track number for it is found on the teaching schedule. Lyrics for the songs are in a file in the student printouts folder.
The teacher printouts section on the USB drive includes the teacher's handbook plus a section with visual aids (most useful for classrooms) and a number of assessment resources.
The student printouts section has many useful items. Level 1 Centers Student Worksheets is a 284-page PDF with student activity sheets. These involve drawing, cutting and pasting, coloring, writing, and games. In the folder titled "Centers Divided by Skill Level One" are many files with mostly cut-and-paste activities for different phonetic concepts. The "Making and Breaking Words" file has 20 pages to be used for hands-on blending practice. I think homeschoolers are most likely to use the worksheets in the first file, but students who struggle with blending will also benefit from using the last file.
The USB drives for the second and third levels each have a teacher's handbook with the same content for the first 50 or so pages. Then the teaching instructions are specific to each level. The USB drives for the second and third levels also have files with printable flashcards.
Extras
The workbooks, readers, and USB drives are what I would consider the required components. There are a number of other components described on the publisher's website and in the teacher's handbook, but they are considered optional. Here are a few examples of ones I think might be helpful:
My Reading Fluency booklets—one for each of the three levels—have timed reading passages that can be used to evaluate how well students are doing.
The Dictation Book—dictation exercises are given from lists of phrases and sentences in the teacher's handbook. Children recall how to write the phonograms as they hear and write words, reinforcing their knowledge of both phonics and spelling. Dictation also provides handwriting practice on formatted pages.
Summary
The entire ReadBright program is beautifully put together, both in appearance and in the coordination of the course components. It should be easy for inexperienced parents to use. There is lots of information to read through if you want to, but you don't need to. If you follow one of the schedules, you can use the program pretty much on an open-and-go basis.