Reading Eggs is an internet-based program that is primarily for teaching reading to children ages two through thirteen. It has five major components, including one for math, that can all be accessed through the same dashboard page if you subscribe to the complete suite of components. Lessons can be completed on a computer or via apps for iPad, iPhone, and Android devices (available at iTunes). Students need to be able to hear audio information throughout the program. The lessons use many different cartoon characters, a variety of lesson formats, games and other features to keep things interesting.
The first component, Reading Eggs Junior, is for preschoolers ages two through four. It introduces pre-reading skills with games, videos, and online "books." The second component, simply called Reading Eggs, is the most important since this is where children learn to read. A set of spelling lessons within Reading Eggs helps to reinforce reading skills while teaching spelling. Once children have learned basic reading skills in Reading Eggs, Reading Eggspress helps develop reading comprehension and spelling skills. Reading Eggspress can be used alongside or after completion of Reading Eggs. The fourth component, Library, includes over 2500 online books for free reading. The fifth component, Mathseeds, teaches basic math for preschool through second grade.
The Parent User Guide under Bonus Materials on the parent's dashboard has detailed scope and sequence for Reading Eggs and Reading Express. I highly recommend that parents read through at least some of this information to understand the layout of the program. Under Bonus Materials, you can also download homeschool guides for kindergarten, first grade, and second grade that lay out the sequence for using all of the Reading Eggs material, including Mathseeds and books from the Reading Eggs library to partially cover topics for science and social studies.
Summary
This is a lengthy review because this is a massive program with significant content in different areas. Feel free to read only about components in which you are interested. In summary, Reading Eggs can serve as your primary reading program, especially if you use the printable activity sheets. Reading Eggs Junior can be used by preschoolers to develop readiness skills, but it isn't essential. Reading Eggspress offers an easy way to access worthwhile reading material and boost reading comprehension once students have learned to read. And finally, Mathseeds can be quite useful as a math supplement and perhaps as your core program.
You can subscribe to either Reading Eggs (which includes Reading Eggs Junior, Reading Eggspress, and their library) or a combination of Reading Eggs and Mathseeds. (Mathseeds is also available on its own.) Normally, you can have access to a free 14-day trial before subscribing. However, if you click here you will have a generous 4-week trial period.
The great benefit of the entire suite of Reading Eggs components is that children can learn much of the material working independently. This reduces the workload for parents significantly while ensuring that children receive solid educational content.
Reading Eggs Junior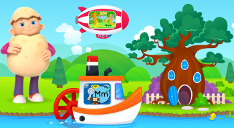 Reading Eggs Junior allows children to randomly select from alphabets, videos, information about seasons, and other such learning readiness activities. Other than allowing children to choose where to click, watch, and listen, the activities are relatively passive at the beginning. Activities become progressively more challenging as children advance. Young children will learn skills such as sorting, counting, visual discrimination, following directions, listening, memory, and recognition of letters and sounds.
At the time of my review the learning path seemed a bit random. The publisher tells me that they will soon be implementing a new and simpler navigation for Reading Eggs Junior that will make access simpler and clearer for young learners.
The program is intended to appeal to children in various countries around the world. Interestingly, the images used to illustrate letters of the alphabet as well as those within other parts of the program sometimes have limited familiarity to children in some countries or regions. For example children in the U.S. might not be familiar with the quokka, an Australian marsupial, durian (fruit), the South American uakari (monkey), or the narwhal (a type of whale). These are rare enough that this is a minor issue.
Reading Eggs Junior seems to function apart from the lessons in the other three levels of Reading Eggs. Reading Eggs Junior seems useful and entertaining for young children while teaching readiness skills. You need not use Reading Eggs Junior before starting with Reading Eggs.
Reading Eggs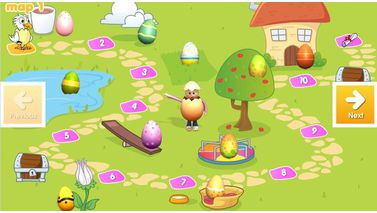 The Reading Eggs component is recommended for ages three to seven although I would peg it as best to begin with four- or five-year olds. Among the reading skills it teaches are recognition and writing of letters, phonics skills, sight words, vocabulary, comprehension, suffixes, prefixes, and plurals.
Reading Eggs has 120 lessons plus more than 170 other activities. Even the games are often thinly disguised educational activities. Children can make an avatar from selections in menus before they begin. A child can either start at the beginning or take a placement test to start at the correct level. Parents can adjust the level if they wish. Children can move through at their own pace, repeating if they wish.
Parents can access children's progress reports through the parent dashboard. While students need to progress through lessons in order, parents can change the starting lesson through their dashboard. Students are able to go back through lessons they have previously completed, but they can't skip ahead on their own. It is important to note that the parent dashboard cannot be accessed using the apps, but must be accessed using a supported browser.
Reading Eggs introduces letters of the alphabet and their primary sounds one by one through a number of activities. Children learn to identify both lower- and upper-case letters along with their sounds. They learn to identify words that begin with the letter even in the first lessons of the program.
While Reading Eggs is a phonics-based program, the presentation is not consistent in terms of teaching phonetic concepts before incorporating them in words. For example, the letters m and s are taught in the first two lessons. The third lesson introduces the words I and am. Students are then expected to read the sentence "I am Sam" and recognize other words with the am phonogram such as ham and dam. Yet, it does not teach the short a sound in isolation until the fifth lesson.
There are other occasional oddities in the lesson presentations, although subsequent lessons generally clear things up. Blending letters to create words is introduced early in the program, but not before children are expected to recognize a number of words. The biggest issue that I think arises from these situations is that children are sometimes guessing or learning phonetic words as sight words.
However, throughout the program, children are taught phonetic concepts repeatedly and through many different types of activities. Even if phonics instruction is not entirely consistent, the continual exposure is likely to be effective in helping children learn to read.
Reading Eggs has a built in rewards system. Students earn golden eggs as they complete lessons. They can use these to purchase game playing opportunities or to purchase virtual store merchandise to dress their avatar or decorate their house.
By the end of the 120 lessons, they will have covered basic phonetic concepts, including most of the commonly-used phonograms. Children should have learned to phonetically decode words such as cube, brother, swoop, and spray. They will also have been exposed to many high-frequency words such as said, together, through, and flower that they should recognize by sight. Additional words are introduced as vocabulary, even though students are not taught how to decode them specifically—words such as fridge, exercise, flamingo, and somewhere.
Reading Eggs does not specifically cover everything that might be taught in a phonics program. For example, I didn't see anything regarding the numerous pronunciations of ough. While children do learn some multi-syllable words, instruction regarding syllables and how they affect phonetic sounds is limited. While Reading Eggs doesn't provide the comprehensive, intensive phonics instruction you find in some programs, children should be able to learn to read using phonics to sound out the majority of words.
Optional Features
Reading Eggs contains many other features that enhance the program but which can be used or not as you please. I think the printable activity sheets are the most important of these features. Printable activity sheets are found under the Bonus Material tab on the parent's dashboard. There is a set of six pages for each lesson—one instruction page for the parent and five worksheets. The activity sheets reinforce phonics instruction with activities such as you might find in most phonics workbooks. They also teach handwriting using a slant-print manuscript. This is the only place in the program for children to learn how to actually write the letters and words. The activity sheets often require interaction, but these seem vital to me if you want Reading Eggs to serve as a complete program.
Spelling lessons within Reading Eggs are accessible after Lesson 40. There are 96 spelling lessons, and they seem to take children beyond the level of the reading lessons. While they begin with mostly one-syllable, short-vowel words, lessons toward the end include words such as guess, cymbal, giants, and disagree. Of course, you can use these when they seem most appropriate for your child rather than on a strict schedule.
Storylands are available to students after they have completed Lesson 60. Here they will find optional activities that reinforce reading skills and develop vocabulary and comprehension.
Driving Tests, accessible after Lesson 40, are quizzes on phonics skills, sight word recognition, and vocabulary. When a student passes a test, they are rewarded with opportunities to play a race car game.
Story Factory can be used after the tenth lesson. Using provided illustrations, children will tackle writing their own story. I think this part of the program is frustratingly limited because there are so few options, but maybe some children will enjoy it. They can submit their completed story for others to judge.
There are also sections for Puzzles, Critters, Play, Songs, and Awards. Many of these extras support the lesson material rather than being just for fun.
Reading Eggspress

Reading Eggspress has 220 lessons in reading comprehension and associated reading skills. In the Parent User Guide, it breaks these lessons into groups for grades one through six. Lessons have children practice word recognition with what seems to me overly repetitious activities. When they get into actual reading material, they seem much more useful. Lessons teach a reading skill then ask questions that have children apply the skill. Toward the end of each lesson, children read very brief "books" and answer questions. Children who need assistance can have these books read aloud to them by the program.
In addition to the core lessons, the Bonus Material section includes two printable activity sheets for each lesson. Activities work primarily on vocabulary, spelling, and word usage, with some editing activity showing up in later levels as well.
Reading Eggspress includes 216 spelling lessons for the same span of grade levels. Access the spelling lessons by clicking on English Skills. I noticed somewhere that they plan to add grammar at a future date, so the English Skills section might well expand to include those lessons. Spelling lessons here are formatted differently than in the spelling lessons in Reading Eggs, but there is content for younger grade levels under both Reading Eggspress and Reading Eggs. In the homeschool outline of lessons (under Bonus Material) it shows the Reading Eggs spelling lessons used starting in week 28 of kindergarten and continuing through the end of first grade. At second grade level, the outline shows spelling lessons from Reading Eggspress. While you can choose whichever style of lessons you prefer, there are likely reasons I haven't discerned for following their suggested progression.
Library
Children can search the library for all sorts of digital books to find what interests them for independent reading. Books are arranged under categories such as action sports, biography, classics, fairytales, Native Americans, and social studies. There are some series of books featuring ongoing characters. These are actual books of all types. Informational books almost always include illustrations, while fictional works might or might not. While many of these are recently written, the classics and fairytales include some older books such as Howard Pyle's version of The Merry Adventures of Robin Hood, retellings of some of Shakespeare's plays, and Aladdin and His Wonderful Lamp from The Arabian Nights. Children can leave comments for others to read after they have read a book. They also earn golden eggs for completing books.
The library can be accessed from within Reading Eggspress as well as from the parent dashboard.
Mathseeds

Homeschool lesson plans for Mathseeds show lessons 1 through 150 taking children from kindergarten through second grade. However, many preschoolers might be able to work through the beginning lessons. There are also additional lessons 151 through 185, not quite enough for all of third grade at this point. However, Mathseeds says they will soon have have complete lessons for third grade as well.
Children can either start from the beginning or take a placement test to start at an appropriate lesson. I appreciate that the placement test might start a child at any lesson rather than at the one identified in the homeschool lesson plans as the starting point for their grade level, since the test is likely to be more accurate.
Lessons are sequenced so that children need to complete them in order. You might find that you want to use lessons in a different order, especially if you are using Mathseeds as a supplement to another math program. Parents can enter the dashboard and set the lesson level to beyond where children are working which then lets children move freely through all lessons below the targeted lesson. This requires parents to direct children's attention to the correct lessons, but it does give you the freedom to use topics whenever you want. Note that when you reset the lessons you lose tracking information. So think about this carefully before using this trick. While you will be able to check student progress from the parent dashboard, you start tracking them all over again any time you reset the program.
Mathseeds uses teaching formats similar to those used in Reading Eggs, working through each topical lesson with a variety of activities. Most lessons focus on only one topic or just a few closely related topics. For example, multiplication is taught in Lesson 115. The lesson begins by introducing groups of items then shows the groups in arrays. To find the total each time, children can count items individually or use skip counting. The program then shows and restates the result in a numerical multiplication problem. Specific skip counting activities follow in this lesson as well as in the next. While this particular lesson includes one segment on tesselations, all other segments relate to multiplication. In the homeschooling lesson plans, this lesson would be used near the beginning of second grade. While multiplication will be revisited in later lessons, topics are not covered thoroughly in a sequence of adjacent lessons. Multiplication was first introduced in lessons 71 through 74 (the middle of first grade), but it does not show up again until Lesson 111.
Mathseeds covers a broad range of math topics including time telling, geometry, word problems, measurement (both standard and metric systems), and money. Topics are continually intermixed, so you might have a sequence of lessons covering measurement, addition, patterns, fractions, and subtraction as is found in lessons 64 through 68.
The program has more of a British/Australian feel to it because of the slight accents of some of the speakers. While I don't know the country in which Math Seeds was created, I assumed it was not the United States given the accents and some items I noted under Reading Eggs Junior. Whatever the origin of the program, it has been adapted for different countries, and you will find that lessons on money use U.S. currency.
Under the Bonus Material you will find printable activity sheets for Mathseeds with four pages per lesson. While the online lessons can serve as a supplement to other math programs, by using these printable activity pages you can use MathSeeds as a complete program. Just as for Reading Eggs, there is a page for the parent explaining how to use all of the components to create the entire lesson. The activity pages are essential to provide the written practice that students require.
While there is sometimes excessive repetition of easy topics, overall the program is well done and effective. While children can complete online lessons independently, they will need parental assistance for the activity sheets.