The BJU Press reading program for grades one through six covers phonics, reading skills, vocabulary, and literature, although the concentration on these different areas gradually shifts as children progress. The content of the reading material ranges widely. Some content is explicitly Christian. Content that might raise religious issues, such as stories about other cultures where non-Christian religions are a strong influence, almost always includes discussion instructions for the teacher that address the issue from a Christian worldview.
BJ Booklinks are optional guides (in book form) for the study of individual novels. They make it easy to include full-length books within the reading courses after first grade. Each BJ Booklinks guide has substantial lesson plans and reproducible activity pages for the novel that students will read. Some subject kits sold by BJU Press include one or two of these novels and their companion BJ Booklinks guides. However, they can be purchased separately and need not be used only at particular grade levels.
BJU Press's reading program is academically sound and thoughtfully put together. The high-quality artwork, interesting content, and Christian worldview in the readers make this series popular among Christian homeschoolers. Be aware, however, that it does take more preparation and presentation time, particularly in the first two years, than do many other phonics and reading programs.
Reading 1, fourth edition
With the fourth edition, BJU Press has separated phonics and reading into separate courses, making it easier to choose BJU Press Reading 1 for its excellent content if you want to use it with a different phonics program. Nevertheless, the sequence of skills and concepts taught in Reading 1 correlates with BJU Press's Phonics and English 1, so using the two courses together makes a lot of sense. Phonetic elements taught in the corresponding phonics lesson are listed in the teacher's edition since these elements will be practiced in the reading material. This feature makes it easier to select appropriate reading material if you should use a different phonics program.
Although Reading 1 builds on phonics skills taught in Phonics and English 1, it focuses on reading comprehension, fluency, oral reading, and vocabulary development. The essential components are the set of student readers, the two-volume teacher's edition, and the student worktext.
The student readers are six softcover books that are heavily illustrated in full color. The reading selections range across many genres including fiction, non-fiction, poetry, retellings of Bible stories, fables, biographies, articles, and poetry. These readers offer more variety than I've seen in many other reading programs for first grade. Many of the reading selections in Reading 1 have Christian content. The stories gradually move from short, choppy, limited-vocabulary sentences to lengthier sentences with expanded vocabulary.
Lessons are intended to be presented by a teacher. Each lesson begins with the teacher presenting introductory material from the two-volume teacher's edition and often involves using a visual aid or an actual object. Some of the visual aids are in the appendices of each volume of the teacher's edition. Before students begin silent reading, the teacher either introduces new characters and concepts or asks for predictions about the story to stimulate and direct students' attention. A brief period of silent reading is followed by guided discussion and oral reading. Because each lesson shows reduced images of student pages and is scripted step by step, it's easy to see why the teacher's editions are so lengthy. (You will be able to skip some of the material that has to do with teaching group classes when you are teaching just one child.)
A separate student worktext has activity worksheets that reinforce concepts taught in the lessons. Worksheet instructions and answer keys are included within the lessons in the teacher's edition.
The first volume of the teacher's edition includes a Teacher's Toolkit CD. The CD has reproducible activity pages that might be used as supplements, primarily to help with phonics skills. In addition, it has a few instructional helps and forms for evaluation and record-keeping. Only a few of the resources on the CD are likely to be useful to most homeschoolers, so check through them in advance to spot those you might use. Otherwise, you will probably forget about them entirely.
The Reading 1 Subject Kit includes the teacher's edition, the student worktext, and the six readers. You might want to purchase the optional Reading 1 Service Word Cards, a set of flashcards with 121 of the words we use most frequently. These cards have a word on one side and a context sentence on the reverse. They are used in lesson presentations and for review.
Reading 2, third edition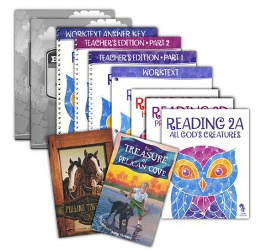 Reading 2 continues with phonics instruction, and the course helps children gain fluency so that they can read for pleasure. The course teaches reading for comprehension, oral reading, vocabulary, and thinking skills. Children also learn about different genres of literature and literary techniques used by authors.
For this second-grade course, the student materials are four readers and a single worktext. The readers are titled All God's Creatures, Hearts and Hands, Memories to Keep, and Precious Treasures. These softcover readers include historical fiction and other fiction, poetry, non-fiction, biographies, and retellings of biblical stories. These full-color books are heavily illustrated with very high-quality artwork. Some children's storybooks are reproduced (with permission) within the readers just as they appear in stand-alone books.
The two-volume teacher's edition comes packaged with a Teacher's Toolkit CD at the back of the first volume, two BJ Booklinks guides, and the Reading 2 Assessments packet. The pages of the teacher's edition have slightly reduced images of pages from the student readers. Reproduced student pages are printed in full color, so teachers can enjoy the great artwork along with students. Instructional material surrounding those images is critical for providing phonics instruction and helping students develop skills in reading comprehension, critical thinking, oral reading, and vocabulary development. Biblical principles and character building are also taught throughout the course. The Teacher's Toolkit CD has many resources that are most useful in a classroom, but homeschooling parents will probably want to use both the graphic organizer worksheets for students and the visual aids for lesson presentation that are found there.
Instead of traditional book reports, this course has four creative activities that encourage students to share their enthusiasm for particular books with others. These are presented from the teacher's edition.
The student worktext reinforces lessons with colorful activity pages. Small images of the worktext pages within the teacher's edition let teachers know when to use the worktext pages. A separate worktext answer key has the answers overprinted on student pages. (The worktext answer key is also included on the Teacher's Toolkit CD.)
The two BJ Booklinks that come with the teacher's edition are for the books The Treasure of Pelican Cove and Pulling Together. The Treasure of Pelican Cove is recommended for average readers, and Pulling Together is recommended for struggling readers.
The Reading 2 Assessments packet has checksheets, record-keeping forms, and eight tests with answer keys. All of these resources are also included on the Teacher Toolkit CD, but having pre-printed copies might be more convenient for some situations.
The homeschool subject kit for this course includes the teacher's edition (with the extra items described above), the four readers, the student worktext, and the worktext answer key.
Reading 3: Adventures in Reading, third edition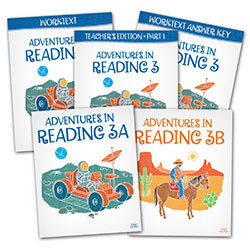 The third-grade course helps students shift to more silent, independent reading while they continue to work on phonics, reading comprehension skills, oral reading, critical thinking, and vocabulary. This course is similar in format to Reading 2, but with two larger readers rather than four. The readers are titled Adventures in Reading 3A and Adventures in Reading 3B. They have great illustrations, but the amount of text is increased as the size and number of illustrations is slightly decreased in comparison to Reading 2.
The teacher's edition comes with the Teacher's Toolkit CD, the Reading 3 Assessments packet, and two BJ Booklinks guides with their novels. These components are very similar to those for Reading 2, so you can read that description above. The included novels and BJ Booklinks are The Case of the Dognapped Cat for struggling readers and These Are My People for advanced readers. The novel Jenny Wren with its companion BJ Booklink is recommended for average third-grade readers, but that set doesn't come with the teacher's edition. The Teacher's Toolkit CD for this course has optional lessons plans and activities (rather than a BJ Booklink) for using Charlotte's Web by E. B. White as a read-aloud book. You will need to procure that novel on your own.
The subject kit for this course includes the teacher's edition, the two readers, the student worktext, and the worktext answer key.
Reading 4: Voyages, third edition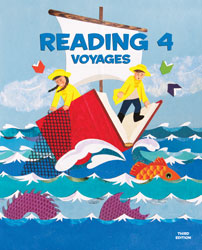 Reading 4: Voyages has a three-volume teacher's edition, a softbound 675-page student text, a worktext, a worktext teacher's edition, assessments and their answer keys, three novels, and a 151-page collection of teacher resource pages. (There is no Teacher's Toolkit CD for this level.) The collection of teacher resources that comes as a collection of pages can also be printed or downloaded from a file online at no extra cost. The student text is available in either print or digital format. Free online resources for this course also include an optional 45-page Phonics Fitness book to be used with students who need a review of phonics.
The student text has a surprisingly wide variety of literature and activities for fourth graders. It includes folk tales, biblical fiction, poetry, biography, fables, drama, narratives, informational text, and fantasy. Students learn the typical points of analysis such as plot, character, motivation, and story structure, as well as writers' tools such as metaphors, rhymes, and repetition. But lessons go beyond what you might expect as students compare and contrast two literary works they have read, consider the moral implications of a story, and find practical ways to apply the biblical principles they are learning. For example, children first read selected biblical proverbs, then they read about Confucius and his teachings. The lesson has students compare the teachings. As in this instance, the course often couples a reading from multi-cultural literature with a Bible-based reading to contrast beliefs that are contrary to a biblical worldview.
Discussion and many of the learning activities are directed from the teacher's edition, and student worktext activities support the lessons. The teacher resource pages are mostly for vocabulary and comprehension activities, while activity pages in the student worktext focus on reading skills, literary analysis, and reflection on the stories.
The three novels for this study can be used at your discretion. The novels are Sarah, Plain and Tall; Medallion; and The Lion, The Witch, and the Wardrobe. The third volume of the teacher's edition primarily consists of comprehensive guides for these novels. This arrangement, with the novel study guides as part of the teacher's edition, replaces BJ Booklinks for this course. But you can always use a BJ Booklinks study in addition to, or in place of, one of the included novel studies.
Reading 5, second edition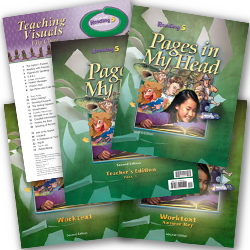 The subject kit for Reading 5 includes the two-volume teacher's edition, one softcover, 560-page student reader titled Pages in My Hand, a worktext, a worktext teacher's edition, and a teaching visuals flip chart.
The reading material is very diverse with selections from many types of fiction along with fables, folktales, poetry, articles, and retellings of Bible stories. Just a few specific examples of this wide range of literature are "Hans Clodhopper," a dramatized retelling of a story by Hans Christian Andersen; an excerpt from Pinocchio; two adapted excerpts from The Pilgrim's Progress; some of Aesop's fables; a science-fiction story "The Tal-Omega" by Jeri Massi; and the poem "Floradora Doe" by Jack Prelutsky.
As with Reading 4, literature and skill lessons are intermixed with the reading assignments. The literature lessons cover fables, folktales, types of fiction, biographies, legends, and critical thinking as applied to reading. Skill lessons address the card catalog (covering both physical card catalogs and computer searches), the use of reference resources, interpreting map scales, researching and writing (covered briefly in four pages), how to do Bible study, and interpreting map projections.
Only one of the BJ Booklinks mentioned in the teacher's edition seems to be available, and it is for the novel The Secret of the Golden Cowrie.
Reading 6, second edition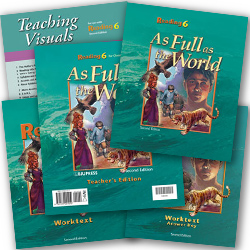 The Reading 6 subject kit includes the two-volume teacher's edition, one softbound 682-page student reader titled As Full as the World, a worktext, a worktext teacher's edition, and a teaching visuals flip chart. As with the other courses, Reading 6 presents a wide range of genres. Some of the literary works included are "A Tree for the Wilderness," biblical fiction by Jean Mundell; "Mowgli's Brothers" from The Jungle Book by Rudyard Kipling; "The Proud-Minded Princess," a folktale rewritten as a drama by Dawn L. Watkins; "Shipwrecked!", an excerpt from The Swiss Family Robinson by Johann Wyss; excerpts from The Adventures of Tom Sawyer by Mark Twain; the poem "The Pied Piper of Hamelin" by Robert Browning; and "The Three Mosquiteers," fanciful fiction by Timothy N. Davis.
Optional BJ BookLinks recommended for this level are for the novels Trouble at Silver Pines Inn and A Father's Promise.