Christian Liberty Press has published a series of history readers for grades four through six. These readers are intended to be used along with at least one other reader or real book studies for each grade level. Each textbook/reader includes vocabulary words and their definitions, comprehension questions, and extension activities for almost all lessons. A full-color illustration accompanies each reading selection.
The courses have separate test packets with tests for each unit and an answer key for the tests. The answer key for the textbook questions is in the separate answer key books for Finding a New Land and Discovering New Worlds, and in the teacher's manual for Building a New Nation. While you might skip the tests, you probably want the answer keys for each book since answers are not always simple or obvious.
Building a New Nation and Discovering New Worlds each have separate student exercises workbooks that are helpful as well as essential if you intend to complete the extension activities in those textbooks.
Each text has reading selections arranged into thematic units. For example, Building a New Nation has units on American Tales and The War of 1812, while Discovering New Worlds has units on heroic faith, fables and folktales, and poetry. Finding and New Lands and Building a New Nation are focused on narrower time periods, while Discovering New Worlds is very broad in the time and locations of its stories.
Although not apparent in every story, this series of books is written for a Christian (Protestant) audience.
Finding a New Land

Finding a New Land is recommended for fourth graders. The reading selections cover the historical period of the exploration and settlement of America. Many of the stories are fictionalized treatments based on authentic historical events, but related through the lives of children. Stories and poems highlight selected events and people such as Leif Ericson, Christopher Columbus, Samuel de Champlain, the Pilgrims' journey from England to Holland then another story of the subsequent journey to America, native Americans in the colonial period, Jonathan Edwards, Benjamin Franklin, Paul Revere, The Battle of Concord, and Phillis Wheatley.
While all of the books in this series have extension activities, this 263-page text has space for students to write answers for some activities directly in the book. Other activities include research, reading, compositions, an art project, creating a Venn diagram, completing a chart, vocabulary development, and work on literary elements.
Building a New Nation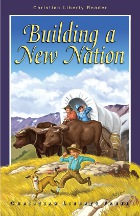 Building a New Nation sounds like a history text from its title, but it really does double duty, first as a reader, then as a history supplement. This is a compilation of stories drawn from American history, legend, and tall tales covering the time period of the westward expansion up to modern times. Students read about people and events such as Johnny Appleseed, Paul Bunyan, Davy Crockett, Old Ironsides and the War of 1812, Clara Barton, General Robert E. Lee, Chief Joseph of the Nez Perces, Adoniram Judson, the sinking of the Lusitania, and the Vietnam war.
While Building a New Nation is targeted at fifth graders, I think it easily stretches through sixth grade too. I would not recommend it for younger students because of the level of the vocabulary and because there are many depictions of danger and stories where the hero dies at the end that might be disturbing for younger readers. Even though danger and death are part of the stories, the overall thrust of the book is uplifting as it encourages admiration of virtues such as courage, perseverance, faith, and generosity.
The text is 230 pages in length. Each story includes lists of vocabulary words and their definitions plus comprehension questions. Most stories also have suggested extension activities, and some have suggestions for further reading. Specific URLs are given for research activities. The extension activities can add a significant amount of work. For example, after students read about Clara Barton, the extension activity directs students to research and write a short paragraph about Mary Livermore or Dorothy Dix who were mentioned in the story.
Christian Liberty Press has added an extra component, a student exercises book. While it is only 13 pages long, it provides activity sheets, organizers, and puzzles for some of the extension activities that should be very helpful.
The brief teacher's manual has answers for the questions in the textbook plus instructions for extension activities.
I would recommend using Building a New Nation as a literature text the same year you are studying this period of U.S. History so that it reinforces and enhances your history study.
Discovering New Worlds Through Literature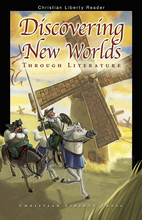 Discovering New Worlds Through Literature, for sixth grade students, features an eclectic assortment of reading material from scripture, poetry, literary work excerpts, modern short stories, a one-act play, and quotations. Extension activities involve scripture study, research, service activities, work on elements of literature, writing, creation of a timeline, and many other types of responses. Many extension activities direct students to pages in the separate student exercises book for Discovering New Worlds Through Literature.
The literary works in the text were selected to expose children to new ideas or ways of thinking about things as well as relationships—all based on scriptural principles and a Christian worldview. Some pieces seem to be included for that purpose more than for their value for literary study. For example, one lesson centers on a single paragraph by Reverend Richard Wurmbrand about the amazing number of Christians in Romania after 20 years of Communist control. The extension activity recommends writing to someone imprisoned for their faith and exploring Voice of the Martyrs publications. The extension activities in other lessons are often designed to support worldview goals as much as literary understanding. The textbook lessons refer to pages in the student exercises that are to be completed in conjunction with most of the lessons, so it is easy to coordinate the two resources.