Me and Thee Studios' Early Reader Collection is a set of seven Bible-based readers that are appropriate for children at approximately mid-first-grade through second-grade level. Gorgeous full-color illustrations by Amanda Holt take up at least half of most pages in each reader, although the balance between illustrations and texts shifts as the readers become progressively more challenging with lengthier text and fewer illustrations.
Each book is a collection of three Bible stories retold in simple language by Marea Smith. Think of this set as a collection of 21 stories that work in sequence rather than as a set of seven stand-alone books.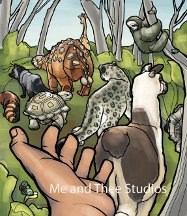 The set of readers comes with a CD-ROM from which you can print out consumable work pages. Four worksheets for each story include space for practicing writing four "Phonics Focus" words, space for sentence dictation, a few grammar exercises, a writing prompt, and a page for the creation of a mini-booklet version of the story. The mini-booklet page has blackline drawings for students to color, and it folds up for students to use to retell the story in their own words—a great way to check for reading comprehension. The set comes with two pages of instructions that explain what should be done each day.
The goals of this series are multi-faceted. While the primary goal is to help children become more proficient and fluent readers, the collection also is helpful for developing familiarity with Bible stories and an understanding of discipleship, advancing reading comprehension skills, reinforcing phonics, providing writing practice through dictation sentences, and introducing grammar concepts. While these readers are not intended to be the primary reading material you use as part of a phonics program, they will work well alongside many programs as a supplement.
Teaching information is incorporated into each reader. Each story opens with a prayer and a script for the teacher to read to introduce the story. While children familiar with Bible stories might have previously heard some of the words used in the stories—especially names like Jonathan, Mephibosheth, and Belshazzar—they are unlikely to have learned to read those names. Hearing the names mentioned in the introduction should help them figure out some of the words as they read a story. Stories are obviously not phonetically controlled to the extent that I see in many phonics-based readers. Given the vocabulary used in the stories, I was surprised at the inclusion of simple phonetic words in the "Phonics Focus" exercise for each story. For example, the four phonetic words reviewed in the first story are and, has, no, and cast. Yet, the same story includes words such as temple, upkeep, disciples, and money. Marea Smith explained what at first seemed an oddity to me:
I did find, in 15 years of first grade instruction, that children can often read at a higher level than they write. I found as well that a daily, manipulative linking activity solidified my students' application of phonogram 'rules' they had previously 'learned.' The phonics focus is not to 'learn' words but is meant to help children master the generalization of the 'rules' from known to unknown (or less familiar) words in reading and writing. The reading portion of the activity (at the end of each story) provides the scaffold some children might need before the transfer of that linking activity into segmenting and recording each of those words on the phonics practice page. While a child might be able to read and, has, no, and cast, he might find hearing, segmenting, and recording the phonograms sequentially, linking progressively from and, an, ran, rag, and bag then has, hat, cat, can, and tan and on to no, so, go, old, and cold, and finally cast, fast, last, land, and hand in a single sitting to be both extremely challenging and extremely beneficial. Used daily, this linking activity helps children generalize from the known to the unknown in reading and writing. This skill is also extremely helpful as children begin to generalize into multi-syllabic word construction.
So, the readers are not meant to be a child's first introduction to the Phonics Focus words. Those words are shown at the end of the story with a list of phonetically related words for students to practice reading and writing. They will also write those words on their worksheet and then write at least some of them again in a sentence dictation. While these are words students likely learned to read previously, the lessons expand a student's skill in identifying phonetic elements within words, generalizing to other words, and then spelling and writing those words. The Phonics Focus in this series begins with words with short vowels and progresses through words with digraphs, consonant blends and clusters, long vowels, and irregular vowel combinations.
The author expects the teacher or parent to sit shoulder to shoulder with a child as he or she reads these stories, guiding the child through strategies for decoding as needed, so a child with good word attack skills and prior familiarity with the Bible stories will have an easier time reading them than will a child lacking in either area.
Each story is followed by three questions, some checking for simple comprehension and some requiring deeper thought. The stories are meant to also serve as discipleship tools, so they have clear retellings of the Bible stories that stress key ideas. Some stories even include specific "discipleship" language such as, "We can be disciples. When we call on God, He will help us, too!" (Early Reader Collection Anthology 5, "God's Servant Tabitha.")
A one-page "Grammar Mini-Lesson" at the end of each story explains the grammar concept that students will practice on their worksheets. The lesson is written in language that you might read directly to a child, so no prior preparation is required. Grammar instruction includes parts of speech, verb tenses, quotations, contractions, sentence-ending punctuation, commas in a series, syllables, subjects, predicates, and possessives—taught one concept at a time.
On their worksheets, children will write one sentence from dictation for each story. The first sentence is short and simple: "Jesus had a plan." Dictations gradually become more challenging, culminating with, "Before you say or do things without thought, pray and seek wise counsel." Dictation sentences are on a card that comes with the set. (Make sure you don't lose this!) On one side of the card are brief scripts for instructing children how to complete some of the worksheet activities. On the reverse are the suggested dictation sentences. Of course, you can make up your own sentences if you prefer. Keep in mind that some children will be able to read at a level beyond their writing skill and adjust your lessons accordingly.
All worksheets include large lined space for students to write answers, dictated sentences, or their own brief compositions. If you can print these pages on a color printer, you might appreciate that the lines include a red bottom line, a dotted blue line in the middle, and a blue top line. The colors make it easy for students to find the proper place to begin writing, but they are not essential.
The supplemental academics built into Me and Thee Studios' Early Reader Collection might be partially or totally useful depending upon how well they mesh with other methods of instruction you are using. While the breadth of academics incorporated into these readers might be more than you need, at least some of the activities are likely to prove useful. The Early Reader Collection books are beautiful to look at. Children and adults will both love the illustrations. The greatly simplified stories focus on the most significant meaning of each story, using language that children can easily grasp. So while these readers help children improve their reading skills, they also serve wonderfully as an introduction to some of the stories in the Bible.