Catch-Up Readers is the label used by PhonicBooks® for their high-interest phonetic readers for ages eight to fourteen. They publish 11 series of readers for this age group that gradually progress through six stages of difficulty. The text in the readers was created with a sans-serif font that should be easy for students with dyslexia to read. (They also have readers for younger students that I review separately.)
All of the readers support a phonics-based approach while also teaching some sight words. They should work alongside most systematic phonics programs. Four of the six stages have either two or three sets of readers that focus on the same phonograms. (The exceptions are the Moon Dogs series and the Amber Guardians series.) The duplication of phonics practice in parallel series allows students who need additional practice to review concepts while reading entirely new stories.
The stories were written by Tami Reis-Frankfort, Clair Baker, and Wendy Tweedie, while almost all illustrations are done by Drew Wilson. Designed to be of high interest, the readers feature richly-colored illustrations with characters and scenes that look like those from high-quality graphic novels. Characters are often edgy-looking, and the stories often revolve around peril, fantasy, magic, and monsters. Some stories also include multiracial and handicapped characters.
I expect that students in the eight to fourteen age range will love the look and storylines of these books. (Parents who prefer to avoid fantasy, magic, and science-fiction themes might want to stick with the Moon Dog, That Dog!, and Island Adventure series.)
The Series
The Moon Dog series, which covers the first stage of phonics, has four sets of readers. The first three sets have an ongoing storyline that features contemporary teens who are in a band. The fourth set of readers, available as free PDFs, is differentiated by the set's title, Moon Dog At Home, and a different storyline. The Moon Dog readers begin by teaching only consonant-vowel-consonant (CVC) words in the first set of eight readers. The second set of eight readers adds consonant digraphs, while still using short-vowel words. A few sight words are taught, including words such as old. The third set has 14 readers that introduce long-vowel sounds and other vowel-sound phonograms such as oi, ar, igh, and ur. The free set of Moon Dog At Home readers parallels the third set while adding more alternative spellings for vowel sounds. (You could use the fourth set either instead of or after the third set.) The free readers each have their own set of free downloadable worksheets. All of the Moon Dog readers move a little more quickly through the beginning phonics level than do most readers designed for younger students.
There are two series of readers for the next step in the progression: That Dog! and Magic Belt. Both series have 12 books each and cover the same phonetic concepts. They begin with CVC and CVCC (consonant-vowel-consonant-consonant) words and add consonant digraphs like ch and wh, trigraphs like tch, suffixes such as -ed and -ing, and words ending with le. In the Magic Belt stories, Zak's grandfather falls ill, and Zak must go on a quest to find ten magical gems to cure him. In the That Dog! series, Ben longs for a dog. One day a scruffy, stray dog follows him home, and some very realistic problems ensue.
The Alba and Totem series are next, again offering two series of 12 readers each. The two series parallel each other, following the same phonetic progression as they introduce long-vowel sounds, r-controlled vowels, and other vowel sounds, such as those made by the phonograms ow and ou. Alba, the heroine in the Alba series, tries to protect the scientific work of her father. She gets miniaturized and sets off on a series of adventures. The Totem series is a fantasy story about the adventures of Zak and Mim that involves monsters, a magical staff, kidnapping, and lots of exciting events.
Three different series cover the fourth stage in this series. The Talisman 1, Island Adventure, and Rescue series each have ten readers and follow the same phonetic progression. Each reader focuses on a group of related phonograms. For instance, the first book in each series uses words with the phonograms ay, ai, a, a-e (such as in cake), ea, and ey that make /ā/ and /ē/ sounds. In the Island Adventure series, Jack and his sister Snub end up on a quest adventure on a remote Scottish island where they are visiting their grandparents. The Rescue series features Erin. Assisted by her friend Danny, she is forced to try to rescue her baby brother in what turns into a science fiction adventure. In Talisman 1, Zak from the Totem series is back again. He has a magical talisman given to him by his grandfather that others want to steal.
For the fifth stage, two more series offer parallel paths for working with advanced phonograms: Titan's Gauntlets and Talisman 2. Among the phonetic concepts incorporated into the ten readers in each series are the various ways to make the /j/ sound with j, g, ge, dge, and dj, and the /shun/ sound with tion, tian, sion, ssion, and cian. There are 16 pages per book with more text per page than in the previous readers. In Titan's Gauntlets, Finn works to master the magical power of a set of gauntlets to stop the Evil Winged One from destroying the world. In Talisman 2, Zak returns to fight the Dark Master to keep him from creating a new talisman that can destroy the world.
The final series, Amber Guardians, consists of ten readers with 28 pages each. This series serves as a transition to on-level reading material. It has a much higher ratio of text to illustrations and introduces advanced vocabulary words such as premonition, obelisk, and seething. The storyline features Finn (from Titan's Gauntlets) along with two of his friends. After discovering an ancient, magical necklace, he and his friends set off on an adventurous quest where they encounter a kraken, a golem, an earth spirit, a unicorn, and other mythological creatures.
Workbooks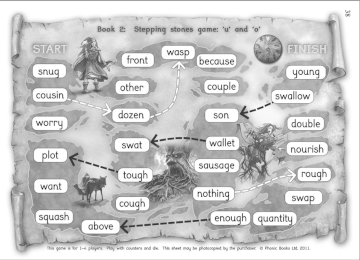 One workbook is available for each set of readers. The workbooks are printed in black and white, and they vary in size from 50 to more than 250 pages. They contain activities for word building, reading practice, comprehension, vocabulary, spelling, dictation, grammar, and punctuation, but not all of these activities are in every workbook. Many of the workbooks include pages with word cards that should be copied onto cardstock and cut out to use for reading practice or other activities. Some workbooks include pages to be used as board-style games.
The Magic Belt series adds an extra 50-page Introductory Workbook for older students who are working at a very remedial level. It offers additional practice with basic phonetic concepts. This is to be used in addition to the regular workbook by students who will benefit from it.
The workbooks for Titan's Gauntlets and Talisman 2 include composition assignments, such as one that directs students to describe a troll pictured on one of the pages. Some possible descriptive phrases are provided to assist students.
While the workbooks are not required, they do a great job of reinforcing and expanding the learning that takes place with the readers. In addition, the variety of activities and the fantastic artwork (taken from the readers) make them appealing to students.
Games
PhonicBooks publishes two types of games that can be used alongside these readers. You can read my review of the games here.
Summary
The PhonicBooks series for older students feature content that reflects the sort of material that older children and teens eagerly watch or read on their own, so reluctant or struggling readers might be willing to read them even if they have balked at other readers. In addition, the phonetic approach upon which these readers are based has proven successful in producing long-term reading skills.