PhonicBooks® publishes readers for both young students who are just beginning to read and older students who have struggled with reading. (I review their Catch-Up Readers for older students here, and I plan to post a review of the readers for younger children when all of those series are available.) To help students both young and old, the publisher has created two types of games that gradually increase in difficulty.
Spin, Read & Spell!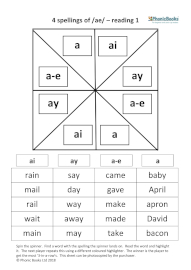 Spin, Read & Spell!: Book 1 and Book 2 present some really ingenious games that provide practice with phonics and reading. Each book has reproducible pages for many games—one game per page, and you are given permission to copy them for your family or class. You will definitely need to copy them before playing since players write on each game page as they play.
Book 1 focuses primarily on three- and four-letter words with only short vowels. Towards the end, it adds five-letter words such as drift, shift, and punch. It has 49 pre-designed games, and two template pages for creating your own. Words lists at the back of the book help you select phonograms and words for your own games.
Book 2 works on long-vowel phonograms and other more-challenging phonograms that contain vowels, such as aw, igh, and ough. It has more than 100 pre-designed games plus two blank templates, with games arranged in sections based on the phonetic sounds used. For example, the first section features all of the phonograms that make the long-a sound: a, a-e (as in words like cake), ai, ay, ey, eigh, etc. This arrangement makes it super easy to identify which games to use along with any phonics program.
Each game page has a spinner section at the top and either words or blank spaces in a four by five grid at the bottom. Each book comes with a clear spinner that sits on top of the spinner section. All games require two players, and they will each need a different colored highlighter for some games and pens or pencils that write with different colors for other games. The two players will both work on the same game page as they play.
The way phonograms and words are entered on the pages varies. Many pages have phonograms in the spinner section and words printed in the grid below that include those phonograms. Players identify a match by using a highlighter to select a word in the grid that contains the phonogram they have just spun. The goal is to claim the most groups of three words in a row, sort of like a combination of Bingo and Tic-Tac-Toe. Players can earn extra points by claiming four or five in a row. Other games have lists of words to the side of the spinner that include the phonograms on the spinner. Players are to select a word that contains the phonogram they spin, then write it in one of the boxes. This variation helps develop spelling skills, and it gives players a little more control as they strategize how to place their words in the grid to get groups of three in a row. There are a few other variations that involve other reading skills, such as identifying the number of sounds or syllables in a word.
The strategy element raises these games to a level beyond what you'd expect. Players need to consider all of their options so that they can claim their own groups of three in a row or block their opponent's moves.
I particularly like the Spin, Read & Spell! books because they are so unusual, have lots of variations, are very effective, and offer the opportunity to create your own games.
Talisman Card Games

The other option from PhonicBooks is card games that can be used for those just beginning to read three-letter words through those who can read multi-syllable words. There are 20 different card decks, and they are sold in two groups with ten decks per group. They look like card decks for entertaining games rather than something used for educational purposes.
Each attractively designed deck is used to play a game similar to UNO®. The word cards within each deck are identified by four different colors. Players have to play a word card that matches the color of the previous card, play one of the talisman cards that serves as a wild card, or draw a card from the deck. A few of the word cards tell the next player to miss a turn. These special cards also have an illustration from one of the Catch-Up Readers, so the special cards are easy to identify. Players are to read the word on the card as they lay it down. The game is a little simpler than UNO, but the strategy aspect still keeps it interesting.
The first deck begins with CVC (consonant-vowel-consonant) words, and the decks gradually progress in difficulty. Words with long-vowel phonograms are not included until the fifth deck, and that deck concentrates on only long-a sounds. The second set of ten decks begins with words with r-controlled vowels (e.g., ar, er). The second set continues through words with unusual vowel sounds, consonant digraphs such gh and ph, and other phonograms such as au, dge, and ough. For example, Deck 18 uses words like tragedy, cottage, and vegetable as it concentrates on the sounds made by j, g, ge, and dge. This segmented approach with the card decks allows you to pull out a new deck as students progress through each new phonics concept.
Summary
Games offer a great alternative for learning for all students, and they often are most effective for struggling learners. This is true for reading as much as for math, history, and other subjects, but interesting reading and phonics games are few and far between. So it was gratifying to discover these PhonicBooks games that are fun to play and have great educational value.